C — I love summer!
I love the heat. I love sweating in over 100 degree weather and not turning on the air conditioning. I love taking cold showers in the middle of the day and still not feeling refreshed. It's 106 degrees and I am loving it! Yeah, I am pretty hard core about my summers. One of the reasons I love living in Sacramento.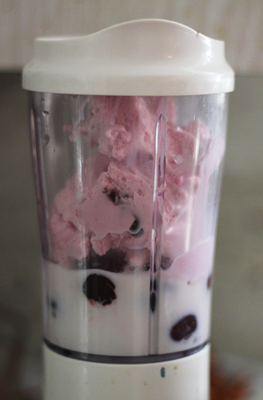 Another thing I love about summers are milkshakes. When I was in college I would go out with my friends and have a burger, fries and milkshake daily. There was something about the blend of the salty fries and sweet, thick and creamy milkshake that got to me every time. I love the stuff. But, of course, I can't eat that way all the time anymore.
One more thing I love about summer is that it's cherry season! Cherries are here left and right. I use black cherry ice cream, lots of fresh cherries, and some milk. It's so simple. Its 100 degrees out and the air conditioning isn't on. A great cold beverage waiting to happen. Oh, it's happening. Life is so good!
Prep time: 5 mins
Cook time: 1 min
Total time: 6 mins
Ingredients
½ cup black cherries pitted and stemmed
1 banana cut into pieces
¼ cup milk, or more depending on how thick you want it
½ cup black cherry ice cream or gelato
Instructions
Mix all ingredients until blended well.
Enjoy!