Update and Redux: C – Julia Child's garlic mashed potatoes recipe is a masterpiece. It's creamy, rich and full of flavor. No more lumpy potatoes on the dinner table. These potatoes smooth, wonderful, garlicky pillows of goodness.
C – The name Julia Child gets everyone excited at my house.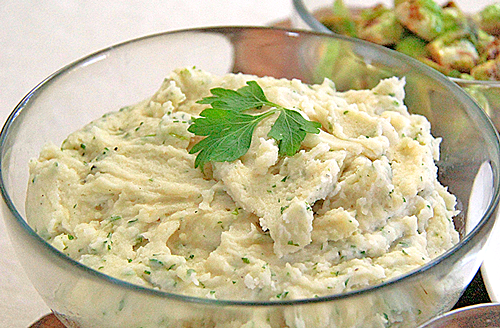 I am not actually sure if they have tried making any of her recipes. But, many of the men in my house love to impersonate her. I love my family trying to impersonate her, too. My husband does a great one.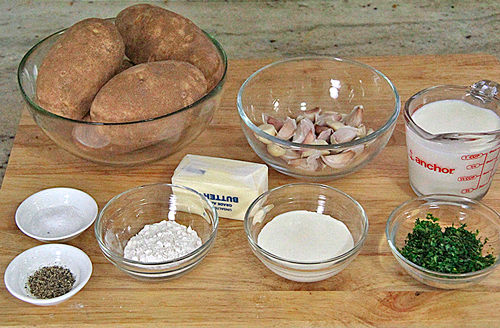 When I saw this recipe, I knew I had to try making it. It's a lot different than the potato recipes I have made before.

Different in a good way. The recipe calls for peeling the potatoes and cutting them up before cooking. We typically cook them whole, then peel them.

I actually like this technique, because it cooks the potatoes faster. They are in smaller pieces and there's no need to peel hot potatoes.

I also loved that the garlic sauce is made up separately. Usually the garlic and cream is mashed up with the potatoes. It doesn't distribute evenly. With making a sauce, it mixes evenly everywhere.

One tool I need to get for my Thanksgiving cooking is a good potato ricer. Ricing makes perfect potatoes.
Delicious and creamy and really simple. No big chunks or over-worked mashed potatoes this year.

These potatoes were perfect. I loved the hint of garlic in them. They weren't over-powered by garlic.

I loved the creamy texture. The wonderful green parsley flecks everywhere is a nice addition.
| | | |
| --- | --- | --- |
| Thanksgiving Week: Julia Child's Garlic Mashed Potatoes | | |
Prep time: 15 mins
Cook time: 40 mins
Total time: 55 mins
Ingredients
30 cloves garlic, unpeeled
8 Tbsp unsalted butter
2 Tbsp flour
1 cup whole milk
2½ pounds Russet potatoes, peeled and cut into 1" pieces
kosher salt and pepper to taste
¼ cup heavy whipping cream
¼ cup minced parsley
Instructions
Boil garlic in a sauce pan for 2 minutes. Drain and peel.
Melt 4 tablespoons butter in a sauce pan over medium.
Add garlic and cook until soft. About 15 to 20 minutes.
Sprinkle the flour in. Stir and cook for about 2 minutes.
Stir in milk. Cook until thickened. About 3 to 4 minutes.
Transfer to blender and puree until smooth.
Cook potatoes in salted, boiling water until tender, about 15 minutes. Drain and pass through a potato ricer back into pan.
Stir in remaining butter reserved sauce, the cream, parsley, salt and pepper. Cook 2 minutes more.
Serve.
Enjoy!
Perfect for a traditional Thanksgiving dinner.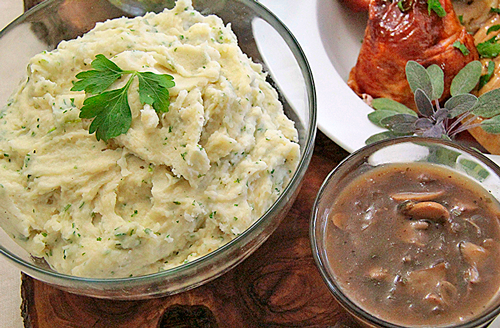 Thank you Julia Child for a great potato recipe. I can't wait to share it with my family this year.