Update and Redux: C – Last year, we had a vegetarian at our football party. He looked a little frustrated. I think he knew he should have brought something to the party that he could eat. I was sad I couldn't help him with any food options. I wished I brought some of these delicious black bean burgers along with me. Meat eaters would even enjoy these burgers. They are delicious.
C – I shouldn't knock something until I try it.
The first time I heard about black bean burgers, it sounded disgusting. But, of course, I tried them and loved it. I didn't expect these black bean burgers to be so flavorful. In the first bite, I was hit with cumin, cilantro, oregano and some heat.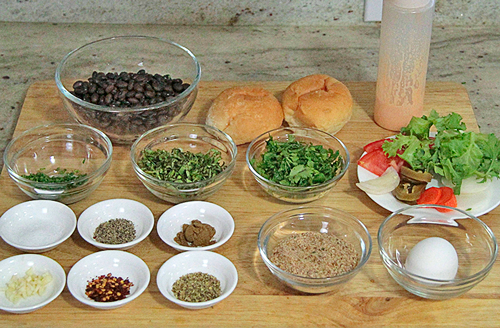 I couldn't believe how good it tasted. I also didn't expect the texture to be so hearty. It's almost like meat … but not quite. The texture is a bit creamy with a few beans to chew through, which I liked.

I was working at an event one day, when I tasted these burgers. There were lots of leftovers, so I took some home.

I had to make them my own with a few other toppings to make them taste even better. The burgers by themselves are a bit dry, so load it up with a lot of spicy sriracha mayonnaise. Small little sliders really packed a big punch.

I had to make these myself. I loved the herbs in this burger. It really gave it a lot of fresh flavor. I really didn't focus on the beans so much.

Add some pickled jalapeno peppers to the burger. The flavor of the sour and spiciness is a great combination. I couldn't believe how delicious they made it.

Of course, my mouth was burning afterward, but it was worth it.
| | | |
| --- | --- | --- |
| Burger Week: Black Bean Sliders | | |
Prep time: 5 mins
Cook time: 10 mins
Total time: 15 mins
Ingredients
4 to 6 slider buns
2 cups black beans, cooked, rinsed and drained (a 15 ounce can)
¼ cup breadcrumbs
1 egg
1 Tbsp chives, chopped
1½ Tbsp basil
1½ Tbsp chopped cilantro
1 garlic clove, minced
¾ tsp ground cumin
¾ tsp dried oregano
¾ tsp red pepper flakes
½ tsp salt
½ tsp ground black pepper
A few baby lettuce leaves
6 tomato slices
1 spring onion, sliced
A few avocado slices
Sriracha mayonnaise
Pickled jalapeno
Instructions
Blend 1 cup of beans in a food processor. Don't blend too much. Put beans in a bowl to mix.
Add the remaining beans with the breadcrumbs, eggs, chives, basil, cilantro, garlic, cumin, oregano and pepper seeds. Stir until the ingredients are well combined.
Make patties ½ inch thick x 3 inches in diameter, or enough to fit the slider buns. Place on a plate and refrigerate for 15 minutes.
Remove from the refrigerator, sprinkle with salt and pepper.
Heat a non-stick pan over high heat with no oil or fat. When it is hot, but not smoking, place the patties. Lower the heat to medium. Cook the patties for 4 minutes on each side. Remove from heat.
In the same pan on medium high, add a little canola oil.
Place buns to toast, cut-side-down.
Once buns are toasted, add Sriracha mayonnaise to the bottom bun.
Top with bean patty.
Top patty with more sriracha mayonnaise.
Top with onion, tomato, more sriracha mayonnaise, avocado slices and lettuce.
Add more Sriracha mayonnaise (yup, it's a lot but it makes the burger a lot more moist) to the top of the bun.
Close the burger with the top bun.
Serve.
Enjoy!
Lesson learned. Don't knock it until I try it.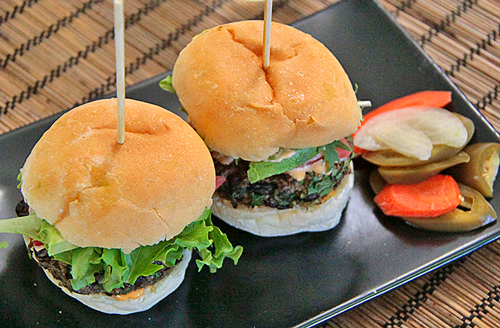 Especially, if it's flavorful and you end up loading it with a lot of spicy Sriracha mayonnaise.