C – I am loving the refrigerator at Be Mindful. Be Human. this week.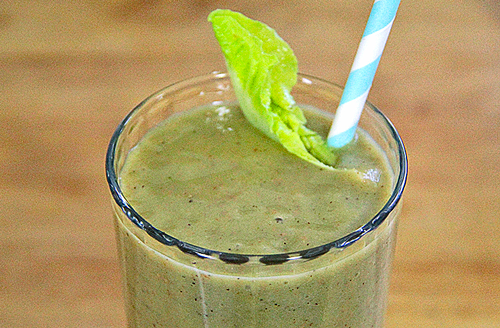 The bottom row is filled with plastic bags full of all kinds of lettuce wrapped in paper towels. It's a great way to preserve lettuce so it keeps for a week or two.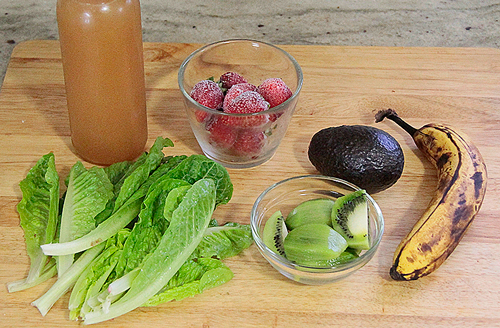 I love our fridge this week because it is quite full, and I get to use almost everything in it. This doesn't happen as much as I'd like. So, when an opportunity strikes, I take it.

When lettuce week hit, my mind was spinning. I could make salads … lots of salads. Then, I thought that's going to be really boring. Besides, it wasn't called salad week, anyway. It's lettuce week. So, let's be more creative.

This green lettuce smoothie wasn't the most creative thing I could come up with. I wanted to use some lettuce for breakfast, and having a breakfast salad seemed a bit crazy this morning. I wanted something easy and light. So, I replaced my usual kale smoothie with lettuce smoothie.

How did it taste? Really good. Lighter than a kale smoothie. I liked it. It's not as dense as a kale smoothie. I drank it fast and had another glass right away.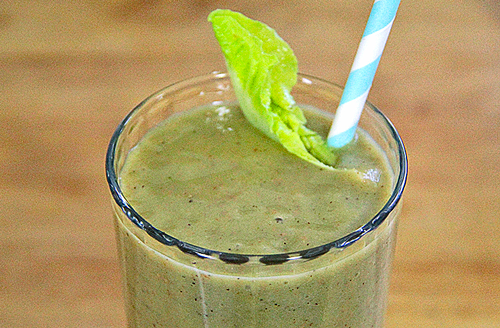 | | | |
| --- | --- | --- |
| Lettuce Week: Green Lettuce Smoothie | | |
Prep time: 5 mins
Total time: 5 mins
Ingredients
1 cup frozen strawberries
16 oz apple juice
1 avocado, peeled and core removed
1 head of little gem lettuce, or 3 Romaine lettuce leaves
1 ripe banana, peeled
2 kiwi, peeled
Instructions
Place everything in a blender and blend until smooth.
Serve.
Enjoy!
I wish it turned the smoothie a little greener ,,, an olive color will have to do. It still tasted healthy and delicious.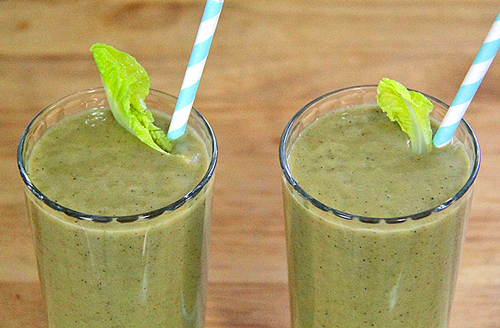 Lettuce for breakfast? Yes! Especially in smoothie form.