C – The first time I grilled corn it was a disaster.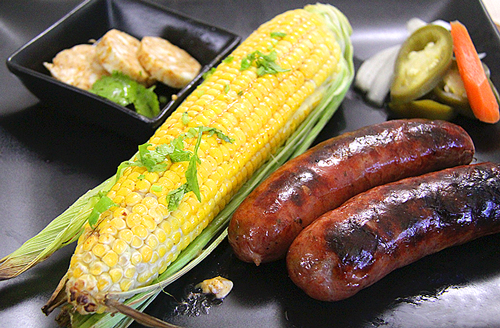 I burned the husk and didn't cook the corn. I wasn't happy. Someone in my family decided to recook the corn. My disaster and ended up being a bigger disaster. The corn became dry and tough, instead of juicy and tender. Of course, no one ate it. We ended up tossing it.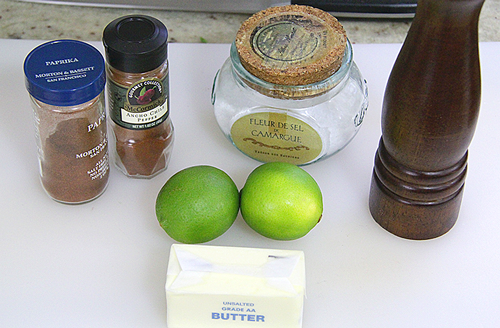 What did I do wrong? Well, everything.

After researching how to grill corn-on-the-cob perfectly, I figured out all my mistakes.
First, I didn't soak the corn in cold water in advance. The husks were too dry and burned immediately after I placed them on the grill.
Second, I had the heat too high. My corn to only cooked on the outside. The heat did not reach the inside.
Third, I didn't cook it long enough. After I saw the burned remains of my husks, and the outside looking like it was cooked, I took it off. I guess I needed to check it before taking it off the grill.
When Luke suggested we make roasted corn-on-the-cob, I was really hoping he would do it. Nope, he assigned me to do it. I wasn't too happy and really reluctant. The corn-on-the-cob nightmare was coming back again. I didn't want to tell him. So, I sucked it up and tried again.

With my new-found knowledge, it turned out a lot better. Placing it on indirect, medium heat of around 350-400 degrees allowed it to cook slowly. The corn was nice. Juicy, still crunchy and tender like you would expect good grilled corn to be.

I loved Luke's compound butter mixture. It was great. I loved the smoky taste of the chili mixed with the creamy butter. The lime made the sweet corn balance well with the salt and pepper.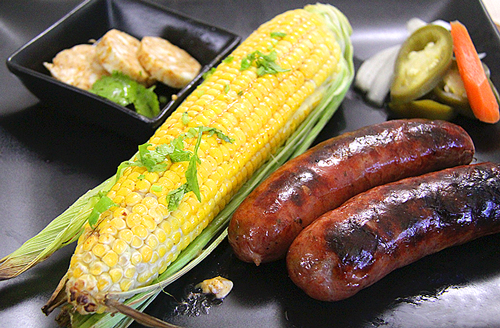 | | | |
| --- | --- | --- |
| Grilled Corn-on-the-Cob with Smoked Chili and Lime Butter | | |
Prep time: 15 mins
Cook time: 20 mins
Total time: 35 mins
Ingredients
5 ears of corn, not shucked
1 stick butter, room temperature
¼ tsp Ancho chili powder
¼ tsp paprika
1 tsp salt or to taste
½ tsp black pepper or to taste
1 lime, zest and juice
Instructions
Combine butter, chili powder, paprika, salt, pepper, lime zest and juice. Mix well.
Place mixture on a piece of parchment paper. Roll into a two-inch log using the paper to help form it. Close and twist the ends. Place in refrigerator until ready to use.
Heat the grill to medium.
Pull the outer husks down the ear to the base. Strip away the silk from each ear of corn by hand. Fold husks back into place, and place the ears of corn in a large bowl of cold water with 1 tablespoon of salt for 10 minutes.
Remove corn from water and shake off excess.
Move coals to one side of the grill. Place the corn on the grill on the other side. Close the cover and grill for 15 to 20 minutes, turning every 5 minutes, or until kernels are tender when pierced with a paring knife. Remove the husks.
Slice butter and place on a small dish next to corn. Spread the smoked chili and lime butter over the corn while hot.
Serve.
Enjoy!
I really enjoyed it. I think I finished my first one in under a minute. It was great.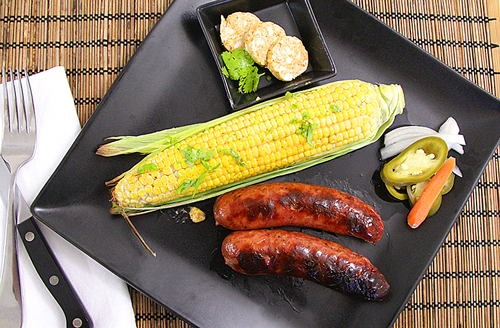 I guess I am glad Luke made me grill corn. It really made me get over my first corn disaster.
Adapted from: http://www.foodnetwork.com/recipes/perfectly-grilled-corn-on-the-cob-recipe/index.html