C – "What are you doing with those?"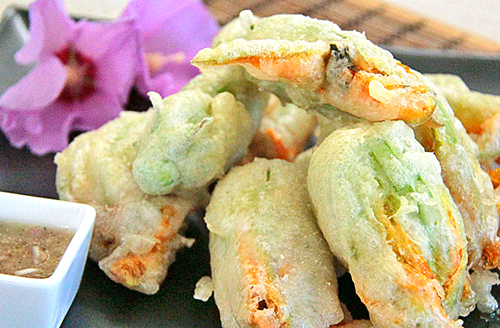 A lady came up to me at the Farmer's Market today, asking what I was going to do with these zucchini blossoms. I told her I was going to stuff them with some good stuff and deep fry them. She had a shocked reaction.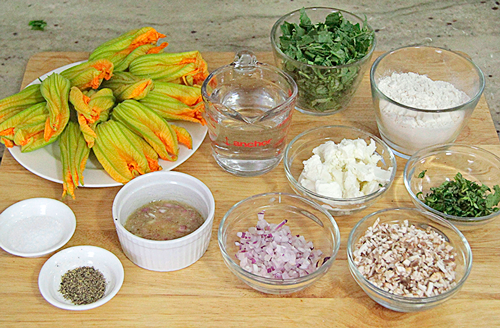 I don't think that was the answer she was looking for. I think she was hoping for something healthier than deep frying these beautiful blossoms.

Zucchini blossoms are rare. If you can find them, get them. The zucchini blossom season is really short. We wanted to make some last year, but the season was over before we could get some.

I really didn't want to pass up the opportunity this year. Even if I am trying to be more mindful and eat healthier, I wanted to make this delicious treat.
Jim didn't want a deep-fried cheese bomb like the normal deep-fried zucchini blossoms. So, I added some mushrooms, onions and lambsquarter spinach. If you have never tried lambsquarters spinach, you should find some and try it.

It is my favorite type of spinach. Not so full of water like normal spinach. The leaves are a lot smaller than baby spinach. They are a bit firmer than normal spinach, so they can cook a little bit longer. I just love them. I've been addicted to them ever since Luke introduced us last year.

Place them into zucchini blossoms with mushrooms, onions and goat cheese. This dish is addicting and a winner. Crispy tender zucchini blossoms with a creamy cheesy … but healthier … filling.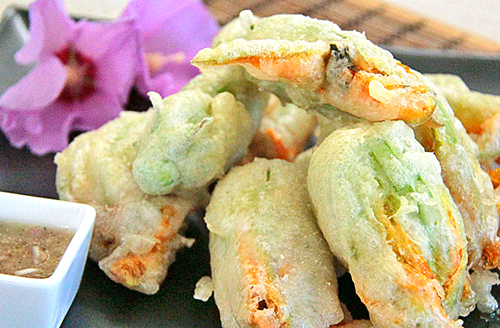 | | | |
| --- | --- | --- |
| Farmer's Market Week: Zucchini Blossoms with Lambsquarters Spinach, Mushrooms and Goat Cheese | | |
Prep time: 15 mins
Cook time: 20 mins
Total time: 35 mins
Ingredients
1 Tbsp grapeseed oil
¼ red onions, chopped
2 mushrooms, chopped
1 Tbsp oregano, minced
1 cup lambsquarters spinach leaves, chopped
Salt and pepper to taste
8 oz goat cheese
12 zucchini blossoms
1 cup all purpose flour
1 cup sparkling water
¾ tsp kosher salt for the batter, plus more to sprinkle after frying
6 cups canola oil for frying
Simple vinaigrette for dipping.
Instructions
Heat a small saute pan with oil. Add onions and saute until soft.
Add mushrooms. Saute until golden brown.
Add oregano, salt and pepper to taste.
Add lambsquarters spinach. Cook until wilted.
Remove from pan and place in mixing bowl.
Add goat cheese and mix well. Divide the stuffing into 12 balls.
Open the zucchini blossom and stuff the blossom with a ball. Close the blossom and repeat.
In another mixing bowl add flour, sparkling water and ¾ teaspoon salt. Mix well.
Heat frying oil to 350 degrees.
Place stuffed zucchini blossom into batter and cover completely. Remove from batter and tap off any excess batter.
Place gently place into oil and cook until slightly golden. Continue adding zucchini blossoms into batter and into the oil. Cook about 2 minutes each.
Remove from oil and place on a paper towel to drain.
Serve with vinaigrette.
Enjoy!
Oh so good. Of course, you have to eat them while they are still warm and crispy.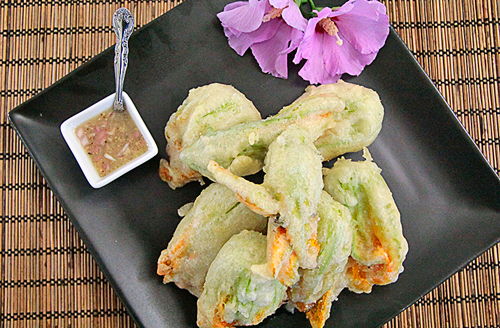 Twelve zucchini blossoms were gone in five minutes between Jim and I. Yeah, we'll go a little healthier after this one.