J – What's sweet Chinese sausage doing in a Southern French dish?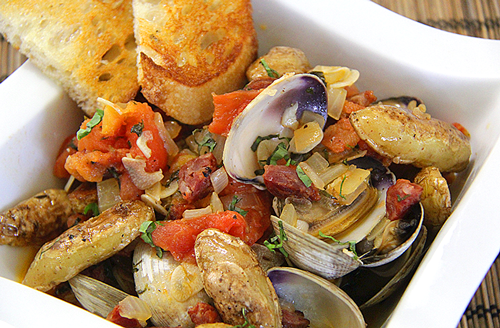 Lots. Shellfish and sausage are delicious together. They are regular participants in Provencal soups, stews and seafood recipes. Brought together by garlic, shallots, wine, tomato and fresh herbs… in myriad combinations … these two mutually enhance each other's flavors.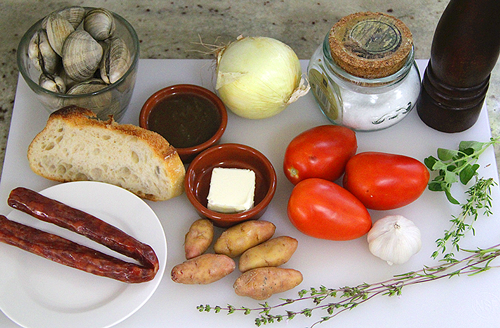 But, what's up with using a Chinese variety of sausage? It's different. And, not.

The seaports of Southern France have immensely multicultural cuisines. Tunisia, Morocco, Libya, Cyprus, the Middle East and the Far East are all represented. Interesting food seems to ignore international borders … thank goodness.

So, putting a sweet Chinese sausage in our Southern French clam dish is not much of a stretch.

I think Luke, Christina and I are starting to be recognized at our two favorite Asian grocery stores. Two white guys and a short Asian girl buying distinctly Asian ingredients … live fish and shellfish, fresh duck eggs, odd sausages, sauces and other things with no English on the package and Asian greens found nowhere else. We love it!

Luke's idea was to do minimal cooking and saucing, and let the ingredients be the star of the show. Saute the sausage and add onions, shallots and garlic. When translucent, add peeled and seeded tomatoes and herbs. Saute for a bit, then add wine. Reduce. Add jus and water and reduce a bit more. Add clams and stir.

When the clams are open, they are done. Remove clams and reduce sauce. Serve clams and sauce over pan-roasted fingerlings. Accompany with pan-grilled garlic bread.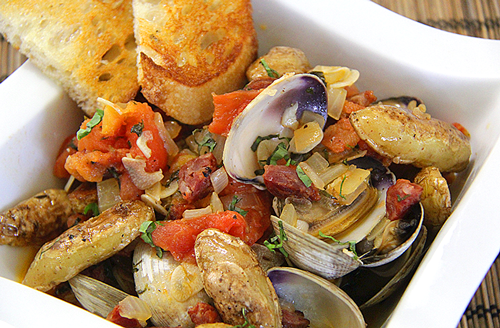 | | | |
| --- | --- | --- |
| Clams and Sweet Chinese Sausage with Fingerlings | | |
Prep time: 15 mins
Cook time: 20 mins
Total time: 35 mins
Ingredients
2 pounds Manila clams, live and rinsed well
10 medium fingerling potatoes, sliced lengthwise
4 sticks of sweet Chinese sausage, halved lengthwise and cut in ¼ inch pieces
6 Roma tomatoes, concasse [blanched, peeled and seeded], large dice
2 garlic cloves, thinly sliced
½ yellow onion, small dice
1 shallot, small dice
3 sprigs of fresh thyme
3 sprigs of fresh marjoram, chiffonade
3 sprigs of fresh summer savory, chiffonade
½ cup white wine
¼ cup homemade chicken jus
½ cup water
4 Tbsp unsalted butter, divided
Salt and pepper to taste
Instructions
Blanch, peel and seed the tomatoes. Dice large and set aside.
On medium heat in a medium saute pan, roast fingerlings in one tablespoon butter. Start cut-side-down. When partly done, flip and add thyme sprigs and another tablespoon butter. Continue roasting until done. Set aside. Remove cooked herbs. Reserve pan and butter for bread.
In a large saute pan, heat one tablespoon canola oil and add sausage and onions. Cook until translucent.
Add shallots and garlic. Cook until translucent.
Add one tablespoon butter and diced tomatoes. Cook for about a minute.
Add most of the herbs. Stir well. Reserve a few for the garnish.
Add white wine. Reduce until alcohol is gone.
Add jus and water and heat on high.
When almost boiling, add clams. Stir well.
Reduce heat to medium. When clams open, they are done.
Remove open clams and discard unopened ones.
Add last of butter and reduce sauce by half.
Pan-grill the bread slices on both sides in reserved butter. Rub with fresh garlic while hot. Cut on a bias and set aside.
Divide fingerlings into serving bowls.
Place clams and sauce on top. Garnish with fresh herbs.
Add pan-grilled garlic bread on the side.
Serve immediately.
Enjoy!
This is another one of those simple dishes with great flavor. Each of the ingredients enhances the others. The combination is really rich.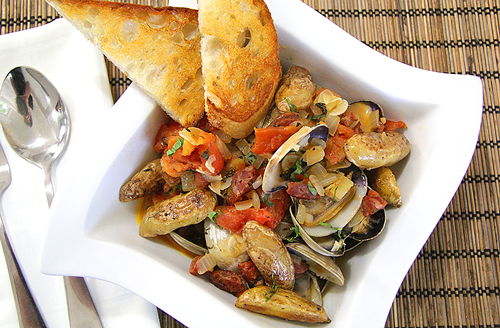 Thanks, again, Luke. I could get used to eating like this.