J – Old habits die hard … sort of.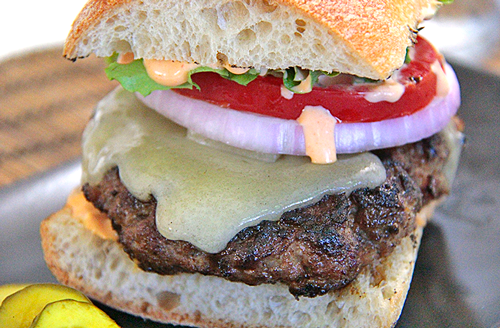 Especially this one. I've been religiously buying a certain "authentic" cajun spice blend for as long as I can remember. Put it on just about everything. Whether or not it needed it. When we got all excited about making this dish for Burger Week, the big question was "What cajun spice blend should we use?"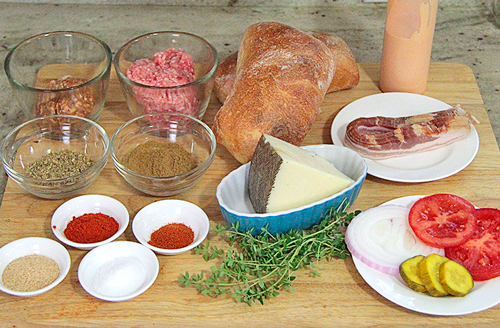 My old habit didn't stand a chance.

So, after some research on our friend the Internet … and a bunch of mixing and tasting, we decided on this blend.

Luckily, we made up a bunch. I've been using it on just about everything since.

Of course, there's a mindfulness lesson in here … as big as an elephant.

I do lust after cajun burgers. This one was especially tempting. Pork, apple wood smoked bacon and chorizo with cajun spices. Add some rich Manchego cheese, the usual trimmings and serve on a fresh chibatta bun.
Use full chibatta buns, if you're really hungry. Or, divide them and make sliders with half-sized patties.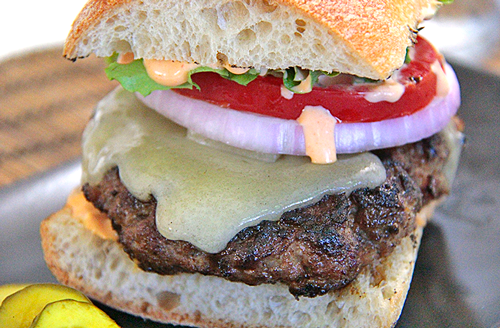 | | | |
| --- | --- | --- |
| Burger Week: Cajun Pork-a-Palooza Burger | | |
Prep time: 15 mins
Cook time: 7 mins
Total time: 22 mins
Ingredients
3 Tbsp ground cumin
3 Tbsp dried oregano
1 Tbsp garlic powder
1 Tbsp paprika
2 tsp salt
1 tsp cayenne pepper
Cajun Pork-a-Palooza Burger
½ pound ground pork, plain
¼ pound chorizo, without the casing
¼ pound apple wood smoked bacon, chopped finely
1½ Tbsp Cajun Seasoning (recipe above)
Salt and pepper to taste
2 slices Manchego cheese
2 slices onion
2 tomato slices
A handful of lettuce
Sriracha mayonnaise
Pickles to garnish
2 chibatta buns, sliced for burgers
Instructions
Mix all ingredients together. Store in a small air-tight container until ready to use.
Cajun Pork-a-Palooza Burger
Mix ground pork, chorizo, bacon and Cajun seasoning together. Let sit for 30 minutes.
Divide the meat mixture in half. Form burger patties. We formed them into rectangular shapes to fit the chibatta buns.
Make sure the middle thinner than the sides. The center will puff up a bit when cooking. Sprinkle the top with salt and pepper.
Place on a hot grill. Cook each side for 3 to 5 minutes or until desired doneness. Once you flip the burger over add the cheese and cover to let it melt.
Place chibatta buns cut side down on grill to warm up for 2 minutes.
Remove from grill.
Place sriracha mayonnaise on the bottom of the bun.
Top with a patty.
Top the meat with onion, tomato, a bit more sriracha, and lettuce.
Drizzle more sriracha on the top bun.
Close the burger.
Serve with pickles.
Enjoy!
Wow! It was amazing.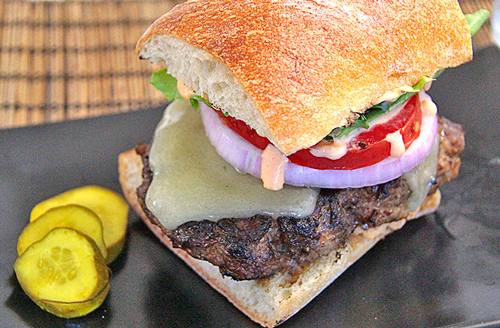 This is a great party burger, whole or slider. Make everything in advance. Cook to order.