C – Jim is on his French-mania kick … again.
Seven years of working with him. It never gets old. He really has a passion for it. So, when he suggested we do bistro week, I wasn't surprised. I was surprised that we couldn't just do one week of bistro fare. We had to do two.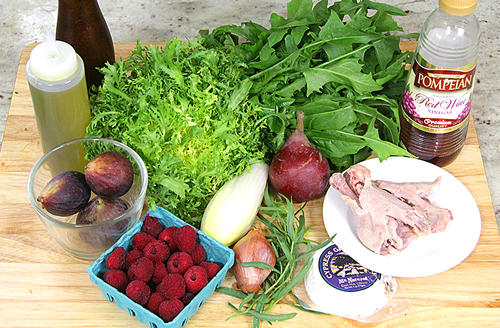 I wanted to vote against it. But, I was out numbered, Luke was so excited. He started making a long list of things to cook. "We could make pate, make duck confit and use it in dishes, get some foie gras and make some amazing dishes," Luke said with delight.

I have never seen someone so passionate about making food … well, other than me. I couldn't ruin his excitement. We had to have two weeks of bistro week. Why not?

First off, something exotic and different. Duck wing confit salad. It's a simple dish that sounds really complicated. It's not. I think you can probably throw just about anything in, and it would have tasted good with the duck wing confit. That's just about what Chris did.
Seared figs. red pear and some raspberries made the salad sweet. It was nice with the saltiness of the shredded duck wing confit. If you don't like bitterness in your greens, don't add dandelion leaves. These leaves are really surprising. They made this salad complex and a bit different than your usual salad.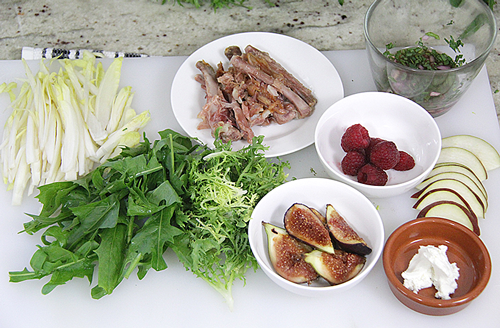 Luke, Jim and Chris all thought the salad looked a bit girly, since it had red raspberries. Well, if that's the case, move over and give it to the girl!

I really liked the salad. Nice and filling, with a lot of fresh fruits and vegetables.
Prep time: 25 mins
Cook time: 5 mins
Total time: 30 mins
Ingredients
2 duck wing confit pieces
3 Brown Turkey figs, quartered
2 tsp grapeseed oil
¼ pint red raspberries
¼ bunch frisee, cut into small pieces
5 dandelion leaves, stalks torn, leaves cut into pieces
2 endive leaves, sliced
½ red pear, sliced
3 Tbsp olive oil
1 Tbsp red wine vinegar
1 Tbsp tarragon, chiffonade
½ shallot, minced
1 tsp sugar
Salt and pepper to taste
2 Tbsp goat cheese
Instructions
Place shallots, red wine vinegar, tarragon, sugar, salt and pepper into a small bowl. Slowly add in oil while whisking. Set aside.
Place grapeseed oil into a small pan on medium high heat. Add figs. Sear on all sides until they are slightly caramelized. About 30 seconds on each side. Add a pinch of salt. Remove from pan and set aside.
Place 1 teaspoon grapeseed oil in pan on medium high. Add duck wing confit pieces. Heat through until skin is a bit crisp. About 2 minutes. Remove and set aside.
After wings cool, remove from bones and shred meat.
Place dandelion leaves in a bowl with a scant tablespoon of dressing, toss and place on plate.
Place frisee salad in same bowl with a scant tablespoon of dressing, toss and place on plate.
Place endive slices in same bowl with a teaspoon of dressing, toss and place on top plate.
Randomly add figs, raspberries, pears around plate.
Top the pile with duck wing confit.
Add sprinkles of goat cheese over entire dish.
Drizzle dressing over top.
Serve.
Enjoy!
I really liked the confit part. It's such a rare treat to have confit, especially at home. Usually, I look for an interesting dish like this to try at a bistro. This salad would be on the top of my list, if I saw it on the menu of any bistro.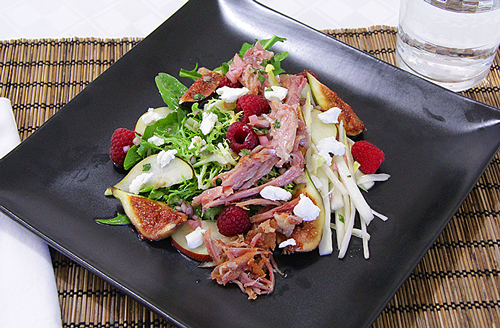 Try making it. Also, look for something different and interesting the next time you go to a French bistro. Enjoy!