Update and Redux: C – What to do with foie gras? Foie gras needs to be eaten quickly if you ever get a chance to get your hands on some. Or, you can make torchon. You can savor it a lot longer.
C – Yesterday's seared foie gras wasn't what I expected.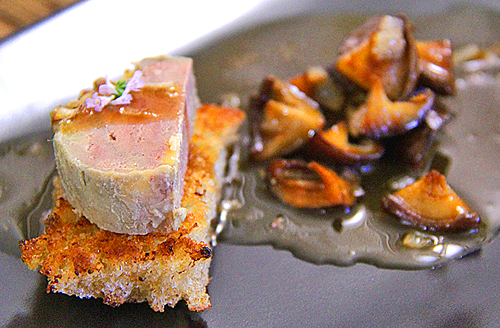 Actually, I don't know what I was expecting. The idea of an expensive, elegant dish was all in my mind. Sometimes, even the most expensive thing can turn out to be just food. I don't know what I was thinking.

I thought a foie gras dish was more complex. The last foie gras dish I had was really complex … not just a seared piece of fatty duck liver.

Luke was a bit disappointed in my reaction, but he understood why. Luke wanted to show me how to prepare foie gras in a more complex manner. It's called torchon.

Torchon is foie gras that is cleaned of the veins, blood, fatty tissues and any bruises. Once cleaned it is seasoned and flattened. Then it is left for a few days to cure in the refrigerator. Once cured, vanilla and cognac is added for flavor. Then, it is rolled into a log in muslin cloth.

It takes an expert to roll it properly. If you don't roll it properly, it can get all over the place. You'll have $100 worth of duck liver all over your kitchen. Thank goodness Luke is an expert.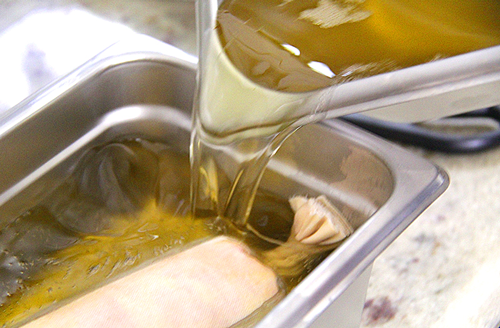 Once rolled, the torchon is submerged in duck fat and poached for about 30 minutes. Then, it's taken out of the fat and chilled to form a hard log.

It was a long process. I got what I asked for and deserved. I wanted something complex. This was it.

When the torchon was finished, Luke started making a savory dish for us to try. I couldn't wait.

Toasted brioche topped with a slice of torchon, paired with shitake mushrooms in a duck jus sauce. You didn't need much torchon. Just a slice. It's expensive and needs to be savored slowly.

The torchon was rich, creamy and flavorful. It really danced in my mouth. It went so well with the crispy bread and the nice meaty texture of the mushrooms.
Prep time: 26 hours
Cook time: 30 mins
Total time: 26 hours 30 mins
Ingredients
1 pound foie gras
1 Tbsp salt
⅛ tsp white pepper
¼ tsp pink curing salt
¼ tsp vanilla
¼ tsp cognac
3 pounds duck fat
1 inch slice of torchon
Two ½x1x2-inch piece of brioche, crust removed
1 Tbsp grapeseed oil
3 shitake mushrooms, stems discarded and cut into quarters
2 tsp butter
½ shallot, diced
2 oz duck jus
Savory flowers to garnish
Instructions
Spread plastic wrap on a cutting board. Begin to pull and separate the lobes of foie gras, but keep as a whole piece. Remove and discard any veins, fatty tissue, blood, or bruise on the foie gras.
Flatten the foie gras in between two pieces of plastic.
Mix salt, pepper and curing salt together in a bowl. Remove foie gras from plastic. Sprinkle all spices over the entire top of foir gras.
Square up the piece of foie gras. Place on a baking sheet. Cover with a new sheet of plastic and place in the refrigerator for 4 days.
Remove foie gras from refrigerator and get it to room temperature.
Place vanilla and cognac on top of foie gras and rub in.
Roll the foie gras lengthwise and place on a muslin cloth.
Roll as tight as possible and make sure it can fit in the pan.
Tie the ends securely, starting with one and then twisting the other carefully and tightly before tying.
Place in a baking or small hotel pan. Top with duck fat, enough to cover the roll by ¼ inch.
Poach for 30 minutes at 180 degrees.
Remove from pan and place on ice to harden.
Once hardened, place in refrigerator until ready to serve.
Melt 1 teaspoon butter in a small pan. Add brioche and toast both sides until golden brown.
Heat up duck jus in a small pan.
In another pan, add oil and heat on high. Add mushroom and salt and pepper. Cook until brown.
Add shallots to the pan and cook for a minute to soften. Mix in the remaining butter.
Add mushroom and shallot mixture to the duck jus.
Cut torchon circle in half.
Place each brioche piece on opposite ends of the platter.
Place half a torchon on each brioche.
Drizzle jus on over the torchon.
Arrange mushrooms and some jus in between the slices of toast.
Top the torchon with savory flowers.
Serve.
Enjoy!
I really enjoyed this one. It's what I expect a $20 appetizer should taste like.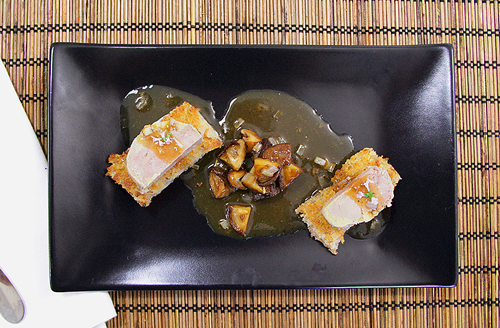 Thanks, Luke, for making me a more complex version of foie gras.