C – Our friend Kelley requested a recipe: Vichyssoise.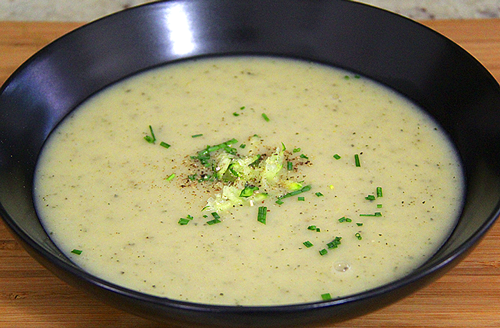 "Vichy … what?" I responded.

"Vichyssoise." Jim responded, "It's a French vegetable soup served hot or cold."
She gave us zucchini so we could make some. She actually gave us a whole bunch of zucchini … so we could make some. How much vichyssoise does she want? That's a lot of zucchini. I guess that's why she's called the Zucchini Lady around here.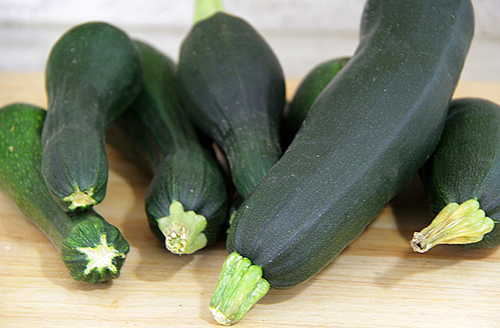 When I found a good recipe, there wasn't a lot of zucchini needed for the vichyssoise. I was doomed. What am I going to do with the rest of the zucchini she gave us?
Jim looked at me and knew what I was thinking. Attack of the giant zucchini is coming back with a vengeance. This time with it's offspring. Last year, a lady at my workout boot camp gave me a large zucchini that lived in the refrigerator for weeks. I was struggling to make things with it. I ended up making zucchini pizza and some zucchini pesto with just one zucchini.
This time, with so much remaining zucchini, I decided to dedicate an entire week of posts to the Zucchini Lady and her lovely zucchini's. Welcome to Zucchini Week!

This vichyssoise is a really great soup for a hot summer. I really liked it. I am surprised that I liked it so much. I am not a big fan of creamy smooth vegetable soups. I like my soups chunky and full of meat, normally. But, Kelley requested a smooth and creamy vichyssoise. I can understand why. When chunky, this soup wasn't good. The vegetables are cooked down until they are mushy. You know how much I dislike mushy vegetables. Once we finished blending the soup into a smooth consistency, it was really nice. It had a silky quality, which was very pleasant for a hot summers day. Eating the soup at room temperature was perfect. The flavors of the leeks, potatoes and zucchinis mingled well together.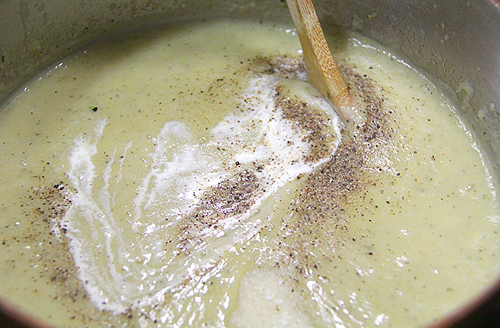 I think the most important part of the soup was the homemade stock. Rule #93: Always have good stock at hand when wanting to make good soup. Try not to buy the stuff from the store. The soup doesn't have much in it. So, it really relies on good stock to support the flavors. I am glad we had that jus on hand.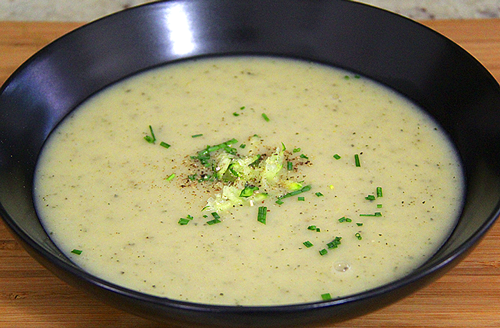 | | | |
| --- | --- | --- |
| Zucchini Week: Zucchini Vichyssoise | | |
Prep time: 10 mins
Cook time: 50 mins
Total time: 1 hour
Ingredients
1 Tbsp unsalted butter
1 Tbsp good olive oil
5 cups chopped leeks, white and light green parts (4 to 8 leeks). Slice and wash well before chopping. Lift out of water to avoid any grit.
4 cups chopped, unpeeled, white boiling potatoes (8 small)
3 cups chopped zucchini (about 2 medium zucchini)
1½ quarts Homemade Chicken Stock, recipe follows, or good quality canned broth
1 tsp kosher salt
½ tsp freshly ground black pepper
2 Tbsp heavy cream
Fresh chives or julienned zucchini, for garnish
Instructions
In a large stockpot, heat the butter and oil. Add leeks and saute over medium-low heat for 5 minutes.
Add the potatoes, zucchini, chicken stock, salt and pepper. Bring to a boil
Lower the heat and simmer for 30 minutes.
Cool for a few minutes.
Process using an immersion blender until very smooth.
Add the cream and season to taste.
Serve either warm or hot. (Slightly warm is the best for flavor)
Garnished with chopped chives and/or zucchini.
Enjoy!
Homemade Chicken Stock recipe
This soup was great for a light summer meal. I was surprised I was so full after just one bowl. I ate it again the next day cold. It wasn't as good as it was warm. I heated it up in the microwave for a few seconds and the flavor profile changed dramatically. I think the potatoes in the soup absorbed all of the salt. Once heated, it was pure vichyssoise joy.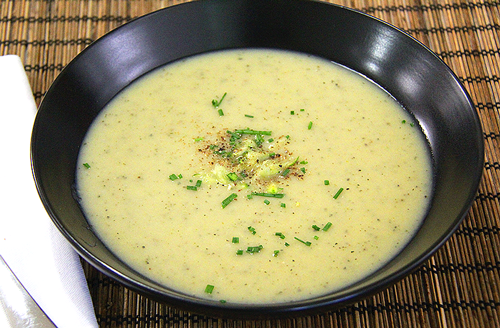 Kelley, thanks for the request. I hope you liked the soup. And, thanks for all of the zucchini, Zucchini Lady.
Adapted from: http://www.foodnetwork.com/recipes/ina-garten/zucchini-vichyssoise-recipe/index.html