C – I finally made a good zucchini bread!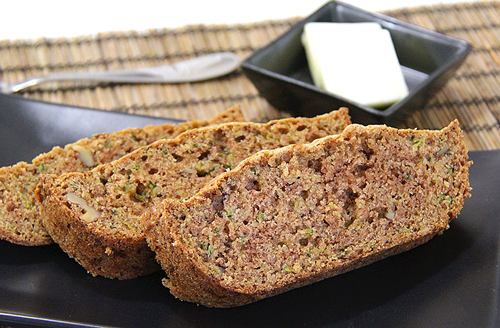 Finally!? You might remember my zucchini sheet cake. It tasted great. But, it was made from a mistake. It was intended to be a brownie. I don't do well with making baked goods out of zucchini. I always forget to do one thing, squeeze all the water out of the zucchini.
I really like making zucchini bread. I wish I could just get the hang of it. I make zucchini bread once a year and always seem to forget this crucial step.

I just never expect zucchini to have that much water in them. They always do. It always turns into a mushy mess that never fully bakes.

Some of the recipes I have found usually don't tell you to squeeze out the juice. It really annoys me.

I love zucchini bread. I am so glad to have found this recipe. This zucchini bread tastes like a cake when it's warm. It's light, fluffy and moist. Once the bread cools down and is refrigerated, it acts more like a bread. It's hearty, dense and super filling. I love the crunchy crust. I also love the cinnamon and sweetness of it.

Jim and I have been fighting over this for breakfast. I think he was disappointed at the very end, when I only left him about two bites.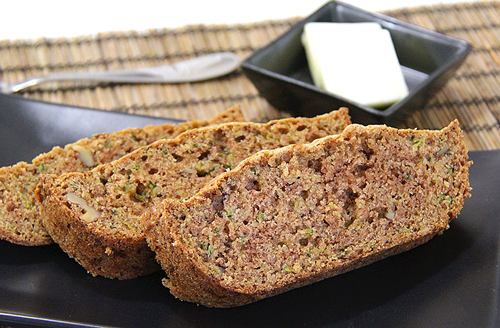 Prep time: 15 mins
Cook time: 60 mins
Total time: 1 hour 15 mins
Ingredients
3 cups all purpose flour
1 tsp salt
1 tsp baking soda
1 tsp baking powder
3 tsp ground cinnamon
3 eggs
1 cup canola oil
2 cups white sugar
3 tsp vanilla extract
2 cups grated zucchini, water squeezed out and discarded
1 cup chopped walnuts
Instructions
Preheat oven to 325 degrees.
Grease and flour two 8 x 4 inch pans.
Sift flour, salt, baking powder, baking soda and cinnamon together in a bowl.
Beat eggs, oil, vanilla and sugar together in a large bowl. Add sifted flour ingredients to the creamed mixture. Beat well.
Stir in zucchini and nuts until well combined. Pour batter into prepared pans.
Bake for 40 – 60 minutes, or until toothpick inserted in the center comes clean.
Cool in pan on rack for 20 minutes.
Remove bread from pan, and cool completely.
Serve.
Enjoy!
Oh well, since Kelley gave us so many zucchinis, I think there will be more zucchini bread making soon.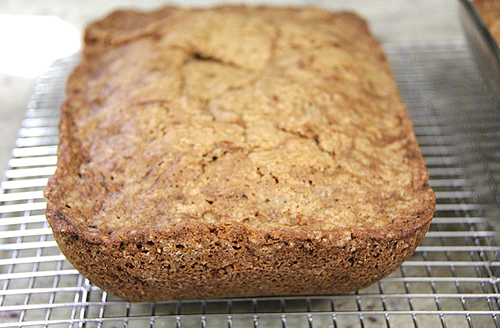 I think … since I have this recipe written down correctly … I will be able to make good zucchini bread from now on. Guaranteed.
Adapted from: http://allrecipes.com/Recipe/Moms-Zucchini-Bread/Detail.aspx?src=rotd