C – Cooking meat on the bone gives the best flavor to a dish.
Lately, I have been doing everything boneless. I learned how to debone a chicken and now I am on auto-pilot with it. There aren't many bones in my stews, stir fries or fried chicken. I've lost my way.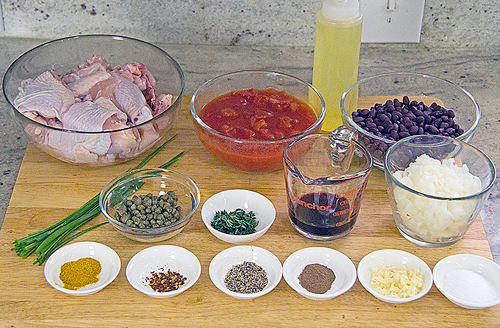 I need to get back to basics. I need to get back to using the bones again. I think my dishes will taste even better. I have enough bones saved for my bone broths. Now, I need to put them in dishes again.

I haven't used the bones lately, because a lot of people complain about how hard it is to eat the meat with the bones intact. Well I guess I won't be serving them soon, or they will just have to grin and eat it. Or, I can do what my family does and cook some of the meat with and without bones in one pot. Serve the boneless meat pieces to guests and save the bone pieces for yourself. If works out pretty well.
I feel like some of the pieces with bones attached has better meat on them. The back of the chicken usually gets thrown a way or used to make broth. There are wonderful little gems of meat you can pick off that are flavorful and prime meat texture.

In this Jamaican chicken stew, I used chicken with the bone attached as well as without. If you look closely at the pictures you may see both. I ate most of the meat that had lots of bones, ie the back side of the chicken. I gave Jim most of the easier meat attached with the bones, as well as the meat off the bones. Always have an empty bowl on the table to throw the bones in. It makes eating a lot easier.

This stew was wonderful. I never had a Jamaican stew before. It was delicious. I loved the blend of curry and all spice, along with the tomatoes and capers. It's a really good combination of flavors. I liked having the bones in the stew. It gave it more flavor. I don't think I would have eaten the meat with the attached bones if I was with guests, unless I knew them well and don't care what they thought. It's messy. You have to have fun with eating meat with bones attached. You have to dare to eat with your hands and not deal with utensils much.
| | | |
| --- | --- | --- |
| Winter Stew Week 2017: Jamaican Chicken Stew | | |
Prep time: 10 mins
Cook time: 1 hour
Total time: 1 hour 10 mins
Ingredients
2 tsp grapeseed oil
1 cup white onion, chopped
2 cloves garlic, minced
2 pounds chicken with skin and bones intact, cut up into 1 inch pieces
2 tsp curry powder
1 Tbsp fresh thyme leaves
1 tsp all spice powder
½ tsp crushed red chili pepper
1 tsp black pepper
Salt to taste
¼ cup red wine
2 Tbsp capers
14 oz can black beans, rinsed and drained
14 oz can diced tomatoes, keep liquid
2 Tbsp of chicken jus plus 1 cup of water or 1 cup of chicken stock
Cooked rice for 4 servings
Instructions
Place oil in a 8 quart sauce pot. Heat on medium heat.
Add onions and saute until translucent. About 3 minutes.
Meanwhile, mix chicken with the curry powder, thyme, all spice, crushed red pepper, black pepper and ½ teaspoon salt. Mix well.
Add garlic into the pot and cook for a minute.
Add the seasoned chicken into the pot. Cook for 5 minutes.
Add wine and cooked until evaporated.
Add capers, beans and tomatoes.
Add chicken stock or jus along with a cup of water. Bring to a simmer and reduce heat to a low simmer. Cook until the chicken is tender completely cooked. About 45 minutes.
Taste and adjust for salt.
Serve with rice.
Enjoy!
Will I be cooking chicken with the bones more? I will. But, I am not sure if I will show it on the blog much. I usually make soups with the remaining bones after we break down a chicken or any poultry. It's fun for me and gives me an extra meal. I boil the chicken bones and remove them. Then, I let the bones cool and remove any meat that remains. I add the meat back into the pot along with vegetables and anything I want as part of my soup. It's a great way to not waste a single piece of meat.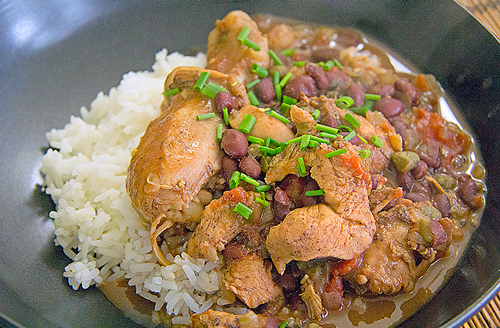 So, use the bones more. It will add more flavor to you meals.
Slightly adapted from: http://www.myrecipes.com/recipe/jamaican-chicken-stew