Update and Redux: C – It's starting to get cold outside. It's time for good warm and hearty soups. This broccoli leek soup is a good start to the week. It's warm, flavorful and simply perfect with a good grilled cheese sandwich.
J – Broccoli soup!?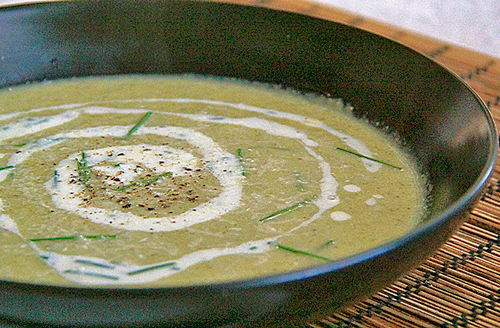 "Oh well, if we have to …" I said to Christina. I was remembering the not-so-visually-pleasing and bland broccoli soups I had had in my vegetarian days so long ago. I certainly didn't miss them.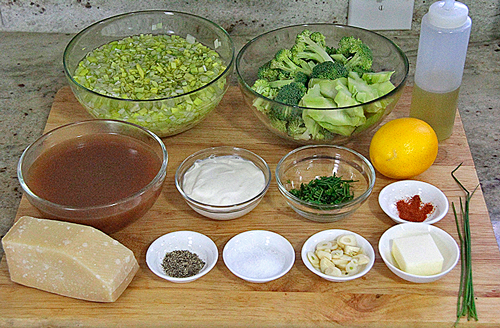 Fortunately, I was in for a big flavor surprise.

Broccoli and leek soup has had a bad rap for way too long. Way overcooked, mushy, olive-colored broccoli that is blended with indistinct seasonings. But, hey, it's healthy.

Problem, is … nobody wants to eat it.

This dish changes that experience. A delicious, soft-green, rich and hearty soup with a ton of flavor.

We used homemade chicken stock because our current vegetable stock was made with an emphasis on shiitake mushrooms. Very nice stock. We just didn't want shiitake notes in the flavor profile.

It's creamy, with nice acid balance from the lemon.

Cayenne and fresh black pepper add a subtle kick.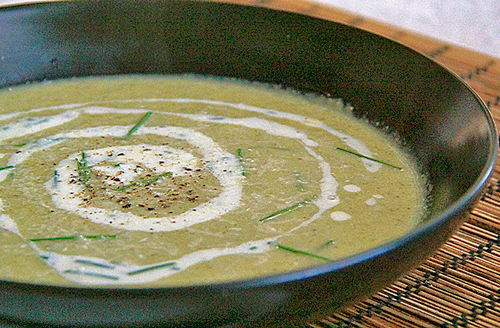 | | | |
| --- | --- | --- |
| Hearty Soup Week: Broccoli Leek Soup | | |
Prep time: 20 mins
Cook time: 30 mins
Total time: 50 mins
Ingredients
1 Tbsp unsalted butter
1 Tbsp grapeseed oil
2 medium leek, white and tender green parts only, finely chopped
1½ pounds broccoli, stems peeled and sliced ½ inch thick, florets cut into 1 inch pieces
3 cloves garlic, thinly sliced
5 cups chicken or vegetable stock
Salt and ground black pepper to taste
pinch of cayenne
½ cup crème fraiche
1 whole lemon zest, finely
2 Tbsp fresh lemon juice
¼ cup grated Parmesan cheese, plus more to finish
¼ cup chives, snippets, plus more to finish
Instructions
Place oil and butter into a medium stock pot. Let melt on high heat.
Add leeks and reduce to medium heat. Cook until softened. About 5 minutes.
Add garlic and broccoli. Mix well.
Add chicken stock, cayenne, salt and pepper to taste. Mix well.
Bring to a boil, then reduce to a low simmer. Let simmer for 15 to 20 minutes or until broccoli has just softened.
Meanwhile, in a small mixing bowl place crème fraiche, lemon zest, lemon juice, chives, Parmesan cheese, salt and pepper. Mix well. Set aside.
Once vegetables are ready, blend with a immersion blender or regular blender until smooth.
Add ½ of the crème fraiche mixture. Mix well.
Serve with more crème fraiche on top.
Finish with more chives, grated Parmesan and fresh ground black pepper.
Serve.
Enjoy!
This is a elegant soup with crème fraiche drizzled in a pattern and little snippets of chive scattered on top.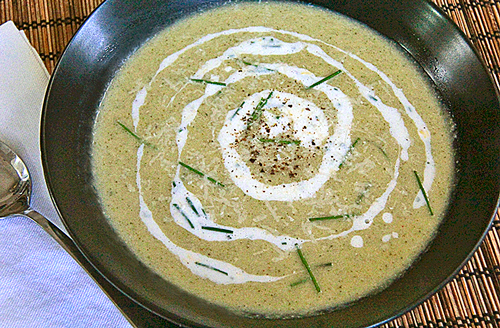 It could be quite the flavor surprise … and conversation starter … at your next dinner party. Delicious soup.