J – I can't resist smoking fowl of any kind …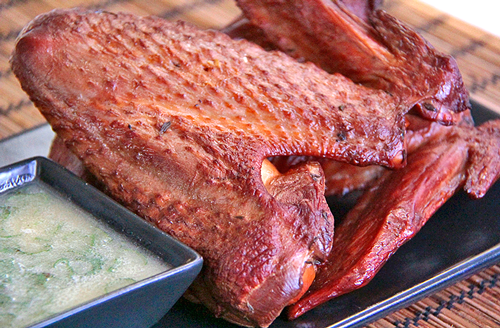 including these turkey wings. This recipe is a riff on our 2013 Thanksgiving Turkey Two Ways. Of course, I did Turkey Three Ways for a friend this Thanksgiving. No reason to stop at just two! The smoked turkey legs and thighs "way" was the hit.

Thought I might try doing the same with turkey wings.

Brine and smoke. What's not to like?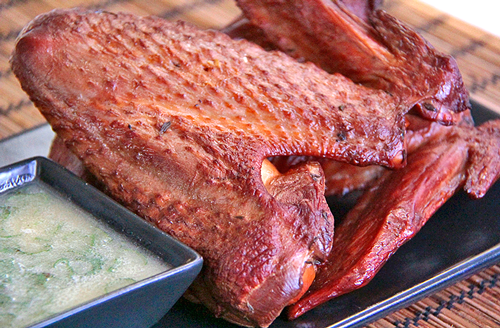 | | | |
| --- | --- | --- |
| Wings Week: Smoked Turkey Wings with Sage Lemon Honey Butter Dip | | |
Prep time: 24 hours
Cook time: 3 hours
Total time: 27 hours
Ingredients
½ medium yellow onion, peeled and quartered
3 fennel stems and fronds, rough chopped
4 to 6 sprigs of fresh thyme
2 bay leaves
6 pepper corns
½ cup kosher salt
½ cup golden brown sugar
8 to 9 cups water
2 to 4 fresh turkey wings
Instructions
Mix all ingredients in a large pot and bring to a boil
Lower heat and simmer for 30 minutes.
Cool to room temperature, at least. This is very important.
In a medium storage pan, pour brine over turkey wings.
Brine the wings overnight or up to two days.
Remove turkey wings from brine and dry thoroughly, removing all the herb bits.
Use wood chips of your preference. We use hickory wood for turkey wings..
Soak chips in water for 30 minutes.
Light the grill with just a few briquets concentrated on one side and let them start to develop ash. Add wet chips.
Place the turkey wings skin-side-up in an indirect location. Cover grill.
Maintain a 200 degree temperature, adding briquets and chips when needed.
Take turkey wings off when the internal temperature is 150 degrees.
Cut at joints and slice, if desired.
Serve.
Enjoy!
Nothing, it turns out. Wonderful color. Silky, moist, smokey meat. We served them with an emulsified sage lemon honey butter dipping sauce. They're also great by themselves.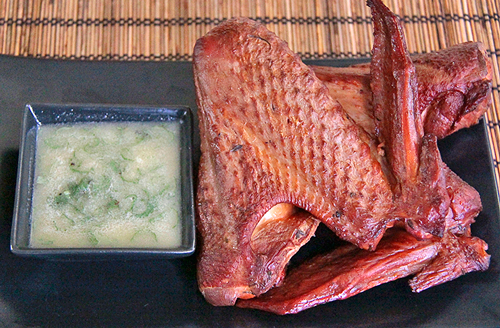 Be sure to get large wings. And, lots. They will be gone in a flash.