C – Kohlrabi is my new favorite vegetable.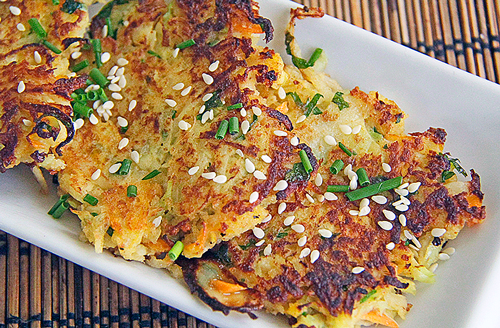 I was really scared, yet curious, what a kohlrabi was when I discovered them at the farmers market. I was scared because when I asked the vendor selling it, he didn't know what to do with them either. I did see a lot of Asian people buying them.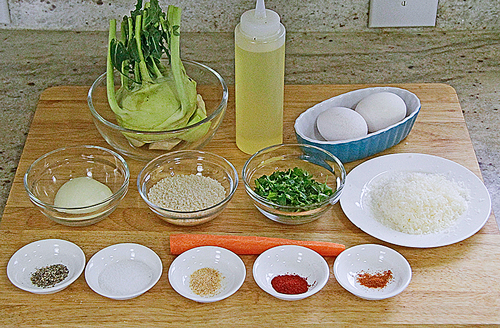 But, when I asked someone buying them, they didn't speak English.

So, I went home without daring to try it. That was a few years ago. I wish I dared to buy it and try it. I didn't know what I was missing.

I stumbled upon it again this week as I was trying to find interesting things to cook for the blog. After doing a bit of research, I figured out how versatile it was.

Peel it. Slice it up. Eat it raw. It's crunchy and similar to broccoli stalks or cauliflower stalks. You can cook with it. Stir fry it with meat and sauces, or fry them up like we did. It's amazing.

These fritters were amazing. Light, fluffy, crispy and flavorful. I really loved the mix of grated carrots, onions and kohlrabi.
There isn't much taste to kohlrabi. It tastes similar to peeled broccoli stalks, but more tender and crispier.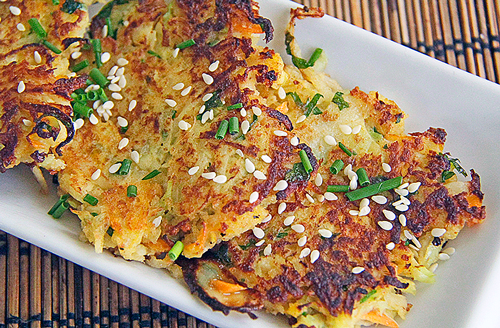 | | | |
| --- | --- | --- |
| What To Do With These Vegetables Week 2016: Kohlrabi Fritters | | |
Recipe type:
Sides, Mains
Prep time: 15 mins
Cook time: 20 mins
Total time: 35 mins
Ingredients
2 large kohlrabi, peeled and quartered
½ small yellow onion, peeled
1 carrot, peeled
Salt and pepper to taste
¼ tsp granulated garlic powder
¼ tsp paprika
pinch cayenne pepper
2 large eggs
¼ cup panko breadcrumbs
½ cup Parmesan cheese
¼ cup parsley, chopped
Canola or grapeseed oil for frying
Instructions
Shred the kohlrabi, onion and carrot in a food processor or grater.
Place shredded vegetables in a cheese cloth and squeeze out as much of the liquid as possible.
Place squeeze-dried vegetables in a mixing bowl.
Add salt, pepper, garlic powder, paprika, cayenne pepper, eggs, breadcrumbs, Parmesan cheese and parsley. Mix well.
Heat about ¼ inch of oil in a frying pan or skillet until hot. Reduce the temperature to medium.
Add a heaping tablespoon of the kohlrabi mixture into the pan and press down with a spoon to form patties.
Fry patties until golden brown on each side. Be careful that the heat isn't too hot. They can burn quickly. Fry for about 2 minutes on each side.
Remove from pan and dry on paper towels. To keep warm, place in the oven at 300 degrees until ready to serve.
Best if served immediately.
Sprinkle chives and sesame seeds for garnish. Serve Sriracha mayo for dipping if desired.
Serve.
Enjoy!
I just love kohlrabi. Now when I see them at the store or the farmers market, I will buy some.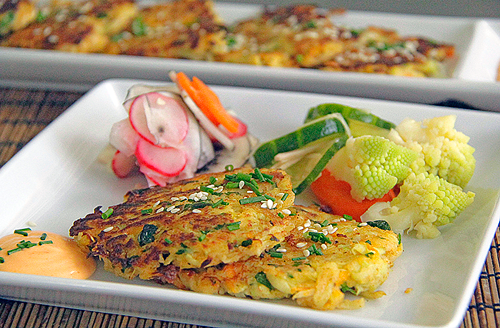 If someone asks what to do with them, I will definitely be able to tell them all about it.