J – If you are a fan of fava beans …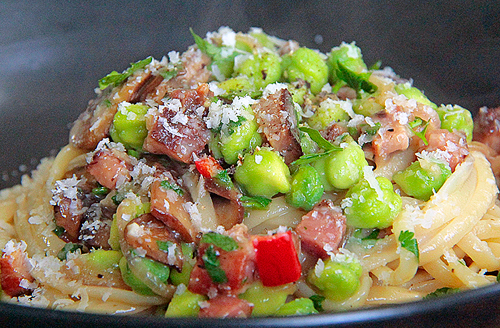 fresh garbanzo beans are a close cousin, but without nearly as much work. If you don't know either one, you are in for a treat. This is a fast dish with classic, bold flavors. Essentially, by the time the pasta has cooked everything else is ready, too.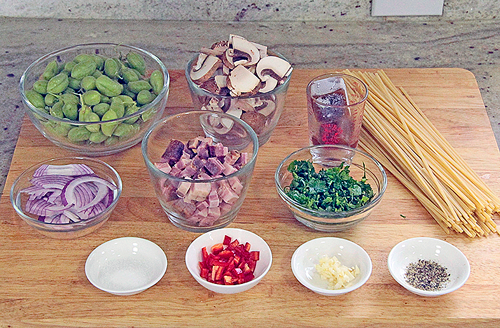 I can't say we just made this up, because most dishes like this have similar techniques. Like one of my favorites, Cacio e Pepe.

What is "figure out as we go" was Christina's research. We were stuck for another not-so-known vegetable for this week.

At the last minute, Christina stumbled upon a huge, fresh-that-morning shipment of garganzo beans at one of our regular markets.

Whew. Then, the ideas started poping up.
When she got to the Be Mindful. Be Human. kitchen, the recipe was down.

Now, we just had to cook and shoot it.

Although we had a couple of dishes ahead of this one … we also had a guest cook in for a visit. She quickly stepped in as a sous. Perfect.

Getting to know people while cooking with them can be fun … mostly. This time it was great fun.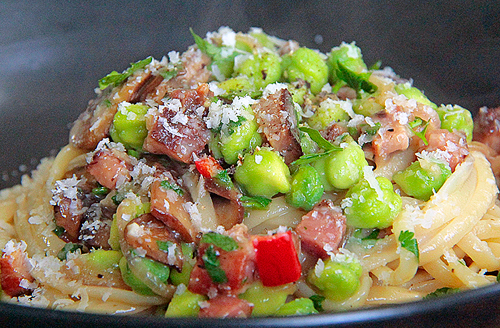 | | | |
| --- | --- | --- |
| What To Do With These Vegetables Week 2016: Fresh Garbanzo Bean Bacon Pasta | | |
Prep time: 10 mins
Cook time: 20 mins
Total time: 30 mins
Ingredients
1 pound fresh garbanzo beans in shell or 2 cups fresh garbanzo beans shucked
2 servings Linguine pasta
2 slices of thick-cut bacon, cut into ¼ inch cubes
2 cups sliced crimini mushrooms
½ red onion, sliced
1 clove garlic, minced
1 Fresno chili, seeded chopped
2 chicken jus cubes (recipe link below)
1 cup Parmesan, grated plus more for garnish
½ cup pecorino, grated
¼ cup parsley, plus more for garnish
Salt and pepper to taste
Instructions
In a 6 quart pot bring 4 quarts of water to a boil with salt and blanch the fresh garbanzo beans for 1 to 2 minutes. Scoop out the garbanzo beans using a slotted spoon. Rinse the beans in cold water and drain to stop the cooking process.
In a same pot using the blanching water add the pasta and cook according to package directions. When done, remove from heat but do not drain.
In a saute pan, cook bacon until crisp. Remove bacon on to a paper towel and set a side. Leave about 2 tablespoons of the bacon grease in the pan for cooking the rest of the dish.
On medium high heat in the same pan with the reserved bacon grease, add the mushrooms and a pinch of salt and pepper. Saute until golden brown.
Add the red onions saute until softened.
Add the garlic and Fresno chili. Cook for about 1 minute.
Add the chicken jus cubes. Let dissolve and mix well and add a pinch of salt and pepper.
Add the Parmesan cheese and mix well.
And pasta and mix well. Add a bit of pasta water if too dry.
Add the fresh garbanzo beans. Mix well.
Add the Pecorino cheese and mix well.
Season to taste.
Place on plates. Garnish with more Parmesan cheese.
Serve.
Enjoy!
Done. And, just in time for lunch.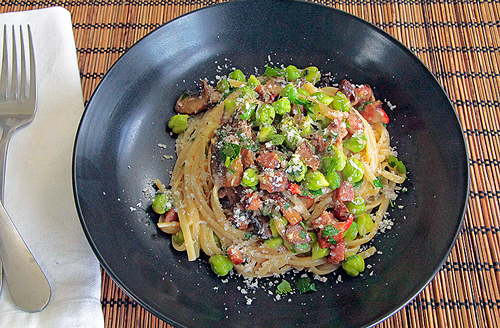 Tasty. Surprisingly rich. We'll be doing this one again. Bon appetite!