C – I have been having a tough time picking watermelons.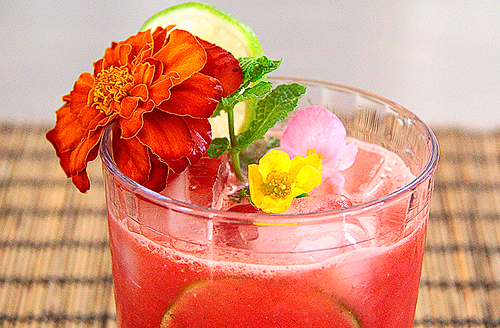 I have been buying them overly ripe. The flavor of the watermelon is super sweet, but the texture was mealy and not crisp. I am not a big fan of mealy watermelon. I hate wasting things. But, trying to endure eating a mealy watermelon isn't my favorite thing to do.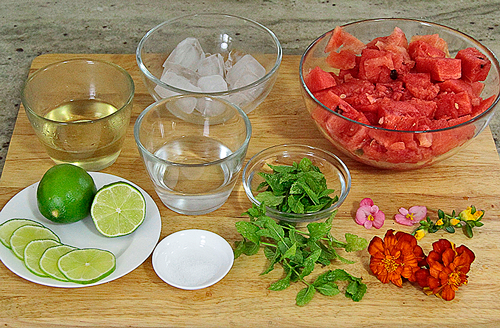 So what to do? Blend it up and make a watermelon drink with it.
This agua fresca is the perfect thing to make with a watermelon that isn't as good as you'd hoped. The good thing about this drink is you can use any type of watermelon you have on hand. Sometimes you might have a disappointing under ripe watermelon that is flavorless and you need to do something with it.
This is the drink for you. Add some simple syrup … to your liking … and add lime and mint. It becomes the perfect summer drink. You don't have to waste a watermelon that you might have thrown away.

I love the sweet, slightly tart and fresh flavor of this drink. It's so good and addicting. I was a little disappointed that I didn't make more.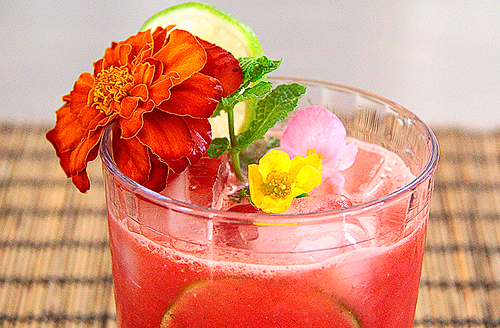 | | | |
| --- | --- | --- |
| Watermelon Week 2015: Watermelon Agua Fresca | | |
Prep time: 5 mins
Total time: 5 mins
Ingredients
4 cups seedless watermelon, cut into cubes
½ cup water
½ cup simple syrup (1 part water to 1 part sugar boiled for 5 minutes), add as little or as much as you like
pinch of salt
1 lime, more if you want it more tart plus more for garnish
20 mint leaves, more for garnish
Edible flowers for garnish (optional)
Instructions
In a blender, place watermelon, water, pinch of salt, add a few tablespoons of simple syrup (unless your watermelon is already really sweet), mint leaves and the juice of 1 lime. Blend all the ingredients until fine.
If you had seeds in your seedless watermelon, strain the watermelon drink through a coarse strainer.
Serve with ice cubes.
Garnish with lime, edible flowers and more mint leaves.
Serve.
Enjoy!
I served it during one of our client meetings and we couldn't have seconds. I was babying it for two hours because I wanted it to last the entire meeting. It was so good.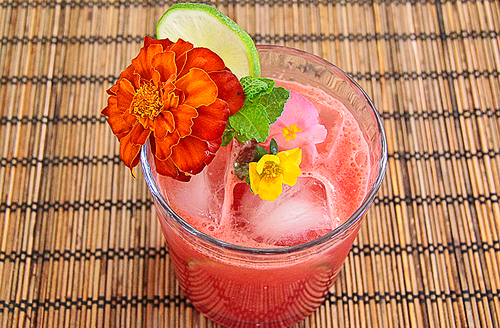 If you make it a little too sweet, add lots of ice and let it melt. The drink will get better and better over time.