C – You can't have a 4th of July celebration without watermelon.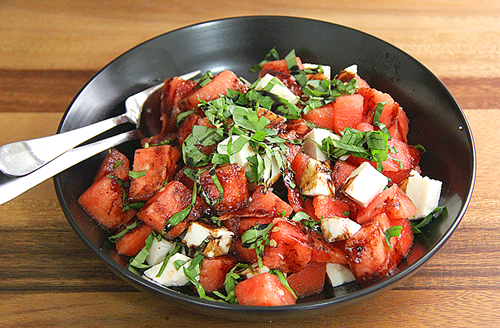 I love watermelon. It's also the only melon I am not allergic to. I am so glad. It would be awful if I was allergic to them. I would hate summer. Cantaloupe and other forms of melons can make me really sick. The last time I ate one, I was bed ridden for two weeks.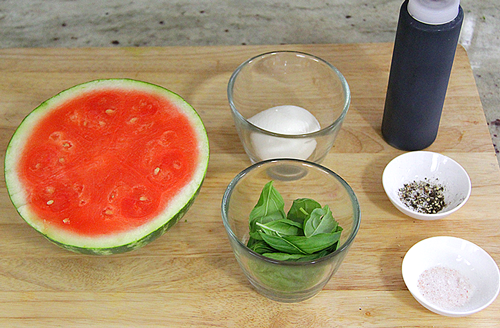 Sadly, I miss the days when I could eat a melon or a fruit salad without getting sick. Well, I am in luck. I made a watermelon salad that would blow those other fruit salads away.

I never thought to make a savory dish with watermelon before. It was great.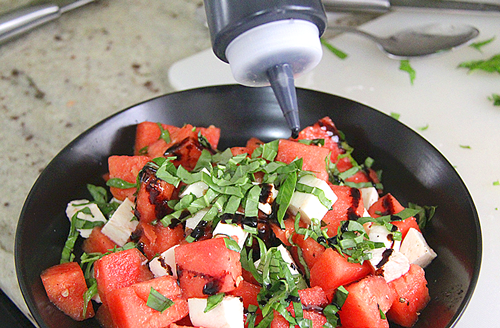 Sweet watermelon with soft mozzarella and that great balsamic reduction that Luke made awhile ago was perfect. Crispy, soft, salty and sweet, with a refreshing ending flavor of basil.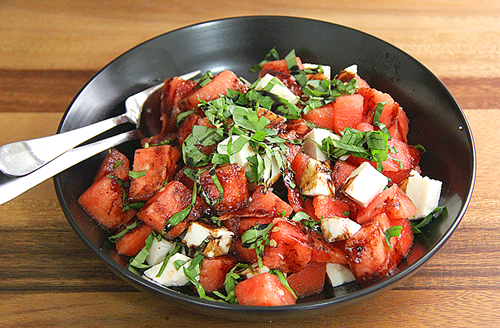 | | | |
| --- | --- | --- |
| Watermelon Basil Mozzarella Salad with a Balsamic Reduction | | |
Prep time: 15 mins
Total time: 15 mins
Ingredients
4 cups seedless watermelon, cut into 1 inch cubes
2 Tbsp basil, chiffonade
½ pound mozzarella, cut into ½ inch cubes
2 Tbsp balsamic reductions (see notes for details)
Salt and pepper to taste
Instructions
In a large bowl, add watermelon, basil, mozzarella, salt and pepper. Mix well.
Drizzle balsamic reduction over top.
Serve.
Enjoy!
I really like it. I must have liked it … I ate most of it. Yeah, I had seconds. Then, thirds. It was that good.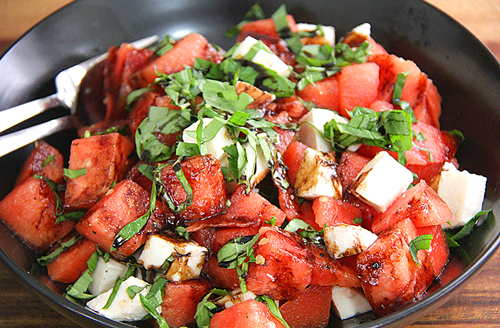 Hope you try this. Simple and easy to make.
Adapted from: http://gourmetfood.about.com/od/gourmetsalads/r/wtrmlnmozzsalad.htm