C – Are you a foodie like I am?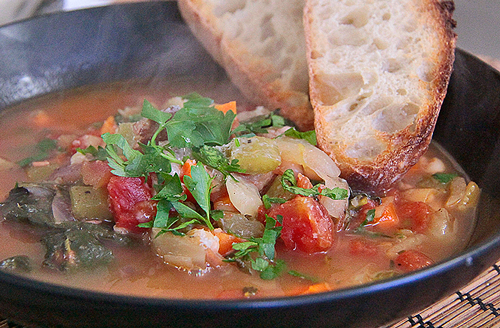 If so, I'm guessing you get questions that you really don't want to answer? Like, where is your favorite place to eat? Um… I'm a foodie. I like trying new places and probably don't want to tell you where my favorite place is.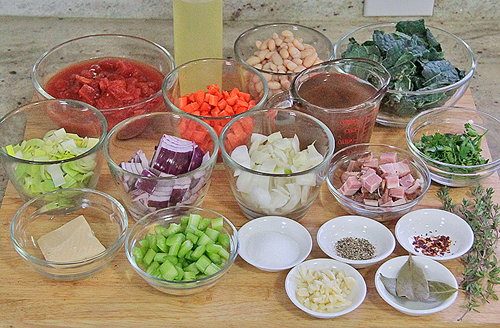 You might not like it and think less of me as a foodie. Or worst … you might think I am a food snob.

I also get strange questions like what's your favorite brand of bottled of water? The answer is Voss. It's in a glass bottle. It has the most neutral flavor. That question was funny, because that person then asked me what was my favorite plastic bottle water brand. My answer is still Voss for the same reasons. It's semi-snobby water.

One of the strangest questions I have ever had to answer was what was my favorite type of canned soup? I think I have to hang out with new people. Who the heck eats canned soups? I make my own soups from scratch. I don't think I have had soup from a can since moving out of my parents house at 21.

Ok, I'm a food snob and proud of it. But, if it's a life or death question that I must answer, minestrone would be my answer. It's also one of my favorite soups made from scratch.

It's the soup that has the most stuff in it … even from a can. But, nothing beats the homemade-from-scratch-stuff. Especially, this recipe. I love chunky soups. This is probably one of the chunkiest soups out there.

There are lots of vegetables. A beautifully flavored broth with lots of Parmesan. Of course, if you want to add bacon just for the heck of it, do it. The beans are a great filler and can't be replaced in minestrone soup. A pinch of red pepper flakes adds a little spicy kick.

When it really comes down to it. This soup isn't at all for the snob in me. It's not refined and quite rustic.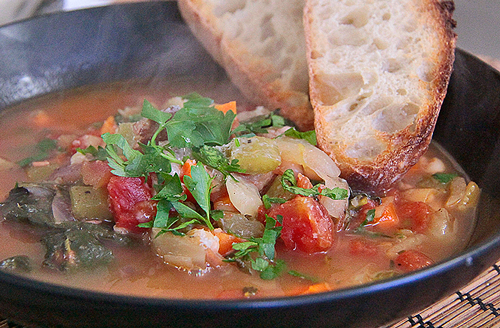 | | | |
| --- | --- | --- |
| Warm Winter Soups Week 2016: Winter Minestrone | | |
Prep time: 20 mins
Cook time: 1 hour
Total time: 1 hour 20 mins
Ingredients
1 Tbsp grapeseed oil
1 slice of thick cut bacon or lardon, cut into ¼ inch cubes
1 leek, light green and white part only, diced and well washed
½ fennel bulb, diced
½ red onion, diced
2 celery stalks, diced
2 carrots, diced
3 thyme, sprig leaves only
Pinch of red pepper flakes
2 bay leaves
2 garlic cloves, minced
1 15-ounce can Northern beans or Cannelloni beans
1 14½-ounce can diced tomatoes with juice
2 cups Lacinato kale, torn into 1 inch pieces
4 cups chicken or vegetable stock
1 cup shredded Parmesan, plus any leftover rinds
¼ cup parsley, chopped
Salt and pepper to taste
Instructions
In a medium soup pot place oil and bacon. Cook on medium until bacon is golden and crisp. Remove bacon pieces from pot and set aside.
Add leeks and cook until softened.
Add fennel, carrots, red onions, and celery to the pot and cook until softened. About 5 minutes.
Add bacon, thyme, bay leaves, garlic, red chili flakes, salt and pepper. Mix well.
Add beans, tomatoes, and kale. Mix well.
Add Parmesan rinds.
Add stock. Bring to a simmer reduce heat to low and partially cover. Let simmer for about 30 minutes, or until the Parmesan rind has melted.
After 30 minutes, add the parsley and the grated Parmesan. Mix well.
Serve with crusty bread.
Enjoy!
To my friends that challenge me to these strange questions, one bowl of this soup will make you question why the heck you are eating canned soup.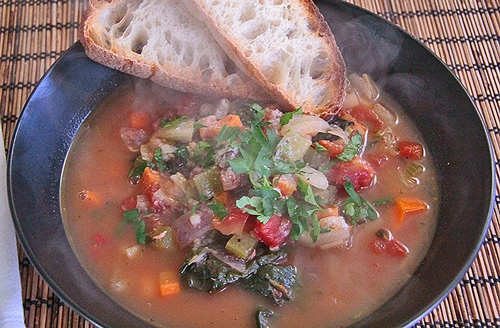 I will be happy to teach you how to make this one.