C – I promised myself, I would eat in moderation more often this year.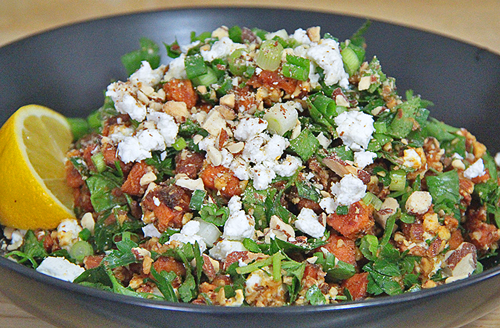 So, I have deprived myself of ice cream for a few weeks. I have been really craving it. I almost lost it and bought some at the store one day. Luckily, I didn't. Today I must have jinxed myself or something. Or, I was setting myself up for failure when I made this dinner. It was my favorite kind of dinner. A healthy filling salad with a really good piece of meat.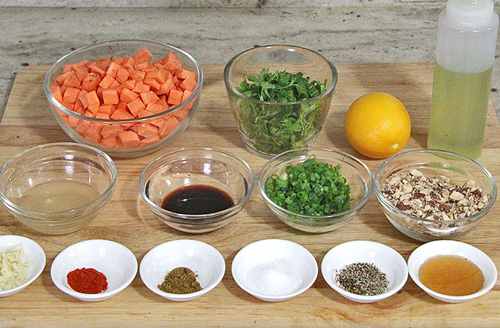 My new found appreciation for beef rib-eye got to me. Of course, I added this warm sweet potato salad with tamari almonds and goat cheese. How could I not overeat?

Eating in moderation was about to go out the door. Just one taste and I knew what was about to happen. Have I told you how much I love my own cooking? Yeah, I really do.

Nice, creamy sweet potatoes seasoned with cumin, smoked paprika, garlic. Salty and peppery. Yum. Add a bit of crunchy almonds, creamy goat cheese and some fresh herbs. I was in food paradise. With one bite, I knew I needed promise myself a bowl of ice cream and not overeat dinner.

All I could think was "Just a few spoon fulls of salad and a few slices of meat for the first round. Drink a lot of water. Stop for a moment. You might be full from one plate."

Thank goodness my mindfulness came to me in time. I was doing well and wanted to treat myself after dinner. I saw that Jim saved the last bit of coconut vanilla ice cream. I really didn't care if he was saving it for himself, I was in desperate need. I asked if I could have it for dessert. He was fine with that.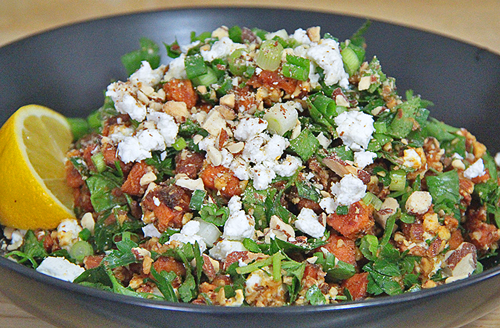 | | | |
| --- | --- | --- |
| Warm Winter Salad Week: Roasted Sweet Potato Salad with Tamari Almonds and Goat Cheese | | |
Prep time: 10 mins
Cook time: 15 mins
Total time: 25 mins
Ingredients
2 sweet potatoes, peeled and cut into ½ inch cubes
2 Tbsp grapeseed oil
Salt and pepper to taste
2 Tbsp apple cider vinegar
1 Tbsp honey
½ tsp smoked paprika
½ tsp cumin
1 clove garlic, minced
½ lemon, juiced
1 Tbsp soy sauce
1 cup flat leaf parsley, roughly chopped
½ cup tamari flavored almonds, roughly chopped
¼ cup goat cheese, crumbled and divided
3 green onions, finely chopped
Instructions
In a large saute pan, place oil and heat on medium high.
Add sweet potatoes, salt and pepper. Cook until caramelized and tender. About 10 minutes.
In a small bowl mix apple cider vinegar, honey, paprika and cumin.
Add into the sweet potatoes. Stir. Let liquid absorb into mixture. About 2 minutes.
Add garlic and cook until soft. About 1 minute.
Remove from heat. Add lemon juice and soy sauce. Mix well.
Toss in parsley, almonds, some of the goat cheese and some of the green onions. Mix well.
Place on a serving platter.
Top with more goat cheese and green onions.
Serve.
Enjoy!
Thank goodness. I don't know what I would have done if he said no.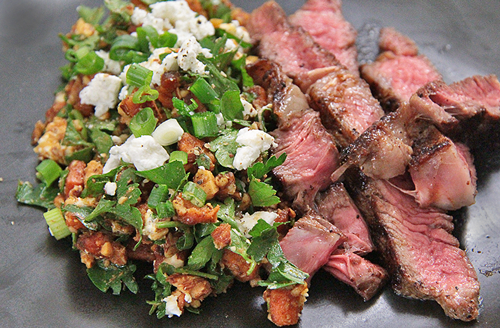 I got a great dinner. And, I still got a bowl of ice cream as a reward. Yup, it really hit the spot. The ice cream craving has gone.