C – I love getting new tools.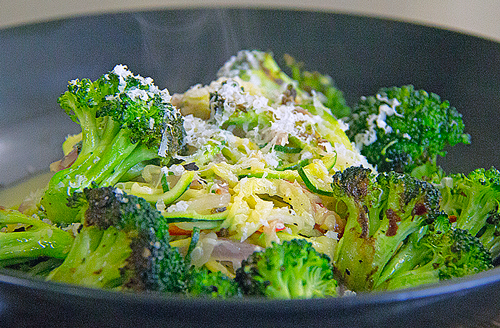 Jim calls them my toys. Sometimes, I really think they are more like toys than useful tools that I will use all the time in the kitchen.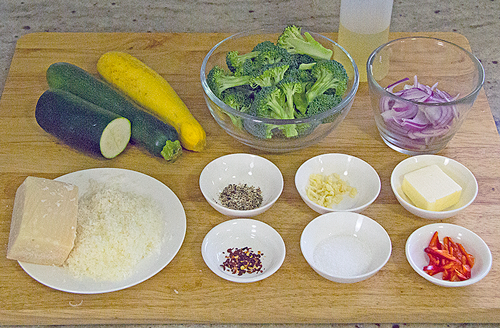 I bought this new spiralizer tool. It really looks like a toy. I honestly didn't think it was going to be so big. Now, I'm kind of regretting buying it since it's so big. I am not sure where I am going to store it.

I bought it to help me be more creative with cooking vegetables. I have been really struggling lately. My salads are becoming more and more of the same things. Soups. Having the same vegetables tasting similar. Roasting seems a bit boring.
Sometimes, I end up avoiding the vegetable drawer all together. It's not a good thing. I bought this spiralizer to help me add more vegetables into my meals.
I really wanted a spiralizer to make noodle dishes. Substituting vegetables for noodles is a great way to make a healthy meal.
This tool/toy did the trick. It was really easy to make noodles with zucchini. They actually look like noodles.

The taste test. I added the spiralized zucchini at the last minute, as I was cooking the dish. It left a nice al dente texture. It was great.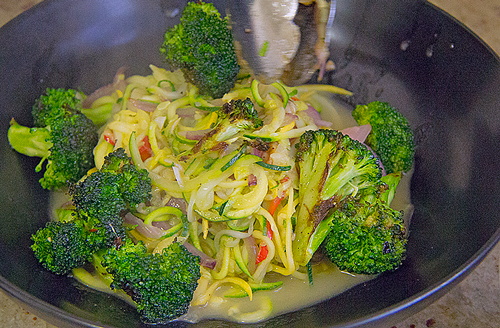 Vegetable noodles are a lot lighter than pasta and it didn't have to wait long to cook. I love that parmesan and garlic sauce.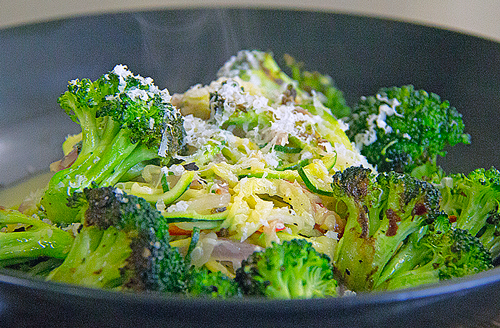 | | | |
| --- | --- | --- |
| Veggie Noodle Week 2016: Zucchini Spiralized Noodles with Garlic, Parmesan and Roasted Broccoli | | |
Prep time: 10 mins
Cook time: 12 mins
Total time: 22 mins
Ingredients
2 to 3 zucchini or yellow Italian squash
1 Tbsp canola or grapeseed oil
2 cups broccoli, cut into bite sized pieces
⅛ tsp granulated garlic powder
A pinch of red pepper flakes
1 Tbsp butter
1 tsp canola or grapeseed oil
½ small red onion, slices thinly
½ Fresno chili, seeds removed and sliced
1 garlic clove, minced
½ cup Pecorino cheese, grated
½ cup Parmesan cheese, grated, plus more for topping
Salt and pepper to taste
Instructions
Place 1 tablespoon oil and broccoli in a cast iron or heavy bottom pan on medium high heat. Sprinkle some salt, pepper, red chili flakes and garlic powder. Mix well and cook until all sides of the broccoli are chard, but still crisp. Remove from pan and set a side.
Cut off the zucchini ends and place on the spiralizer. Spiralize and set aside. Make sure to cut any long strands so it will be easier to eat.
Using the same pan, place 1 teaspoon oil and butter and let it melt.
Add red onions and saute until tender.
Add garlic and Fresno chili. Saute for about 1 minute.
Add the cheese and let melt. Mix well to incorporate and create a sauce.
Add the spiralized zucchini noodles and mix well.
Add a dash of water if you need to have more sauce. Heat the noodles through, but don't overcook them.
Turn off heat and place in serving bowls.
Top with the roasted broccoli.
Garnish with more Parmesan cheese.
Serve.
Enjoy!
Well, I hope I can use this spiralizer more than just once or twice. One problem with new toys is keeping them clean. This one is a bit challenging because of all the sharp parts.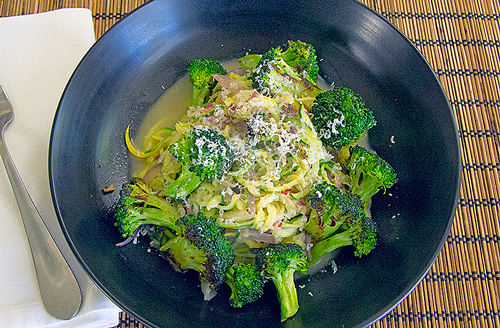 Hoping for the best in this machine. Lets see how it goes.