J – We asked Luke for a special Valentine's Week recipe …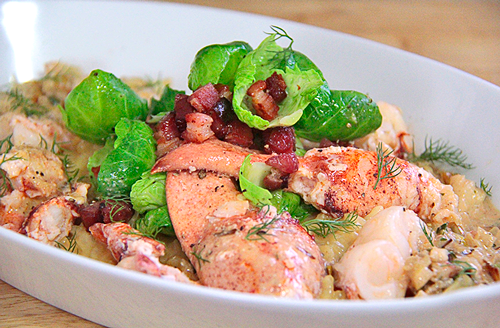 He delivered! Behind his chef/outdoorsman exterior, Luke is a classic romantic. Flowers for his wife, Jessica. Country-French cooking at a high level. An appreciation of good wine and the finer things in life … which also includes beer, football, fishing and hunting. A well-rounded guy.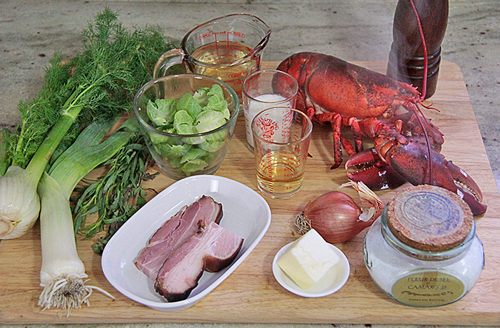 This lobster dish is beyond, beyond goodness.

Whomever you make this dish for should flip out, as Christina so aptly put it in the Saffron Risotto post.

If your special someone makes this dish for the two of you, oh my! They must really love you.
It is delicious, delicate and rich at the same time. Oh, so full of flavor.

You don't need much … but you will want it!

Kind of like other Valentine's things …
Lobster and risotto is a classic combination, of course. But, going with high-quality saffron and a multi-herb sauce with the lobster tomalley takes it over the top.
We added my new favorite green vegetable, lightly blanched, individual Brussels sprout leaves with housemade bacon lardons … just to be more over the top.
It was awesome.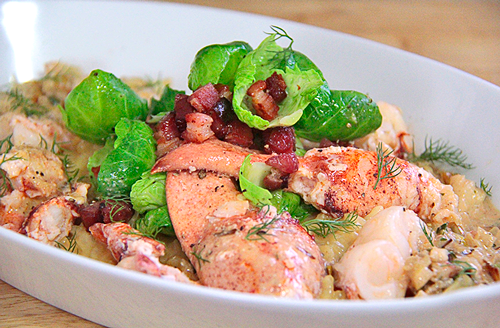 | | | |
| --- | --- | --- |
| Valentine's Week: Lobster with Fennel Tarragon Cream Sauce and Saffron Risotto | | |
Prep time: 20 mins
Cook time: 1 hour 15 mins
Total time: 1 hour 35 mins
Ingredients
8 quarts water
2 Tbsp salt
1½ pound live lobster
1 Tbsp butter
Lobster Fennel Cream Sauce
1 Tbsp grapeseed oil
1 small shallot, minced
1½ ounce sherry
Lobster tomalley (the soft, green substance found in the body cavity of lobster)
Lobster leg bits
½ cup water
½ leek, chopped
¼ cup fennel, chopped
¼ onion, chopped
2 sprigs tarragon
2 sprigs marjoram
1 Tbsp and 1 tsp butter, divided
8 Tbsp cream, divided
Salt and pepper to taste
Fennel fronds for garnish
Salt to taste.
Brussels Sprouts Salad with Lardon
1 cup individual Brussels sprout leaves, removed from the heart.
2 slices thick bacon (lardon), cut into ¼ inch cubes
Pinch of salt to taste
Instructions
Bring water and salt to a boil in a large pot.
Add the lobster and blanch for 3 to 4 minutes, or until it stops moving.
Remove from pot and let cool.
De-shell lobster.
Keep the whole tail meat, claws and larger meaty parts for the main dish. Use the small bits in the sauce.
Cut the tail into small medallions
Keep the tomalley (the soft, green substance found in the body cavity of lobster) for the sauce.
Once ready to serve, place butter into a saute pan and let melt.
Reheat lobster until warm. About a minute or two. Don't overcook. The lobster it will get tough very easily.
Lobster Fennel Cream Sauce
Add oil into a saute pan on medium high heat.
Add shallots and cook until softened. About 1 minute.
Add sherry and let the alcohol cook off. About 1 minute.
Add the tomalley into the pan. Mix well.
Add ½ cup water, tarragon and marjoram. Let simmer for a minute or two.
Add butter and 6 tablespoons cream. Let simmer and reduce to ½. About 5 minutes.
Strain the mix and push out as much liquid as possible.
In another saute pan add leeks, 1 teaspoon butter and fennel. Cook until soft. About 2 minutes.
Add onions. Cook until soft.
Add strained sauce back into pan. Mix well and let reduce some more.
Add leg bits into the pan.
Add 2 tablespoons cream into pan. Mix well.
Add salt to taste, if needed.
Brussels Sprouts Salad with Lardon
In a small saute pan cook lardon until brown and crispy. Remove and set aside
In a small sauce pan, bring water to a boil and blanch Brussels sprouts for no more than 30 seconds. Remove from pot.
In a small bowl, add Brussels sprouts and a pinch of salt.
Add lardon. Mix well.
Place warm Saffron Risotto on the bottom of a serving platter. (recipe post link below)
Top with Brussels sprout salad.
Place lobster claws and tail medallions around.
Top with the sauce. Liquid only if you want it to look nice. Liquids and solids if you want it a little chunky, with even more richness.
Serve immediately.
Enjoy!
Saffron Risotto recipe
Housemade Bacon recipe
Everyone was tapping their feet and holding their forks while I got the last hero shots.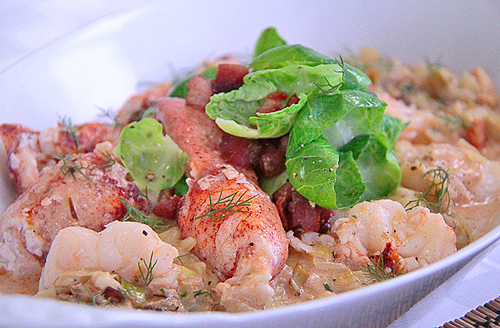 Then, it was gone in literally 5 minutes. I would easily make it again.