Update and Redux: C – Impress your love with a fancy appetizer like this one. It's beautiful and not too hard to make. It's one of our favorite go-to-romantic recipes.
C – I always love to impress my Valentine with a great meal.
I also have a hard time figuring out how to impress him. Since Luke was in the kitchen this week, I needed to get his Chef's creative juices flowing. He was stumped too. Then a light bulb flashed.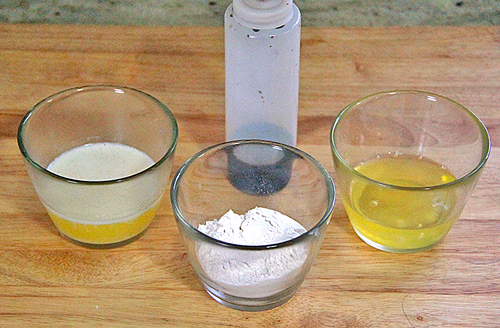 Tuna tulies with caviar appetizers. They are beautiful, fancy and delicious.

Make it for anyone and they will be impressed. Of course, I agreed.

Luke made it sound so easy. Most of it was. Making tartar was easy. The batter was easy, too.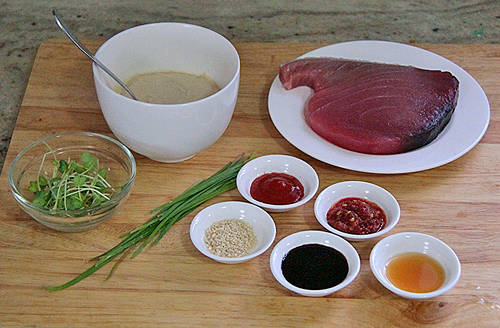 The only challenging part we found was baking the tulies up to the right time.

Too golden brown and crispy? The tulies wouldn't form into a cone shape. If you under bake, it was soggy and not crispy.

We discovered that 10 minutes baking and rolling them immediately did the trick.

Of course. be careful not to burn yourself when forming the cones. They are really hot. I had to wait a minute before forming them.

We messed up a few of them. Luckily, we only needed a few and the batter makes about 12 cones.

I love that the tulies can be made a few hours a head of time so you don't have to stress and rush if you mess them up.

Assembling the tulies was really easy. Placing a small amount of tartar at the bottom half of the tulies. Add the radish sprouts on top and push them to one side. Then, add more tartar. Top with caviar to finish.

These tulies were delicious. They are everything you want in a fancy appetizer.

I loved the creamy tuna with the crispy texture of the cone.

The cone was crispy, but not too crispy. It blended well with the creamy tuna. The fresh radish sprouts balanced all the richness of both creamy tuna and the buttery cones.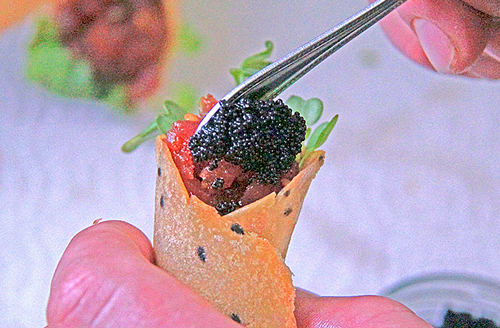 The caviar added a nice little popping texture in your mouth. The not-too-spicy tuna tartar was amazing with the salty caviar.
| | | |
| --- | --- | --- |
| Valentine's Week: Spicy Ahi Tuna Tartar Tulies with Caviar | | |
Prep time: 270 mins
Cook time: 20 mins
Total time: 4 hours 50 mins
Ingredients
Black Sesame Soy Sauce Tulies
3 egg whites, room temperature
4oz unsalted butter, melted
½ cup all purpose flour
1 tsp soy sauce
1 tsp black sesame seeds
½ pound Ahi Tuna, trimmed, cut Brunoise (Julliene and cut into small blocks)
1 Tbsp Sriracha sauce
1 Tbsp chili garlic sauce
1 Tbsp white sesame seeds
1 Tbsp chives, chopped
1 Tbsp soy sauce
1 tsp sesame seed oil
Black Sesame Soy Sauce Tulies
2 Tbsp spicy tuna tartar, for each tulie, more if needed
5 sprigs radish sprouts, for each tulie
¼ tsp caviar, for each tulie
Instructions
Black Sesame Soy Sauce Tulies
Place egg whites into a mixing bowl. Slowly stir in butter. Mix well without creating any bubbles.
Add in flour and stir in without creating bubbles.
Place in refrigerator for 4 hours before using.
Add in soy sauce and black sesame seeds. Mix well.
Place a tablespoon of batter onto a silicon baking sheet.
Swirl the batter into a thin layer to create a round circle about 3 inches in diameter.
Place in a preheated oven at 350 degrees for 10 minutes or until golden brown. The tulies should still be pliable and not too crispy.
Remove and roll immediately to small cones.
Let cool and crisp up before using.
Mix all ingredients together.
Place in a pastry bag.
Set aside until ready to use or use immediately.
Fill half of the cone with the tuna tartar.
Place radish sprouts on top and moved to one side of the cone.
Fill the cone with more tuna tartar until it reaches the top.
Top with caviar.
Serve immediately.
Enjoy!
I am so glad Luke showed me how to make these. They are quite impressive and pretty easy to make.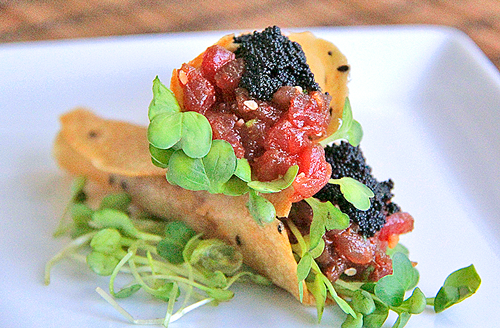 Just a little practice on baking the batter was the only challenging part. After a few tries it became easy.