Update and Redux: J – Christina is pretty clever … both in the kitchen and in planning for her special evenings with her husband. This delicious recipe combines fun cooking for two with a "stirring the risotto test" … funny. Note that this dish is used in the lobster recipe later this week.
C – Looking for a fun Valentine's date night idea?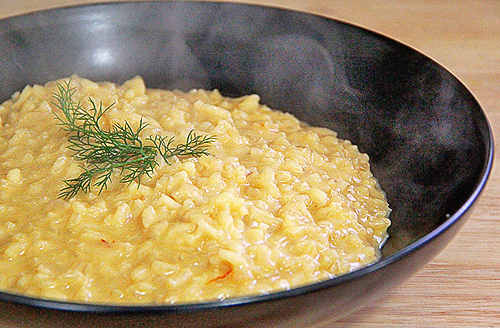 My suggestion is make it a cooking date. My food of choice … Risotto. Cooking risotto can be long and tedious alone. With two people at the task, it's fun and enjoyable. It's a great test for a date, too.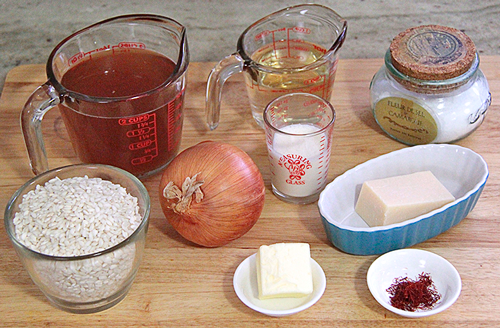 Is this person willing to see this through to the end. Or, will they be annoyed with all the stirring needed to get to the good stuff?

I did this as a date with my boyfriend once. We had a lot of fun. It really did test his patience, though. He was thinking that he was going to be done after one ladle full of stock. Sadly, after the second and third time, he got a little annoyed. But, he pushed through.

Of course, he suggested I communicate a little better next time. Letting him know how long it would take would have helped his patience. It was still rewarding at the end.

I love the reward of making risotto. A nice, creamy bowl of goodness. Rich and delicious. For me, risotto is only for a special occasion. It takes a while to make. It's also really rich and not a particularly healthy dish … if you eat too much.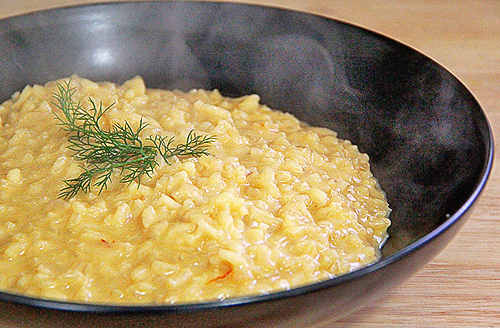 | | | |
| --- | --- | --- |
| Valentines Week: Saffron Risotto | | |
Prep time: 10 mins
Cook time: 45 mins
Total time: 55 mins
Ingredients
2 Tbsp + 1 tsp butter, divided
½ cup onion, small dice
1 cup Arborio rice
¾ cup white wine
6 cups chicken stock, heated on medium heat. Do not boil.
5 Tbsp cream
1 pinch saffron. (Don't skimp on this. The good stuff is truly worth it.)
Salt to taste
2 to 3 Tbsp Parmesan cheese, grated
Instructions
Place saffron in ¼ cup of the warm chicken stock to rehydrate. Set aside.
In a large sauce pot, add 2 tablespoons of butter and melt on medium high heat.
Add onions and cook for one minute.
Add rice. Cook until the eyes show. Stir constantly. Be careful not to toast the rice too much. About 2 minutes.
Add wine and let it absorb into the rice half way. About 1 minute.
Add ½ a cup at a time of stock and let reduce to half. Stir constantly. Add more stock until liquid is completely gone and rice is cooked. About 45 minutes. If risotto isn't done by the time the liquid is gone, just add more.
Once the rice is cooked completely, add saffron and it's liquid.
Add 1 teaspoon of butter and let melt. Mix well.
Add cream. Mix well.
Add Parmesan cheese. Mix well.
Season with salt to taste.
Serve immediately.
Enjoy!
I can't wait to show off what we paired with the risotto.
It's so luxurious that your Valentine will flip out.