C – When a busy schedule is pushing me to not eat healthy, I have to take control.
Keeping a few simple things on hand in the pantry and the refrigerator really helps me stay sane and healthy when my schedule is rough. One way to stay healthy is to keep up with my protein intake.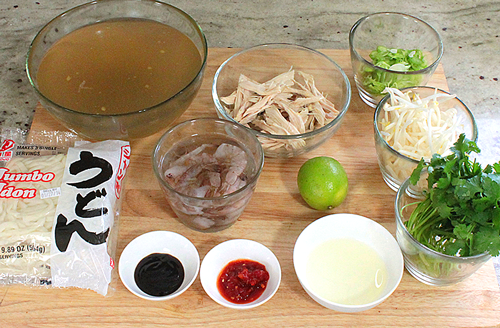 Having things liked boiled chicken covered in stock in the refrigerator really allow me to make easy meals after a fast-paced day.

Boiled chicken covered in stock is also great for the quick nights where you want moist chicken for salads, soups or just eating by itself.

One of my favorite things to do with boiled chicken in stock is make udon noodle chicken soup. Udon can be found in many Asian or Japanese grocery stores in the self-stable noodle section or refrigerated section.

It's really easy to cook and it tastes like fresh noodles. It only takes about four to six minutes to prepare and dinner is served. I love that all you have to do is reheat the chicken soup stock, cook the noodles, combine them in a bowl and add whatever greens are in the refrigerator. Then, just start eating.
Prep time: 10 mins
Cook time: 10 mins
Total time: 20 mins
Ingredients
3 cups chicken stock
1 cup boiled chicken, shredded
10 shrimp, shelled and cleaned
Salt and pepper to taste
1 package shelf-stable udon noodles
Juice of 1 lime
1 spring onion, sliced thinly
1 Tbsp canola oil
1 cup bean sprouts
1 cup cilantro, chopped
1 tsp Hoisin sauce
1 tsp hot sauce (optional)
Instructions
In a medium sauce pan, place chicken stock on medium high and bring to a boil.
Meanwhile, in a small saute pan on medium heat, place oil and heat until warm. Add spring onions. Fry and stir constantly until golden brown and crispy. About 1-2 minutes. Remove the spring onions and place on a paper towel to absorb excess oil.
Salt and pepper shrimp.
In same saute pan on medium high heat, place additional oil if needed. Place shrimp in pan and cook until pink. About 3 minutes. Remove from pan and set aside.
In a small pot place 2 cups of water and bring to a boil. Add udon and cook according to directions. Strain and place in serving bowl.
Top udon with chicken pieces.
Pour broth over udon and chicken.
Add bean sprouts, cilantro, and top with fried spring onions.
Add shrimp.
Garnish with lime and add a bit of lime juice.
Add hoisin sauce.
Top with hot sauce.
Serve.
Enjoy!
It's really healthy for me, saves time and keeps a few more dollars in my wallet.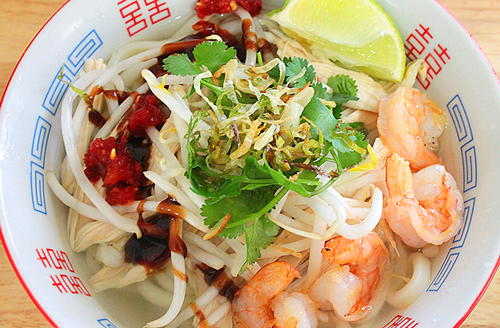 I think this is a big step up from my top-ramen college days.