C – Tomato sorbet is probably one of the only sorbets in the world that can go sweet or savory.
When Luke suggested we make a tomato sorbet, I had to ask the question: Which one do you want? Since I was getting the suggestion in a later meeting with Jim, and Luke was not in it, Jim didn't know.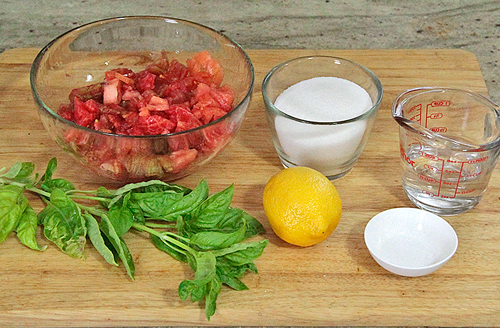 There's two different options? Yes. One can taste like sweet tomato juice, while the other can taste like tomato soup. Jim didn't expect a simple suggestion to be so complex.

I don't know why it became so difficult. But, he was trying to figure out when to serve it. A savory tomato sorbet could go well as a amuse bouche, while a sweet one could be for dessert.

I wanted to make a sweet one. I just don't want to have to deal with my ice cream maker accidentally tasting like onions, garlic or jalapenos. That wouldn't go well with my next mint ice cream batch.

It would be an interesting experiment, but I don't think I would eat much of it. Jim agreed that would not be pleasant. We decided to try making a sweet sorbet instead.

The taste of this sorbet is still more savory than I expected. The flavor is really intense. It's sweet with lots of notes of tomatoes. It's quite complex.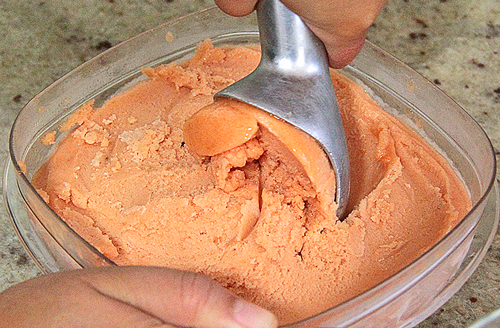 Some might taste qualities of ketchup, while others will say it taste like apricot sorbet. It's not quite a dessert like I thought it was going to be.
| | | |
| --- | --- | --- |
| Tomato Week 2015: Sweet Tomato Sorbet Infused with Basil | | |
Prep time: 25 hours
Total time: 25 hours
Ingredients
1 cup granulated sugar
½ cup water
2 pounds tomatoes, peeled, seeded and chopped
Juice of 1 lemon
1 sprig of fresh basil
Instructions
Place all ingredients into a sauce pan. Bring to a boil. Reduce to a simmer. Let simmer for 1 hour.
Let cool completely or transfer to an ice bath to cool completely.
Discard the basil.
Transfer mixture into a blender. Blend until smooth.
Strain the mixture and place into the refrigerator overnight to chill.
Place mixture into a ice cream machine and churn according to manufacture's instructions.
Freeze overnight.
Serve.
Jim loved it and ate the entire thing all by itself. I am still on the fence on liking it or not. We both loved the creamy texture. It's a good sorbet. We think it would be great paired with marscarpone cheese and a crispy tuile.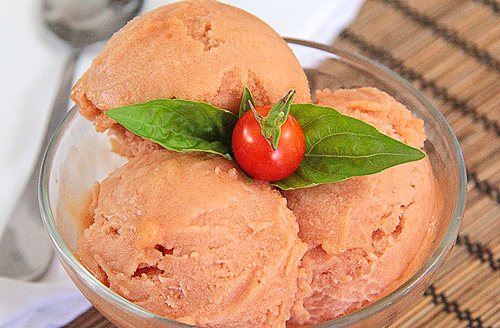 Sometimes things are worth trying once. I am glad we made the sweet version. It's one of those recipes that you should try … just to say you made it. Some might really like it. Some might not.
Adapted from: http://leitesculinaria.com/51617/recipes-tomato-sorbet.html