C – I love tomato season.
I eat tomatoes with almost every meal. My husband finally requested a meal without tomatoes or just not serve it to him. He said his stomach was hurting and he thinks it might be because of the acid in tomatoes.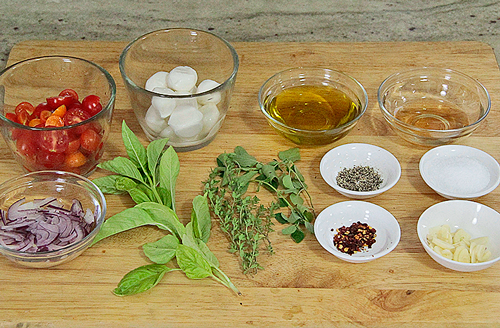 I'm ok with it. I know it usually doesn't last that long … I make everything with tomatoes.

I will just have to enjoy them all by myself.

The season isn't going to be here forever. So, I am going to eat them while I can. No one is going to stop me.

This marinated cherry tomato recipe is probably one of my favorite ways to eat tomatoes. If you don't have lots of cherry tomatoes, just use regular tomatoes and cut them into bite sized pieces.

It's fresh and easy and can be eaten with bread or as a side dish or in a sandwich. It's a flavor explosion.

I love the taste of sweet tomatoes, fresh herbs, a good olive oil, tart yet sweet white balsamic vinegar and a slight bit of spiciness. I also enjoy the beautiful colors of this dish.
| | | |
| --- | --- | --- |
| Tomato Week 2015: Marinated Cherry Tomatoes with Herbs | | |
Prep time: 45 mins
Total time: 45 mins
Ingredients
2 garlic cloves, sliced thinly
A pinch of red pepper flakes
2 Tbsp white balsamic vinegar
6 Tbsp olive oil
Salt and pepper to taste
2 sprigs fresh thyme, leaves only
2 sprigs fresh oregano, leaves only, chiffonade
2 sprigs fresh basil, leaves only, chiffonade
1 pint cherry tomatoes, cut into halves
6 mini fresh Mozzarella balls, cut into halves
Instructions
Place garlic, red pepper flakes, white balsamic vinegar, salt, pepper, herbs and oil into a mixing bowl. Whisk until all has incorporated well.
Add cherry tomatoes and Mozzarella balls. Mix well.
Set aside for at least 30 minutes to marinate. This can be marinated for a day before serving.
Serve with toasted crostini
Enjoy!
I could eat this daily. I am sure my husband will start eying this and want to eat it. Of course, I will let him try it.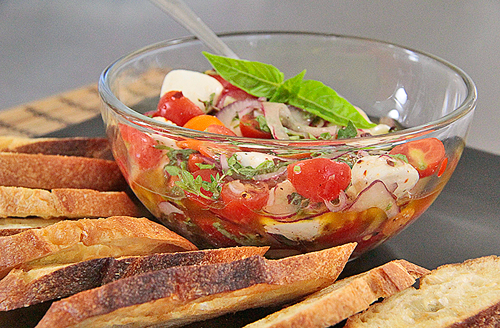 I will also call him out on it, if he says it's really good and ends up eating it all.