Update and Redux: J – This spicy tomato juice makes one heck of a Bloody Mary … if you are so inclined. Christina doesn't drink, so she takes hers "straight up." Just the juice. She'll have a couple to get her day started right, along with some eggs. It has a nice kick.
C – I am surprised how much I like tomato juice …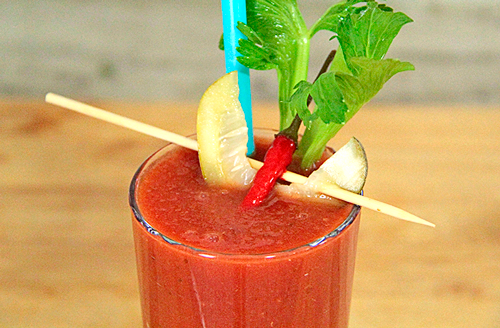 when I make it myself. My fiance turned me on to good tomato juice. His has is with a little vodka. I drink mine straight. It's surprisingly delicious. But, I always hated tomato juice growing up.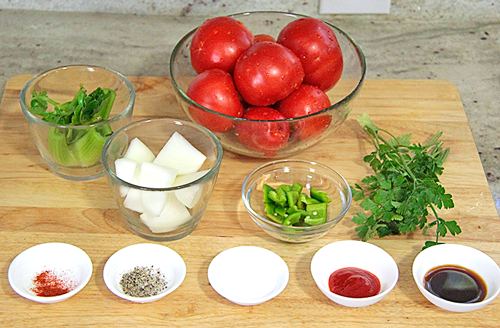 The only type of tomato juice that I'd ever had came from an 8oz can and was overly salted. I could never finish an entire can. I remember trying so many times without success. I thought it was good for me.
This recipe is definitely good for you. Nice healthy tomato juice full of flavor, and salt that you add yourself. It will also wake you right up.

It's spicy. If you drink this for breakfast or a morning snack, your taste buds will wake right up and thank you.

It's a Bloody Mary's best friend. It's a bit thick, so adding vodka will give it a great consistency. I like mine a bit thick. Use a finer mesh strainer if you like it thinner.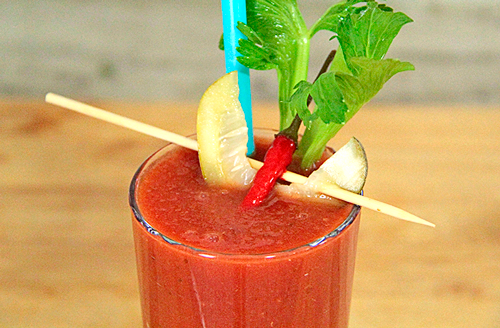 | | | |
| --- | --- | --- |
| Attack of the Tomatoes Week: Homemade Spicy Tomato Juice | | |
Prep time: 15 mins
Cook time: 55 mins
Total time: 1 hour 10 mins
Ingredients
3 pounds tomatoes, quartered
1 large celery stalk, cut into 2 inch pieces
½ yellow onion, cut into quarters
1 jalapeno, stemmed and seeded
3 sprigs parsley
1 Tbsp Worcestershire sauce
1 tsp hot sauce (more or less, depending on how hot you want it)
Pinch of cayenne pepper (adjust to your liking)
Salt and pepper to taste
Sugar to taste (optional, only if tomatoes aren't ripe enough)
Instructions
Place tomatoes, celery, onion, jalapeno and parsley into a medium size pot. Bring to a boil and reduce to a low simmer. Simmer for 45 minutes.
Let cool and place in a blender. Blend until smooth.
Strain the juice and place into a sauce pot on low.
Add Worcestershire sauce, hot sauce, cayenne pepper, salt, pepper and sugar (optional).
Simmer 10 minutes, then let cool.
Serve. Store refrigerated.
Enjoy!
I love the herbs and spice in this recipe. Ripe tomatoes are best with this juice. Add a bit of sugar if they aren't quite ripe. It's delicious and full of flavor. It's the only tomato juice that I can drink more than 8 ounces.
It's so great and spicy.