C – Tomatoes and soy sauce are like pesto and pasta.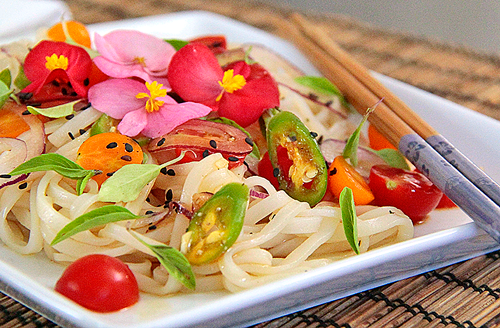 They go together so well. I have been in love with the combination of tomatoes and soy sauce since I was little. It used to be the only way I would eat tomatoes. My dad would make a huge bowl of this for us to eat with eggs and rice.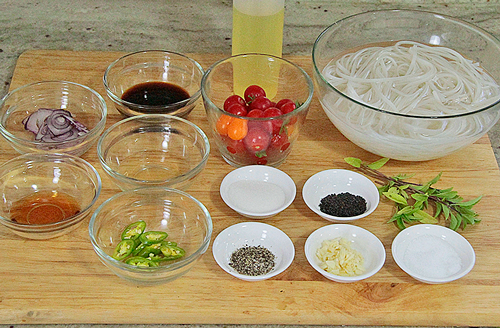 It was my favorite breakfast/meal growing up. I would've eaten it every meal if my parents let me. Of course, they didn't let me. I loved the salty soy sauce mixed with the ripe sweet tomatoes that burst into my mouth. It was amazing with a warm, fried, yolky egg and steamed white rice.

I remember trying to mix soy sauce and tomatoes for the first time. It didn't turn out like my dad's. It was super salty. I found out after my dad tasted it. I was supposed to add water and a little sliced garlic, to not make it so concentrated.

Nowadays, this recipe is still part of my daily life but in different ways. I still eat it with rice and eggs. I also add it to noodles, along with things like onions and hot chilies. I even add rice vinegar and sesame oil to it sometimes.

Of course, the simplest recipe still is the best. For this blog post, I didn't want to just make soy sauce and tomatoes as a recipe. I think that would have been just for my nostalgia.

So, I made something that I love to eat now.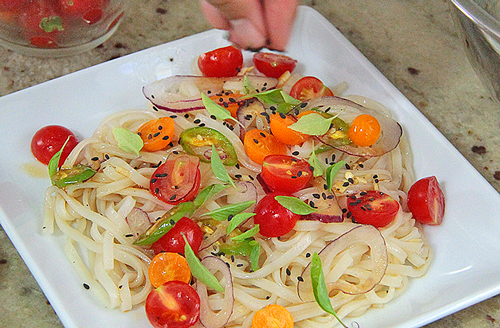 Noodles and tomatoes are one of my new favorite things. It's a fun treat to eat that's filling and fresh. I add herbs and red onions for a nice pop in flavor.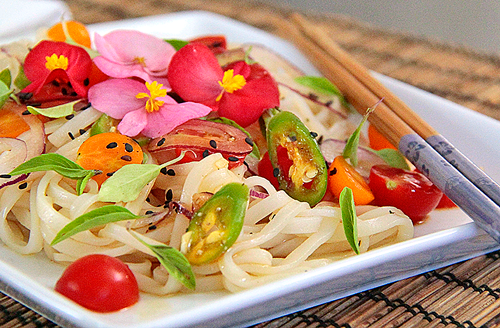 | | | |
| --- | --- | --- |
| Tomato Week 2015: Cherry Tomato, Rice Noodle Salad with Soy Sesame Dressing | | |
Prep time: 1 hour 15 mins
Total time: 1 hour 15 mins
Ingredients
2 Tbsp soy sauce
2 cloves garlic, minced
1 Tbsp unseasoned rice vinegar
1 tsp sesame oil
1 Tbsp sugar
1 Serrano chili, sliced thinly
½ red onion, sliced thinly, divided
2 oz rice noodles, soaked in warm water an hour before using
1 cup cherry tomato, cut into halves
2 sprigs fresh Thai basil, chiffonade if leaves are large
1 few pinches black sesame seeds
Instructions
In a small mixing small bowl, place soy sauce, garlic, rice vinegar, sesame oil, sugar, Serrano chilies and ¾ of the red onion. Set aside.
Boil the rice noodles for 2 minutes or until tender. Drain and rinse under cold water. Add a few tablespoons of oil so the noodles don't stick together.
Place noodles in serving bowl.
Top with a few tablespoons of the soy sauce mixture. Toss the noodles.
Top with cherry tomatoes, more red onions and fresh Thai basil leaves.
Drizzle a tablespoon or two of the soy sauce mixture.
Sprinkle some black sesame seeds over top.
Serve.
Enjoy!
It's a great noodle dish that is really easy to make.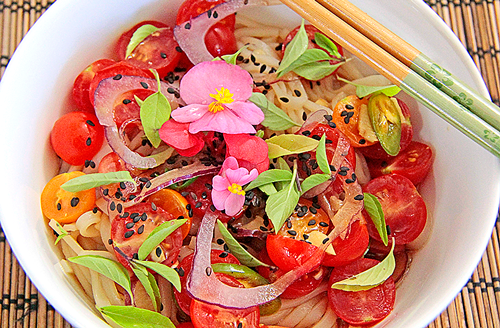 I hope I never get sick and tired of tomatoes and soy sauce. It's one of my top favorite foods.