Update and Redux: C – If you like pate, but don't want to deal with liver … or you just don't like liver, but love the idea of pate … try making this. It's creamy, rich and delicious.
C – I have been testing a vegetarian pate quite a while now.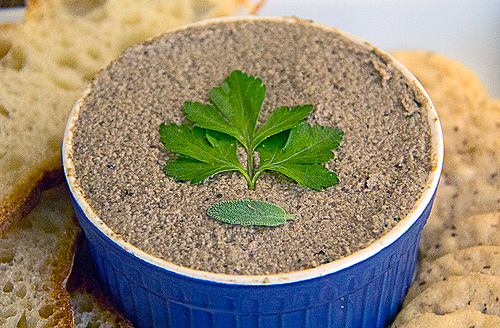 I finally came up with one I liked. Most of the other ones were a disaster. I needed to breakdown what a good pate was and start from there.
Pates are mouses. They are light, fluffy and creamy. It has to be flavorful and rich. Good ones are smooth and spreadable. The biggest question I had was could I get the consistency of a vegetarian pate similar to one of a liver pate.

The answer is yes.

I was watching a vegan chef and saw her making a vegan chocolate mouse cake. She used cashews to get a nice mouse for her dessert. I wondered if I could do it for a savory spread.

Every other mushroom pate I tried making was too watery. I needed something that would thicken it up without adding flour, bread or too much oil.
It just didn't turn out right when I tried making them. Adding cashews was the perfect addition. Just by adding some toasted cashews, it created a nut butter. Then adding the sauted mushroom mixture full of herbs and some Calvados.

It's almost like a liver pate. If you don't like knowing that there is liver in pate, make this mushroom one. It's really delicious.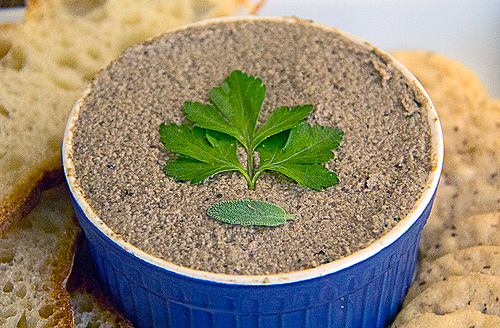 | | | |
| --- | --- | --- |
| Mushroom Week 2016: Mushroom and Cashew Pate | | |
Recipe type:
Sides, Snacks
Prep time: 15 mins
Cook time: 20 mins
Total time: 35 mins
Serves:
2 ramekins + extra
Ingredients
1 cup unsalted raw cashews
1 Tbsp canola or grapeseed oil
4 cups sliced cremini mushrooms (1¼ lb.)
1 Tbsp dried porchini mushrooms, rehydrated and liquid reserved
2 shallots, finely chopped (¼ cup)
1 clove garlic, minced
5 sprigs fresh thyme, stems removed
2 sprigs sage, chopped
1 Tbsp parsley
2 Tbsp Calvados
Salt and pepper to taste
2 Tbsp White balsamic vinegar
3 Tbsp olive oil
Instructions
Toast cashews in dry skillet over medium-high heat 2 to 3 minutes, or until beginning to brown, shaking pan constantly.
Transfer to bowl of food processor. Pulse until coarsely chopped.
Heat canola oil in skillet over medium-high heat. Add shallots and sauté 3 to 4 minutes.
Add cremini and porchini mushrooms, and add a little of the porchini water. Sauté 5 to 7 minutes, or until softened.
Add thyme, sage, parsley and garlic. Cook for about a minute.
Add Calvados and ignite. Once flame is dissipated, mix well.
Remove from heat. Cool 5 minutes.
Add mushroom mixture and white balsamic vinegar to cashews in food processor. Begin pulsing the mixture. Continue processing while drizzling the olive oil into the processor.
Blend until smooth. Season with salt and pepper, if desired.
Serve warm or at room temperature. Or, portion into covered ramekins and store in refrigerator.
Enjoy!
I really can't wait to use this pate in a banh mi sandwich. I honestly can eat this by the spoonful.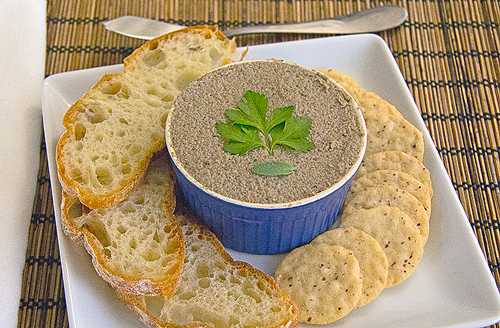 It's a savory mouse that I just can't stop eating once I start. It's really good.