Update and Redux: C – This Irish soda bread is amazing. No yeast and no waiting for it to rise. It's great for breakfast or a sweet treat covered in jam.
C – I have always wanted to try making bread …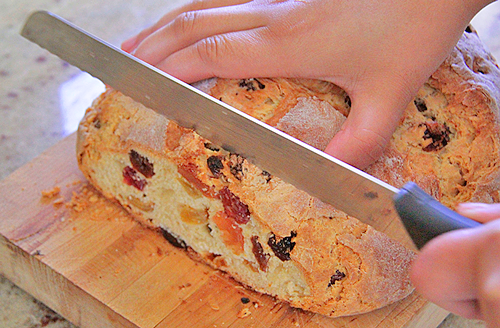 But, it seems like a huge undertaking. I think I'll start with a simple bread, first. Then, move on to more challenging ones. This Irish raisin soda bread is simple and really fast. I was surprised at the outcome, since I have never eaten it before.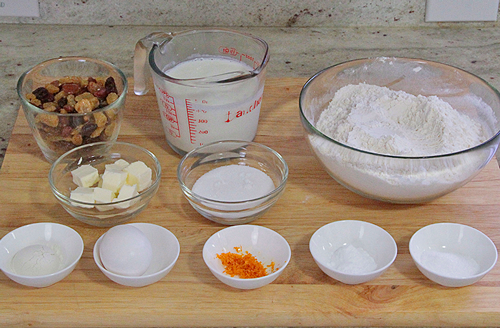 One of the biggest challenges of making bread for me is waiting for the yeast to raise, and kneading it over and over again.

With soda bread, I don't have to worry about yeast or kneading over and over again. Of course, there is a fear of over-working the dough with this recipe. But, I didn't do it.

It's a surprisingly fast and easy recipe. The stand mixer did most of the work. All I had to do was knead it a few times. I loved that I didn't need any special tools for baking the bread. All I needed was a pan and parchment paper to put it on. I was ready to bake.

I didn't know it was going to expand so much. I guess the baking soda and egg really made it rise. Wow, it's a big loaf of bread.

The taste test. I didn't know what to expect. Was it going to be soft and airy? Moist or dry? Hard as a rock? I have never had soda bread. I was excited. Fresh out of the oven. It smelled so good.

It was also like a cake when cutting into it. Not hard as a rock or dry like I've heard. I loved it. Slathered with butter, it was a great bread to snack on. I added raisins to make it a bit more interesting. They really helped make the bread shine.

The bread was perfectly balanced in salt and had a hint of sweet from the small amount of sugar and the raisins I added. I was hooked.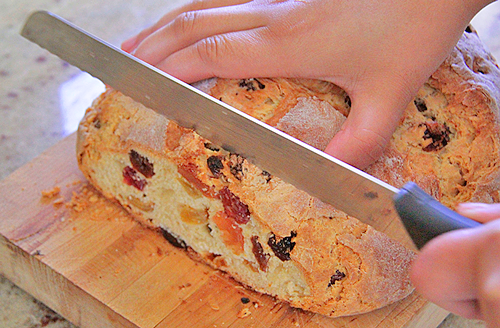 | | | |
| --- | --- | --- |
| Irish Week: Irish Raisin Soda Bread | | |
Prep time: 15 mins
Cook time: 55 mins
Total time: 1 hour 10 mins
Ingredients
4 cups all-purpose flour, plus 1 Tbsp for raisins
4 Tbsp sugar
1 tsp baking soda
1½ tsp kosher salt
4 Tbsp cold unsalted butter, cut into ½-inch dice
1¾ cups cold buttermilk, shaken
1 extra-large egg, lightly beaten
1 tsp grated orange zest
1 cup dried raisins
Instructions
reheat the oven to 375 degrees. Line a sheet pan with parchment paper.
Combine the flour, sugar, baking soda and salt in the bowl of an electric mixer fitted with the paddle attachment.
Add the butter and mix on low speed until the butter is mixed into the flour.
With a fork, lightly beat the buttermilk, egg and orange zest together in a measuring cup.
With the mixer on low speed, slowly add the buttermilk mixture to the flour mixture.
Combine the raisins with 1 tablespoon of flour and mix into the dough. It will be very wet.
Dump the dough onto a well-floured board and knead it a few times into a round loaf.
Place the loaf on the prepared sheet pan and lightly cut an X into the top of the bread with a serrated knife.
Bake for 45 to 55 minutes, or until a cake tester comes out clean. When you tap the loaf, it will have a hollow sound.
Cool on a baking rack.
Serve warm or at room temperature.
Enjoy!
I still can't believe how easy and delicious this bread was. I wish all breads were this easy to make.
I would look forward to making more breads, if they were like this one.
Adapted from: http://www.foodnetwork.com/recipes/ina-garten/irish-soda-bread-recipe.html