Update and Redux: C – There are cookies and then there are these cookies. These cookies are still my go-to chocolate chip cookie. They are amazing. Make a big batch, form them into balls and freeze them. Bake them a few at a time or the whole batch. When you run out, make more and freeze them. You should never be without these cookies in the freezer.
C — I love making cookies. I love making them more than eating them.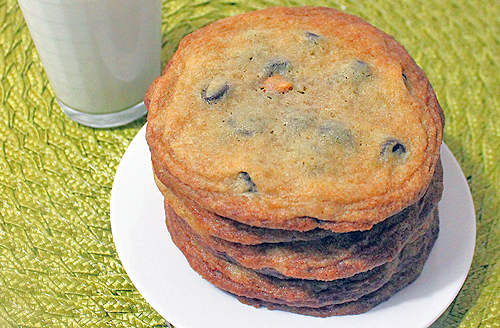 I could make hundreds in one sitting and not be tired. Too bad I don't know enough people to actually give them away to. I usually end up just eating them.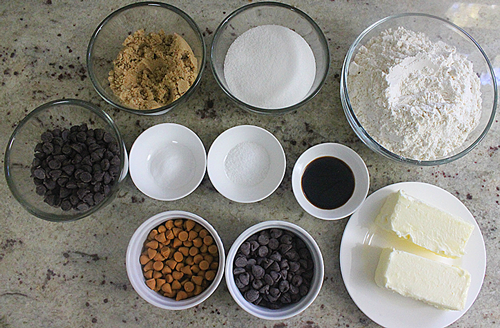 So, when I make cookies they have to be really special. I mean really special. They have to be really big. I can't just have chocolate chips in my cookies. I always have to add something to them. Today, it's butterscotch. Not too much. Just enough to have you wondering what's different.

Cookies are so special to me. It was one of the first desserts I ever made. Of course, not having a mixer didn't help. All those Martha Stewart episodes … seeing her with those mixers creaming her butter and eggs made me want to make some, since it looked so easy.

My first time making cookies was a disaster. The butter was cold and wouldn't cream. I didn't understand why it took so long to make. Martha made it look so easy. During my undergrad days in college I learned to heat the butter up in the microwave from some Web site. It made it easier, but made the cookies really greasy. Years later I learned that room temperature butter was the way to go. It allows the cookies to be chewy and soft, without the greasy feeling after.

Now, 16 years later, I think I have perfected my cookies. Room temperature butter, adding one egg at a time, folding in flour in batches so everything is mixed in well, but not over mixed.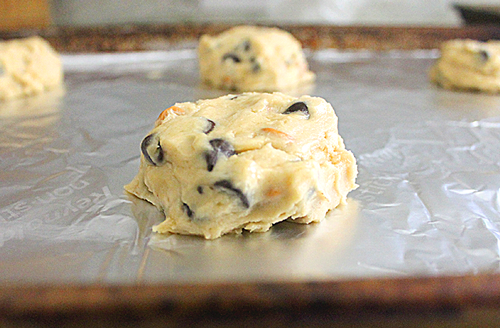 I bake my cookies so that they are soft and chewy on the inside and crispy on the outside with lots and lots of chocolate chips in them. I like every bite to have some chocolate in it. I use dark chocolate and semisweet chips, so they are not too sweet.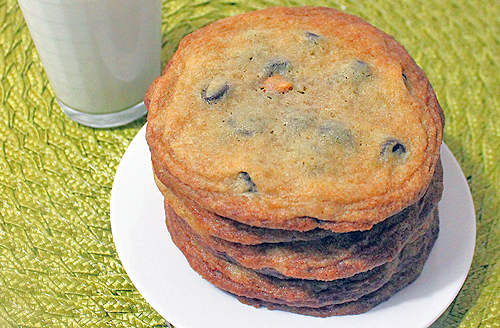 | | | |
| --- | --- | --- |
| Chocolate and Butterscotch Chip Cookies | | |
Prep time: 30 mins
Cook time: 15 mins
Total time: 45 mins
Ingredients
2½ cups all purpose flour
1 tsp baking soda
1 tsp kosher salt
2 sticks of butter, room temperature
1 cup granulated sugar
¾ cup brown sugar
2 eggs
2 tsp vanilla extract
½ cup butterscotch chips
1 cup dark chocolate chips
1 cup semi-sweet chocolate chips
Instructions
Sift flour, baking soda, salt together.
In another bowl, cream butter and granulated sugar together. Then add brown sugar and continue creaming process.
Add vanilla and one egg at a time into mixture until all incorporated.
Add ⅓ of the flour mixture into the wet ingredients carefully fold in until combined completely. Then add another ⅓ of the flour mixture and combine completely. Add the last ⅓ until combined completely. Don't over mix.
Using a cookie scoop, ice cream scoop or two spoons, form dough balls and place on a cookie sheet with an inch in-between. Refrigerate overnight.
Preheat the oven to 375 degrees with rack in the center. Line cookie sheets with parchment paper.
Place each cookie about 2 inches apart on the sheet.
Bake for 10-13 minutes (depending on the size of your cookie dough balls), until they are golden brown around the edges and puffy in the center.
Let cookies cool a few minutes on baking sheets before transferring to wire rack to cool completely.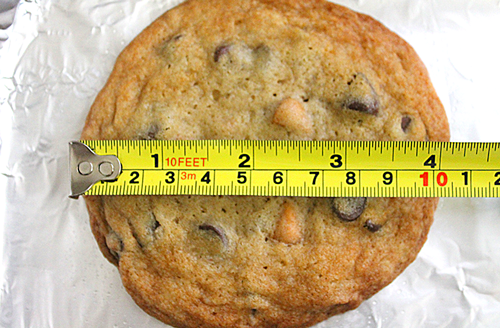 I once had a complaint that I put too many chocolate chips in my cookies and there wasn't enough dough. I laughed and told him he wouldn't get any more cookies with a comment like that.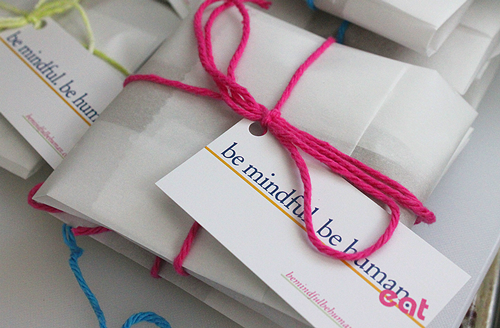 He's never gotten any ever since.