Update and Redux; C – These blueberry and lemon curd almonds cups may look fancy, but they are super simple to make. It's great for serving at large brunches as a fruit salad or a dessert.
C – I really couldn't wait until Spring this year.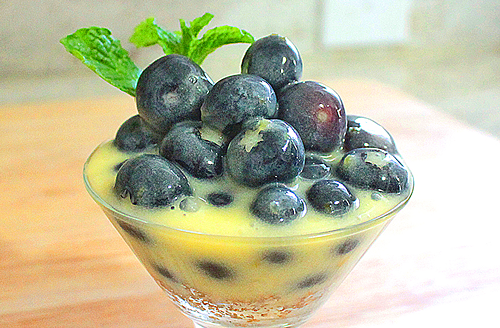 I was getting sick and tired of Winter. I wanted to be done with it. Just a few more weeks until Spring begins and I am itching to start cooking with Spring fruit. So, I started early. I know it's not blueberry season yet … but, there was a really good sale.
Don't get me wrong I love citrus. But, some of the citrus I have been buying are getting to be too ripe. They are a bit strong for my taste. I still love that I am getting lemons from my neighbors and friends.

Thank you to all the nice and generous people out there allowing me to use your lemons. They are great. I made lots of lemon curd from them. I hope everyone enjoyed it. Now, it's time to use other fruit.

Fresh blueberries delighted my taste buds this morning. I couldn't wait to put them in this dessert cup. Crunchy bits of almond with another appearance of that lovely lemon curd mixed with plump, juicy blueberries.

It was great. A burst of blueberry juice and a sweet, tart lemon curd made me feel there was going to be an end to Winter.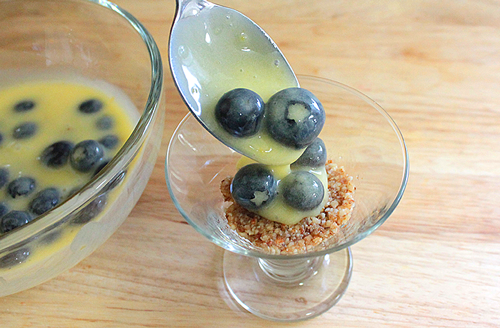 I think I might be jinxing myself making this dessert so early in the season. I may be predicting at least three more weeks of cold Winter.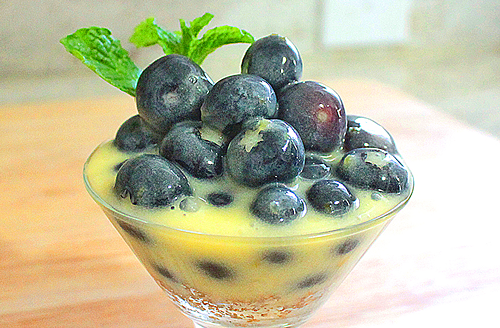 | | | |
| --- | --- | --- |
| Blueberry and Lemon Curd Almond Cups | | |
Prep time: 10 mins
Total time: 10 mins
Ingredients
1 cup blueberries
½ cup lemon curd
¼ cup almonds
½ tablespoon brown sugar (more if desired)
1 tablespoon butter, melted
Pinch of salt
Fresh mint leaves for garnish (optional)
Instructions
In a small mixing bowl, combine blueberries and lemon curd. Mix well and set aside.
Place almonds and brown sugar in a food process and chop finely.
Add butter and salt and blend until incorporated.
Place a teaspoon of almond mixture on the bottom of a small cup.
Top with blueberry/lemon curd mixture.
Garnish with fresh mint leaves.
Serve.
Enjoy!
I hope I am wrong and can enjoy this dessert without this winter guilt over my head.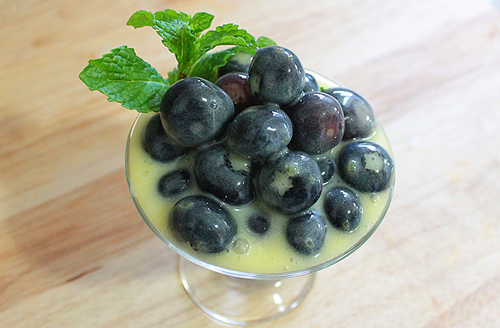 Oh well, I will enjoy it anyway.