Update and Redux: C – Hand pies filled with condensed milk. Nothing gets better than these delicious treats. Life is good.
C – Just when I thought I was getting good at making pies …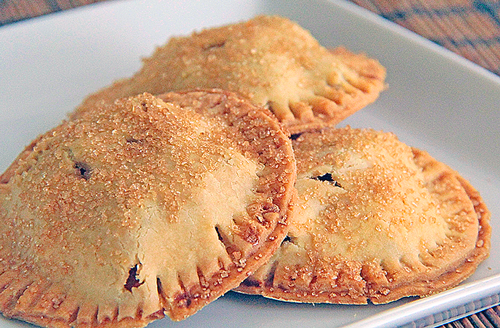 these hand pies ruined it. Maybe it was being over confident. Or, the pressure of the lights, camera and moving too fast for my own good. These hand pies weren't perfect. I nearly threw all of them at the wall, because they just weren't what I was expecting them to be.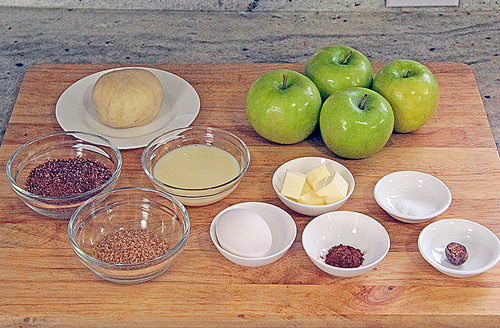 A few of the tops were cracked and, in some of them, the condensed milk leaked out.

Some were just a big mess.

I ended up asking Jim to leave the kitchen for a bit, just to allow me some room to breathe. It helped. Being an introvert and having a photographer take pictures under stress isn't a great combo.
After he left, I worked slower and was more aware of what I was doing wrong. They started to look better.

I figured out that I needed to not over fill my pies with condensed milk or apple filling. Also, pressing gently down on the top crust would help, too. Rolling out the pie dough a little thicker than I did helped out a lot, also.

I really messed up on crimping my first few. These pies are small, so the only thing you can do is crimp with a fork. It's the best way to go and it's easy.

Luckily, I was able to save a few good ones for the shoot. All of the messed up ones were baked. too They were delicious.

Crunchy, flaky crust with a not-too-sweet apple pie filling was delicious.

I loved a hint of condensed milk. It gave them a creamy milky quality.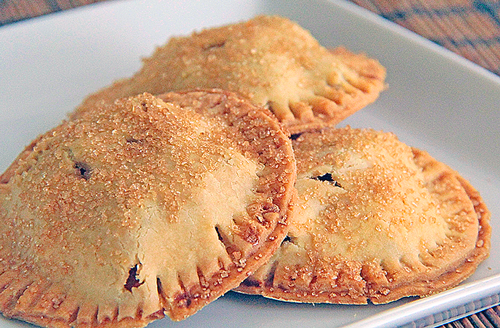 | | | |
| --- | --- | --- |
| Gluten-Free Pie Week 2016: Apple Hand Pies with Condensed Milk | | |
Prep time: 15 mins
Cook time: 50 mins
Total time: 1 hour 5 mins
Ingredients
2 Tbsp butter
2 cups Granny Smith Apples about 2 to 3 apples, peeled, cored and diced into large pieces
¼ cup coconut sugar
⅛ tsp nutmeg
½ tsp ground cinnamon
Pinch of salt
1 Tbsp cornstarch mixed with 2 tablespoons of water
1 gluten free pie crust (recipe link below)
¼ cup condensed milk
1 egg plus 1 tablespoon water beaten together for egg wash
Raw sugar for topping
Instructions
Preheat oven to 350 degrees.
Melt butter in a large saute pan on medium heat.
Add apples and mix well.
Add cinnamon, nutmeg, coconut sugar and salt. Mix well and let simmer for about 5 minutes until all some of the juices are released.
Add the cornstarch slurry into the pan and mix well. Let simmer until thickened, about 2 to 3 minutes.
Remove from pan and set aside until slightly cooled.
Meanwhile, roll out pie dough ⅛ inch thick.
Using a 3 inch round cookie cutter, cut out 18 rounds. Place half of the rounds on a parchment lined baking sheet. You can re roll a few times without making the crust stiff.
Top each round with about a teaspoon of condensed milk.
Add about a tablespoon of apple pie filling on top.
Using the egg wash, brush the edges with the egg wash.
Top all rounds with another round.
Press edges with a fork to seal.
Using the tip of the fork or a knife, poke a few holes on top to allow air to release.
Brush more egg wash over the top of each of the pies.
Sprinkle the tops of each pie with raw sugar.
Bake for 30 to 35 minutes, or until the crust is golden brown.
Remove from oven and let cool for at least 15 minutes before serving.
Serve.
Enjoy!
Gluten-Free Pie Crust recipe
I guess I am going to practice, practice, practice.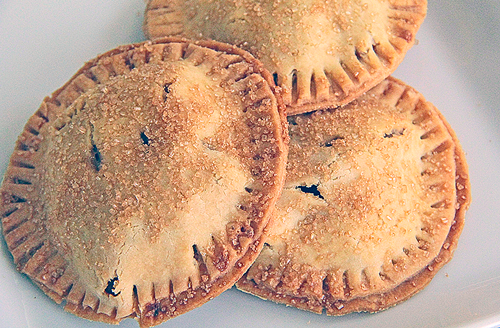 Or, at least, slow down making my pies and just enjoy making them.