J — I'm a really bad sickie. I'm even worst when I have surgery.
Of course, I haven't had much surgery. Other than my tonsils as a kid and when I broke my hand hitting a wall [yes, it's a long story], I've only had one, simple surgery until a few weeks ago. It was supposed to be was a "simple" surgery also – except that it involved an area that would make walking around, lifting things and cooking pretty challenging for a few days. And, then, there were going to be the narcotics the doctors prescribed for pain. Oh, my, what to do? I had to eat and it couldn't be out of a can. Am I sounding just like the picky eater Christina suggests I am? Sheesh!
Good news, Christina is resourceful and a fabulous cook. When I returned from the ambulatory [that's a very loosely construed term] surgery, there was easy-to-eat Khmer rice soup for dinner. In the following days, she offered a parade of creative, tasty soups and accompaniments. Fortunately, my body responds well to treatment as I was going to be on my own for a few days.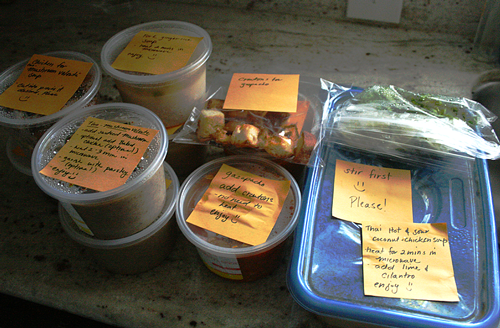 This is what Christina left me, so I wouldn't have to worry about food … and, so she wouldn't have to worry about me.

And, a few of her notes, least I mess up!
Here are three of the soup recipes:
Thai Hot and Sour Coconut Chicken Soup
Khmer Pork Ginger Rice
Two Mushroom Velouté with Roast Chicken Thighs
Life is good! All better now.