Update and Redux: C – This year I wanted to add miso to everything. It was one of my favorite flavors of the year. This salad dressing was perfect with shrimp and arugula. It's also good with chicken or as a dips for chicken nuggets. That is why it made the list for the best of 2016.
C – This post was supposed to be a Shrimp Po' Boy recipe.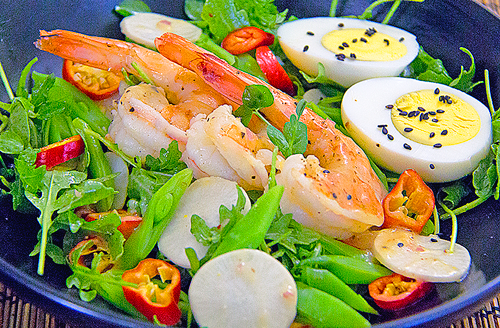 So, why is there a salad instead? Sometimes, Po' Boys don't happen. Or, maybe I liked these shrimp to be showcased a little bit better than deep fried and hidden in a sandwich.
Size matters when you make good tasting food. I think the best shrimp Po' Boy sandwich I've ever had was the one with small shrimp … almost like popcorn. Pop one in you mouth when they fall out of the sandwich. It's like an additional treat.

You don't get a treat like a escaping shrimp when you put giant shrimp in the sandwich. Also, in a good Po' Boy, the shrimp need to be piled on … not daintily placed on the sandwich.

Big shrimp need to be daintily placed.
So, Po' Boys will have to wait for another day. Our fish monger only sells large shrimp. We will have to go somewhere where we can find smaller shrimp for a Po' Boy sandwich.

In the meantime, this shrimp arugula salad with sweet miso dressing was delicious. This salad is what this size shrimp is intended for. Meaty, large shrimp over crispy vegetables and a sweet and savory dressing.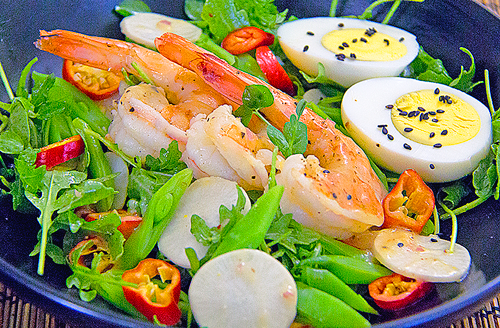 | | | |
| --- | --- | --- |
| Shrimp Week 2016: Shrimp Arugula Salad with Sweet Miso Dressing | | |
Prep time: 15 mins
Cook time: 4 mins
Total time: 19 mins
Ingredients
1 small shallot, finely minced
2 tsp white miso paste
¼ red chili flakes
1 tsp honey
2 tsp rice vinegar
½ tsp Dijon mustard
3 to 4 Tbsp grapeseed or canola oil, divided
1 tsp black sesame seeds
6 large shrimp, peeled de-veined and cleaned
Salt and pepper to taste
1 cup baby arugula
5 Romano beans, blanched and cut into ¼ slices on a bias
2 Tokyo turnips, sliced thinly
2 hard boiled eggs, peeled and sliced into halves
2 red Jimmy Nardello chilies or sweet peppers, sliced thinly
A few pea sprouts for garnish
Instructions
Place shallot, miso, chili flakes, honey, vinegar, Dijon mustard and sesame seeds in a mixing bowl and mix together. Drizzle in 2 to 3 tablespoons of oil while whisking until emulsified. Set aside.
Season shrimp with salt and pepper.
In a saute pan, add a tablespoon of oil and heat on medium high heat. Add shrimp and cook on both sides. About 2 minutes on each side. Remove from pan and set aside.
Mix the arugula with a tablespoon of dressing. Place on serving dish.
Mix tablespoon of dressing with the turnips, peppers and Romano beans. Add to the serving dish.
Top the salad with egg halves. Add shrimp and pea sprouts. Drizzle more dressing over top.
Serve.
Enjoy!
This salad was delicious, but I did miss not getting to eat a Po' Boy sandwich. I felt like a better person for choosing a good and healthy option.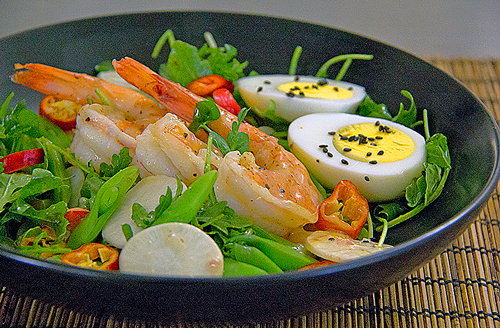 But, I am still craving a nice hearty sandwich with deep fried shrimp.