Update and Redux: J – Looking back at 2016 gives us the same pause as last year: didn't end up as planned, but extremely interesting. A year chock full of opportunities for mindful practice and non-judgmental awareness. Just what we always wanted … but, maybe with the throttle dialed back a bit for 2017. We shall see. Meanwhile, peace, gratitude and cheers to all.
J – Creating this New Year's toast drink went just about like our year …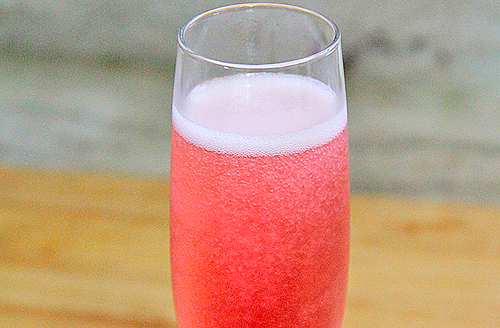 We started out with one idea and ended up in an even more interesting place. The original drink idea was to have small globes of cranberry "lava" bouncing up and down in Prosecco. Luke had done it before … without making notes. Just experimenting.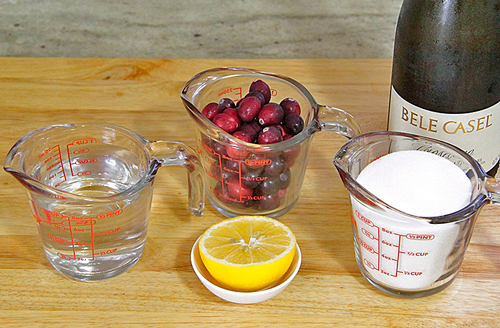 No matter what we did, bouncing lava globules in Prosecco was just not happening.
"Well, it worked before … " he said. Oh, well … we ended up with delicious cranberry blinis.

We also had plenty of leftover cranberry syrup, which I used to great success with thyme-encrusted, pan-seared salmon. A nice base for a quick little gastrique.

We've been fortunate this year as well, turning cranberry lava into cranberry blinis. Without stretching the metaphor too much, our ideas and intentions have shifted this year in ways we could not have anticipated.
Be Mindful. Be Human., originally a fun little cooking blog which we did not ever expect to monetize, has become a source of brand and food consulting revenue. We never expected that.

We have become better cooks, individually and as a team. We have all taken on and succeeded with projects/menus/dinners we would not have considered before.

We pretty much do our own dishes, now, without adapting. While we do have friends here and in Europe who we honor by cooking their dishes, we create our own recipes most of the time. Never saw that coming, either.

We didn't hit 1000 recipes like I thought. But, we're over 700. Not shabby.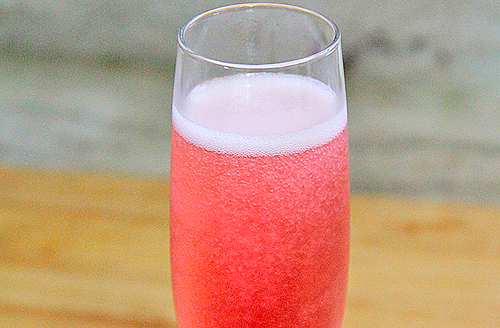 | | | |
| --- | --- | --- |
| Happy New Year 2015: Cranberry Blini | | |
Prep time: 5 mins
Cook time: 15 mins
Total time: 20 mins
Ingredients
1 cup sugar
1 cup water
1 cup fresh cranberries
½ lemon, juiced
1 bottle Prosecco, chilled
Instructions
Place cranberries, water, sugar and lemon into a small sauce pan.
Bring to a boil and reduce to about ½. About 15 minutes. Stir occasionally to make sure not to burn the syrup.
Strain in a medium mesh strainer to remove the seeds and skin, but push the pulp through. Some seeds will remain. That's ok.
Place syrup in a squeeze bottle.
Let cool to room temperature.
Pour ice cold Procsecco into champagne glasses.
Add cranberry simple syrup to the glass, starting with a small amount. Add as much as you would like, but be careful since it can get sweet quickly.
Mix gently.
Serve.
Enjoy!
We have had tremendous fun this last year … with tons of hard work to go with.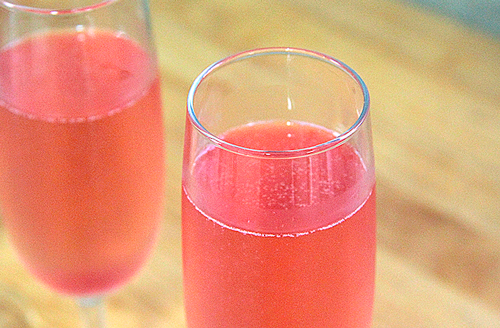 Wouldn't trade it for anything. Cheers!!
Christina, Luke and Jim