C – This is one type of party I really enjoy.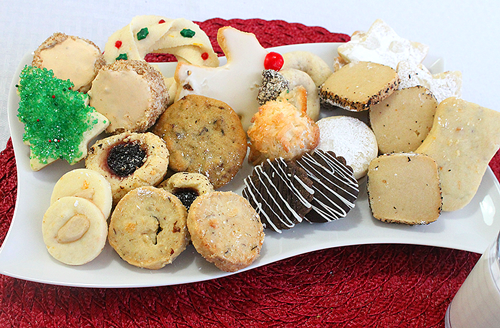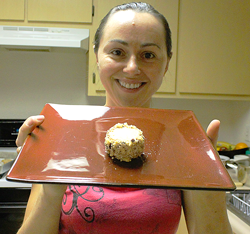 Working your butt off to give to others.
Jessica and I went to one of Be Mindful. Be Human's. best Facebook fans this week and helped her with making and baking a few cookies. Ewa and Anna are friends of Jessica. I really wanted to tag along to see what bakers and decorators do for holiday gift giving.

I've never seen anything like it. These ladies are amazing. There were 18 cookie recipes and a pie made all on a couple of days. I just couldn't believe there were so many. On the drive there Jessica told me they already had 13 cookie dough recipes prepped. I had to ask her to repeat what she told me, it was so many. We didn't expect more to be added to the menu.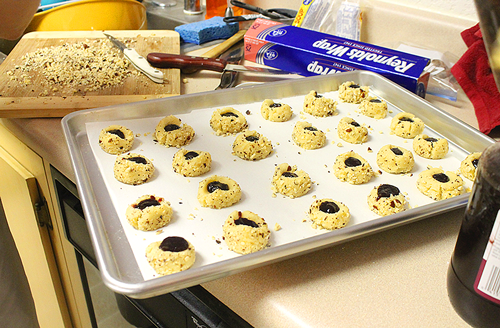 We both had a feeling it was going to be a long day ahead of us. Ewa asked if we were ready for an 8 hour day baking as we walked in. I wasn't sure if I was ready, but I was up for anything.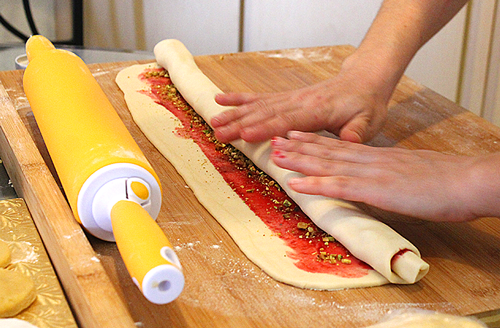 I was so amazed at the cookbooks, recipe cards and notebooks full of recipes and tags. Some cookies they baked every year, while others were new recipes they found in books that looked interesting. Some took a long time, while others were quick and simple. All the cookies were well thought out. They made sure these cookies would last a long time and not spoil. So, not many of them had eggs in them.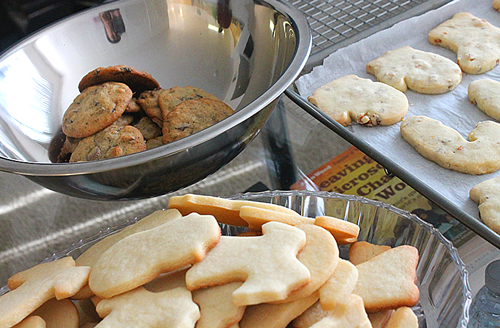 These ladies worked hard and fast. They are professional bakers, so everything looked so natural. I think one of my favorite things was how it was a stress-free environment. There wasn't a rush to get things done. They moved with ease. When one thing was done from the oven, another would be ready to go in. The only thing we all wished for was another oven, because there were so many batches to go. We were waiting half of the time.

In a small apartment, cookies were spread out everywhere we could find a place. The coffee table was the cooling area. Sofas and loveseats had piles of cookies to be kept out of the way. Any place we could possibly find a spot for cookies, we had cookies. It was great.
There were so many different types of cookies. There were oat-raisin-hazelnut cookies, walnut horns, Torciki, hazelnut thumbprints, citrus shortbreads, coconut macaroons, Polish wedding cakes, apricot and pecan cookies and so many more. We didn't even get to try all of them, because there were so many and some were still baking when we left. I wish I could have gotten some of the recipes from them. We were so busy I didn't have a chance. Oh well, next time.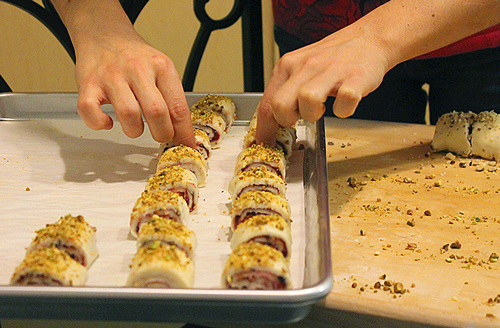 I loved how each cookie had its own unique taste and texture. Some looked plain and simple. But, when you took a bite out of it there was a flavor explosion in your mouth. Others crumbled in your mouth and had a delicate taste. All were wonderful and delicious.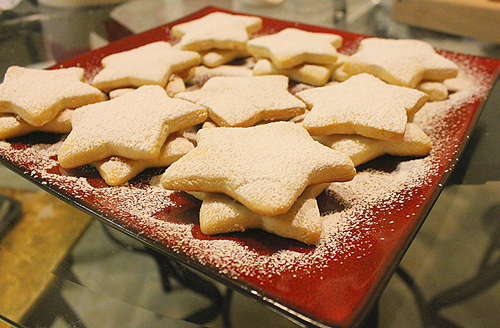 Ewa and Anna are so creative and such great cooks. They are also creative in making the gift baskets that all of these cookies went into. They wrapped the cookies in the most unique way. The usual tissue paper. But, they covered the cookies with the tissue so the gift receiver couldn't see what was inside until it was opened. I usually show everyone what I put into a gift basket. Their way seemed more fun. I really enjoyed my cookies and ate every last bite.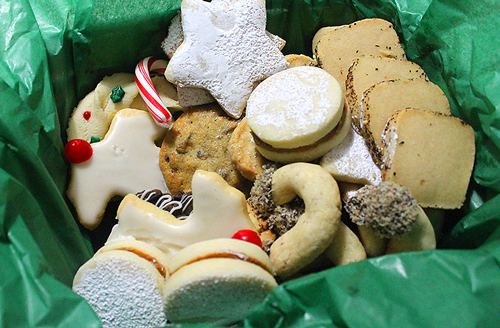 Thanks Ewa and Anna for allowing me to join you at your baking party. I had a lot of fun and learned a lot.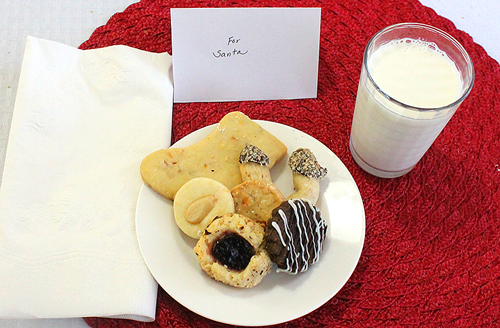 I can't wait to bake with you two again. Also, thanks Jessica for introducing me to them.