Update and Redux: J – You'll need to wait a day or so after Thanksgiving before you make this monster. Like I said, it is the whole dinner packed into one big sandwich. Make them for one of the weekend games … or, pace yourself and divide it. One half for the first game. One half for the second. Enjoy!
J – Pretty much the whole dinner in one big sandwich.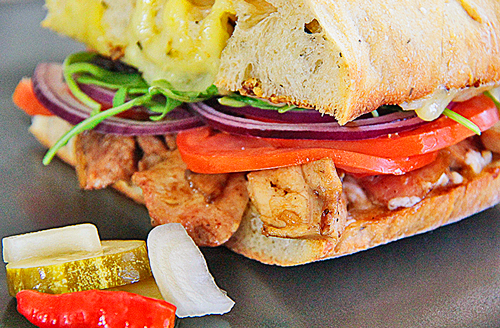 It's huge and hugely delicious. Really helps to have great, moist turkey and house-made bacon. I guess I'm spoiled now. Back in the day, I would not have made this sandwich. Now, it's my go-to post turkey day lunch … unless, I have the Mashed Potato Soup from the last post.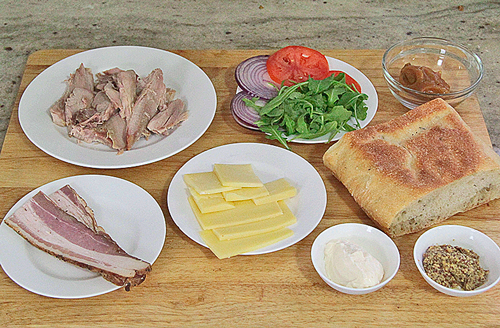 Such a hard choice. Maybe, I'll do soup 'n' sandwich and share.

Sharing warm, delicious food always evokes gratitude and brings people together.

Part of our mindfulness quest at Be Mindful. Be Human. is to discover new flavors, new foods and new methods. Then, we share them with you, the reader, and with our friends and families. It is always very rewarding to say "have you tried this _______" and hear the person respond with delight at a new discovery.

Of course, I need to stay keenly aware of my bubbling enthusiasm. Everyone's taste profile is different.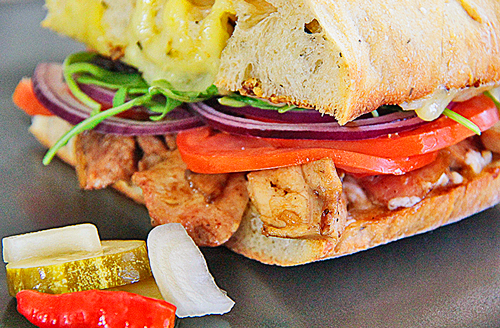 | | | |
| --- | --- | --- |
| Thanksgiving Week 2015 #2: Turkey-Gravy-Bacon-Cheese Sandwich | | |
Prep time: 15 mins
Cook time: 10 mins
Total time: 25 mins
Ingredients
1 long strip thick-cut bacon
1 cup roasted turkey meat
1 to 2 Tbsp turkey gravy
Herb slab bread or any hearty bread you like
1 Tbsp mayonnaise
1 Tbsp Dijon mustard
A few slices of Comte cheese
A few slices of Petite Cantal cheese
4 slices tomatoes
2 slices red onion
½ cup baby arugula
Instructions
In a medium saute pan, cook bacon on medium heat until crisp. Remove from pan and set aside.
In the same pan add turkey and heat until warm. Add the gravy and coat completely.
Toast bread in the oven.
Remove from oven and turn oven to broil.
Place mayonnaise on the cut side of one of the slices of bread.
Place mustard on the cut side of other slice of bread.
Top one of the slices of the bread with turkey.
Top the other side slice of bread with cheese.
Place into the broiler. Let the cheese melt. It is done once the cheese is bubbling. Make sure to keep an eye on the broiler it can burn if you walk away.
Place bacon on top of the cheese.
Place tomato slices, onions, and arugula on top of the turkey.
Close the sandwich. Cut on a bias.
Serve with pickles on the side.
Enjoy!
House-Made Bacon recipe
Magic Brine recipe
Homemade Mustard recipe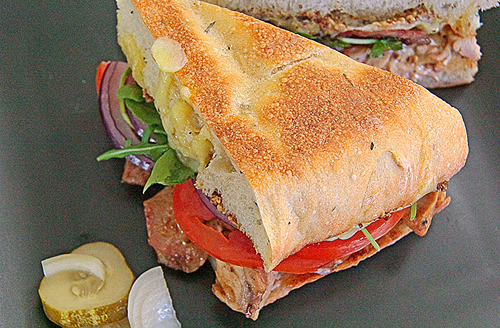 Hummm … I think I have enough to make four soup 'n' sandwich plates. Let's see who's hungry!