C – Do you like pumpkin pie?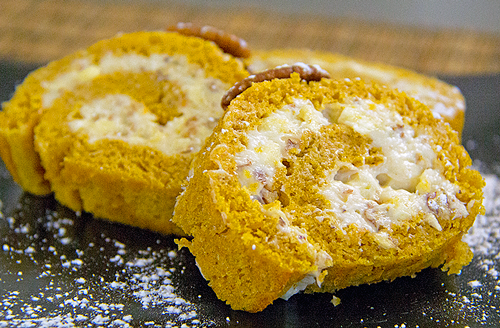 I do. I was surprised there are people who don't. Is it the custard pumpkin filling or the taste of pumpkin? I don't know. I am hoping to make something else that will get people excited.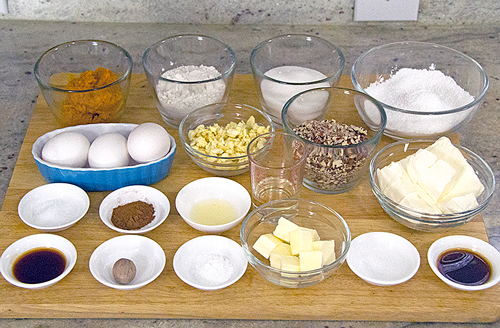 I want to make everyone happy.

Dessert is needed to be happy in my book.

Would pumpkin in a cake be better? Would it be better if it was rolled up with a cream cheese filling be better?

I'm hoping so.
This Pumpkin Swiss Roll is what I am deciding to make for dessert.

I put pecans and dried apples in it. No custard what so ever. Having multiple textures always makes a dessert better, right? I think so.

If no one likes this dessert, it'll be for me. But, really, why wouldn't anyone like this Pumpkin Swiss Roll? It has a wonderful, not-too-sweet cream cheese filling.

The cakes isn't too sweet either. There's a little pumpkin flavor. But, it tastes more like a lovely Autumn dessert filled with cinnamon and nutmeg.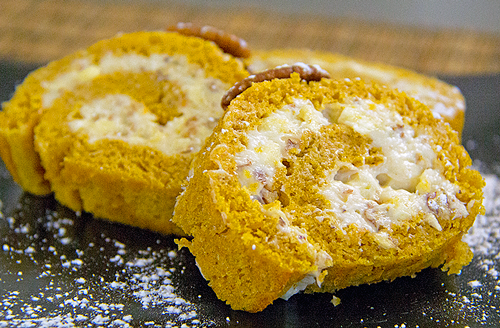 | | | |
| --- | --- | --- |
| Thanksgiving Week 2016: Pumpkin Swiss Roll with Apple Pecan Cream Cheese Filling | | |
Prep time: 40 mins
Cook time: 15 mins
Total time: 55 mins
Ingredients
3 eggs, at room temperature
¾ cup granulated sugar
⅔ cup canned pumpkin puree
1 tsp lemon juice
1 tsp vanilla
¾ cup Gluten-free or all purpose flour
1 tsp ground cinnamon
1 tsp baking powder
½ tsp Kosher salt
¼ tsp freshly grated nutmeg
8 ounces cream cheese, softened at room temperature
4 Tbsp unsalted butter, softened at room temperature
¾ cup powdered sugar, shifted
1 tsp vanilla extract
A pinch of salt
½ cup dried apple slices, finely chopped
½ cup toasted pecans finely chopped
More pecan for garnishing
More powdered sugar for garnishing
Instructions
Preheat oven to 375 degrees.
Prepare a 15"x 10"x 1" baking sheet with parchment paper sprayed with cooking oil and flour.
Place eggs in a stand mixer or beat egg with a hand mixer for 5 minutes until light yellow and frothy.
Then slowly add a tablespoon of sugar at a time to the mixture, while whisking the eggs with the mixer. Beat until the mixture turns a pale white color.
Mix together pumpkin, oil, lemon and vanilla.
Fold the pumpkin mixture into the egg mixture.
In a small mixing bowl, mix flour, cinnamon, baking powder, salt and nutmeg.
Carefully fold in the dry ingredients into the batter.
Spread the batter evenly on the baking sheet.
Bake for 15 minutes.
Remove from oven and immediately flip out onto a parchment paper and remove the bottom parchment paper. Replace the parchment paper with a new piece of paper. Carefully roll up the cake lengthwise. Let the cake cool completely. About 1 to 2 hours.
To make the filling, add cream cheese and butter into a stand mixer. Mix together. Add the powdered sugar, vanilla and a pinch of salt. Mix until sugar is incorporated.
Stir in the dried apples and pecans.
Once the cake is completely cooled, carefully unroll the cake. Be careful as it might crack.
Spread the filling evenly on the inside of the cake roll. Carefully roll the cake once again. It might crack, so be careful.
Top with more pecans and sprinkle more powdered sugar if desired.
Slice.
Serve.
Enjoy!
If the people that don't like pumpkin pie don't like this Pumpkin Swiss Roll, then I have come to the conclusion that pumpkin isn't a favored flavor for this person.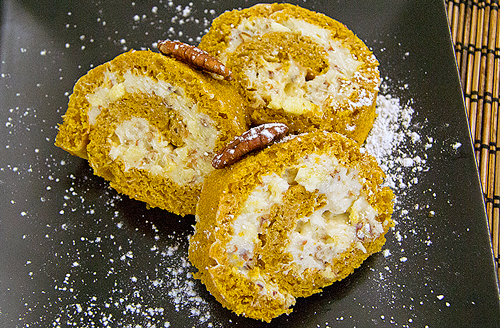 Maybe I should serve fruit for them next year.
Adapted from: https://www.verybestbaking.com/recipes/32372/libbys-pumpkin-roll/