Update and Redux: J – When I first discovered smashed potatoes … way back in the day … it was addiction at first bite. I developed many ways of seasoning them. But, Chris's version in this dish beats them all. Even though he made a bunch, there was not much leftover.
C – I think Luke and Chris are always in fear of leftovers.
They never seem to make much. I guess that's why they are so good at their jobs. Nothing goes to waste this way. When I suggested we make a whole mess of these ranch-style smashed potatoes, Chris was a bit reluctant.
"Are you sure?" Chris asked.

"Yes, use all the potatoes. We could use leftovers. Besides, Jim is addicted to the stuff. Don't worry. It won't go to waste." I said.

So, he complied with a massive bowl and the guests loved it. What wouldn't you love about fresh-herb, ranch-flavored smashed potatoes made from scratch? You would love everything. It sounds a bit weird when you think ranch potatoes. You might think of adding dry ranch dressing mix into mashed potatoes. No way. These potatoes are at a whole new level. I even made fresh crème fraiche! Of course, the store bought stuff is just fine. (I will have to do a post on this sometime in the near future. Just not now.)
It's funny, Chris usually does ranch potatoes with the dry dressing mix. Nope. Jim wanted the fresh stuff. There was a bit of frustration in communication. Everyone seemed confused about what Jim actually wanted. Luckily, we figured it out and these potatoes turned out amazing.

I loved the flavors. Fluffy soft potatoes with fresh parsley and dill mingled throughout. A hint of onion and garlic was wonderful and lingered in my mouth. The buttermilk and crème fraiche gave the potatoes that wonderful tart flavor, similar to the ranch dressing. It was rich, creamy and really addicting. The guests were all over it.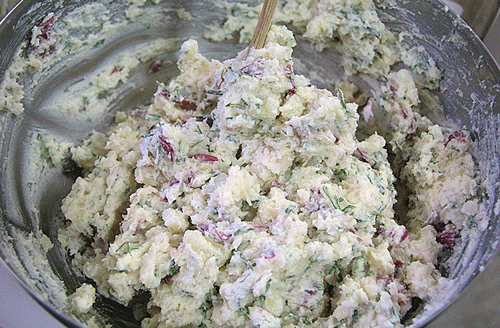 I also loved the look of these potatoes. They were a presentation eye pleaser. The skins of the new potatoes were nice and red. They really popped with all the fresh herbs. Topping the potatoes with dill really made it look fancy, yet rustic. Of course, we borrowed some of Luke and Jessica's fancy serving bowls to really make the food standout.
| | | |
| --- | --- | --- |
| Thanksgiving Week: Ranch-Style Smashed Red New Potatoes | | |
Prep time: 20 mins
Cook time: 20 mins
Total time: 40 mins
Ingredients
3 pounds new potatoes, washed and scrubbed clean
5 tablespoons butter
¼ bunch parsley, stems removed, chopped
¼ bunch dill, chopped
2 Tbsp granulated garlic
1 Tbsp onion powder
1 cup crème fraiche
½ cup cream
2½ cups buttermilk
Salt and pepper
Instructions
In a large pot, place unpeeled potatoes in water. Boil for 20 minutes or until fork tender and cooked through.
Strain and place potatoes back into pot. Add butter to the pot.
In a small mixing bowl, place crème fraiche, parsley, dill, granulated garlic, onion powder, salt and pepper. Mix well.
Add crème fraiche mixture into pot.
Add buttermilk and cream into pot.
Smash potatoes, making sure to mix all ingredients well. But, don't overdo it. The texture is rustic.
Season to taste with salt and pepper.
Top more pieces of dill as garnish.
Serve.
Enjoy!
Hands down one of the easiest and most people-pleasing dishes of the night.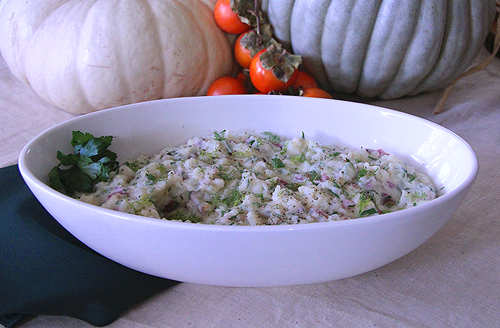 Thanks Chris for making this wonderful dish and making a lot of it.