C – Vegetarians have it hard this time of the year,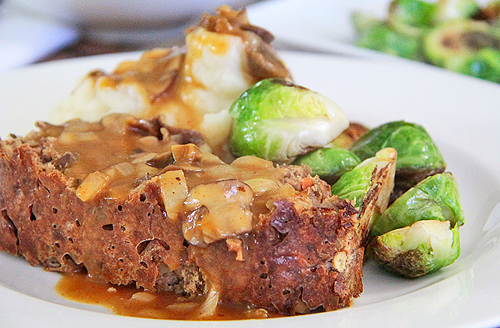 I know … being one of them. Should I just cheat and eat some turkey? I really really want to. But, I promised myself I would be a vegetarian as long as I could. Tofurky isn't my idea of a happy Thanksgiving alternative, either.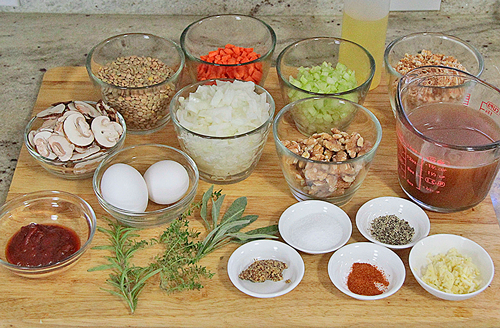 So what can I do?

I have been toying this year with the thought of making a vegetarian "meatloaf" in the shape of a turkey. It seemed like a good idea.

Then, I think I would be playing with everybody's mind and it would be a cruel joke.

Nope not going to happen. So maybe a loaf form would be better.

This lentil walnut loaf isn't too bad. It sort of tastes like turkey. I added some ingredients that we usually season our turkey. I added some celery, carrots, sage, thyme and rosemary. All things that make it taste good.

I used the vegan gravy recipe that Luke made a few years ago to top off the loaf. It feels like Thanksgiving to me. It's not too bad.
It's almost like a Salisbury steak with beans instead of beef. I still miss Turkey for it's texture. But, with mashed potatoes, some gluten free stuffing and a lot of sides in the mix, it's actually not that bad.

I now know how tough it is to be the odd man out during a big celebration like Thanksgiving. I never thought it ever would be me dealing with dietary restrictions.

If you are a vegetarian or have vegetarians coming to dinner, consider making this. You can prep this the night before and bake it during the last hour of roasting your turkey. Or, even while your turkey is resting.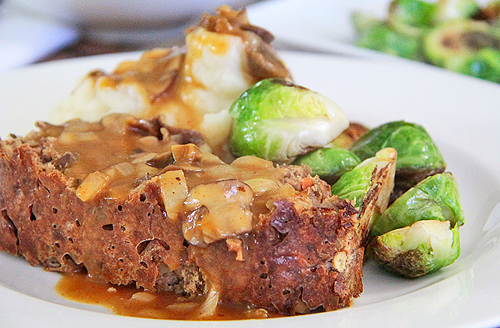 | | | |
| --- | --- | --- |
| Thanksgiving Week 2015 #1: Lentil Walnut Loaf aka Vegetarian "Meatloaf" | | |
Prep time: 25 mins
Cook time: 1 hour
Total time: 1 hour 25 mins
Ingredients
1 cup green or brown lentils, dry
2 cups vegetable stock or chicken stock, plus more if needed
1 Tbsp canola or grapeseed oil
2 cups white onion, diced
1 cup celery, diced
½ cup carrots, diced
4 crimini mushrooms, sliced thinly
3 cloves garlic, minced
1 Tbsp fresh thyme or 1 tsp dried thyme
½ Tbsp fresh sage, minced or ½ tsp dried ground sage
1 Tbsp rosemary, minced or 1 tsp dried rosemary
½ tsp salt
¼ cup ketchup
fresh ground pepper to taste
1¼ cups gluten-free bread crumbs
1½ cups walnuts, toasted, ground
Pinch of cayenne
¼ tsp paprika
4 eggs
Gravy for serving
Instructions
Preheat oven to 350 degrees.
Place lentils and stock into a sauce pan and heat on high heat. Bring to a boil, add a generous pinch of salt and reduce down to a simmer. Cook for 15 to 20 minutes or until lentils are tender. Drain and set aside until cool.
Meanwhile, in a saute pan, place oil and heat on high heat.
Add onions and saute until tender.
Add carrots, celery and mushrooms into pan. Saute until tender. About10 minutes.
Add garlic, herbs, salt and pepper. Mix well.
Add ketchup and mix well.
Remove from heat and set a side until cool.
In a large mixing bowl, add lentils, vegetable mixture, breadcrumbs and walnuts. Mix well. Add salt, pepper, paprika and cayenne to taste. Mix well. Taste and adjust seasoning.
Add eggs and mix well.
Place half of the mixture into a food processor and blend.
Return the blended mixture into the bowl. Mix well.
Place mixture into a loaf pan. Place into the oven and cook for 1 hour or until top is golden brown.
Let rest for 30 minutes.
Serve with gravy.
Enjoy!
Vegan Gravy recipe
Pureed Potatoes with Truffle Oil recipe
I think some meat eaters might even try this dish.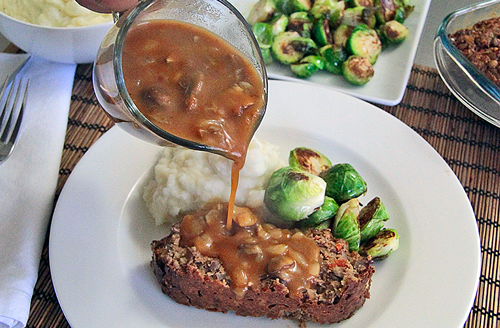 It could also make a good side dish for people would are willing to try it.