C – I am so grateful Luke and Chris made this wonderful meal for us.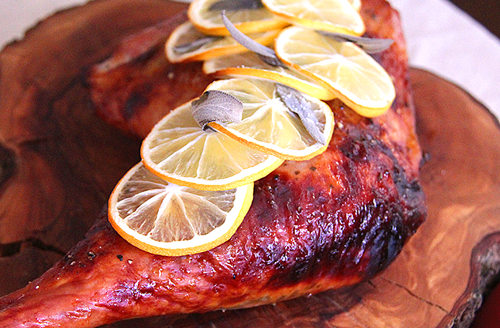 I don't think one person could take on all these things at once. I am always amazed at how well they work together. Calm, cool and collected. Of course, keeping a good stock of beer in the refrigerator while they cook really helps, too.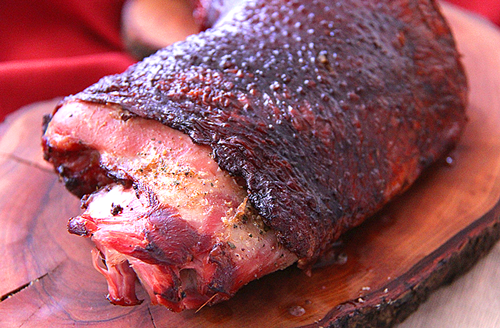 It were a lot of different dishes. We can't wait to share all of them with you. I couldn't believe we actually went with the idea of making three different styles of turkey. It took us three days of prepping these turkey pieces, but they were really worth it.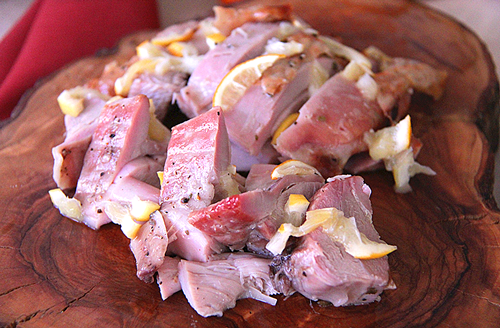 I really think Thanksgiving is one of those special days when you can show off your talent. I mean anyone can roast a turkey. Usually the amateurs try cooking this beast of a bird and make it edible. What can a few professional chefs and some foodies do? Lots! This was what we did.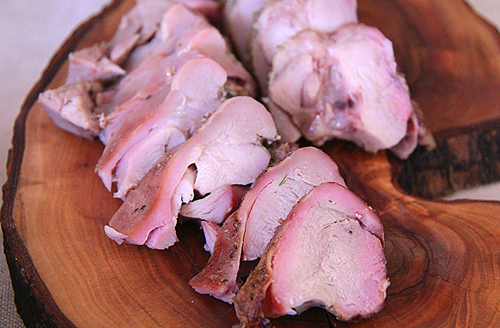 Lots of people really don't like turkey. Some even say Thanksgiving is the only time they will eat turkey. Jim is one of those people. With all of these tasty options, I think we might have changed his mind. Of course, only the good stuff will fly for Jim. We had this running joke all week about putting smoked turkey in everything we ate. It really sounded good. In reality, it might have been a bit much.
I loved how yesterday's Roasted Boneless Breasts, Herb-Stuffed and Double-Rolled with Shiitake Mushroom Veloute was similar to a traditional Thanksgiving turkey, yet different. Both of today's recipes are quite non-traditional. Each unique in their own special way. I couldn't believe how good all they all were. I almost couldn't choose a favorite.
Sage-Brined Smoked Turkey Quarter
The smoke turkey quarter had the same brine as yesterday's Roasted Boneless Breast. There was quite a difference in taste, though. Smoking really adds a rich, savory quality to the meat.

I loved how the brine was light and not too salty. It really was a well-balanced brine. We also didn't over do the smoking. Using hickory and cherry wood to smoke was a nice combination.

Many people who sampled the smoked turkey said it was a good thing to nibble. But, they wouldn't recommend eating it as an entire serving. It was really rich.

We suggest if you have a lot of people and want something different, serve this smoked turkey as one of your appetizers. They will get their turkey fix fast. This year we used a high quality, organic turkey. But, the skin was tough, so we had to toss it! I know, its my favorite part, too.
Roasted Turkey Quarter with Sage-Honey Butter and Meyer Lemon
The roasted turkey with sage-honey butter and Meyer lemon was my favorite.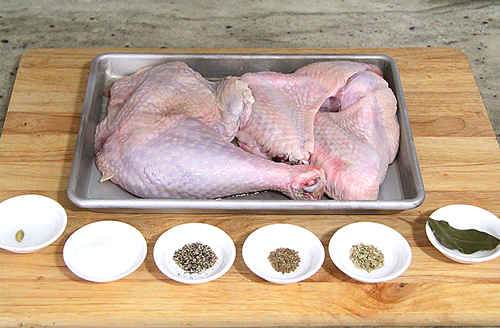 This one, too, had the same a-little-goes-a-long-way feel to it.

Eaten without the lemon, you get a really nice twist of unique spices.

It has such a wonderful balance. It comes out of the oven super moist and tender.

The added Meyer lemon just jumps out at you. You fall in love with the citrus. It feels really clean in your mouth. Not heavy like some turkey dishes.

I wanted to eat the entire leg myself. It was so flavorful, I didn't need to add anything to it.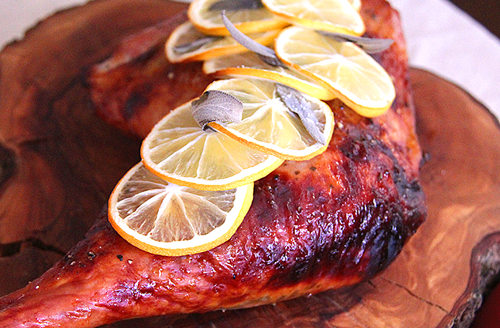 | | | |
| --- | --- | --- |
| Thanksgiving Week #1: Turkey Leg Quarters Two Ways, Smoked and Roasted | | |
Recipe type:
Mains, Sides
Prep time: 1 hour
Cook time: 3 hours
Total time: 4 hours
Ingredients
Smoked Turkey Quarter Brine
1 Tbsp coriander seeds
1 Tbsp whole cloves
1 Tbsp fennel seeds
1 Tbsp star anise
1 Tbsp juniper berries
4 bay leaves
1 shallot, cut into four pieces
½ cup brown sugar
1 sprig sage
2 sprigs rosemary
1 cup salt
1 turkey leg quarter
Roasted Turkey Quarter with Sage-Honey Butter and Meyer Lemon
1 cardamom pod, broken and use the seeds
1 bay leaf
1 Tbsp anise seeds
1 Tbsp black pepper
1 Tbsp fennel seeds
3 tsp salt
1 turkey leg quarter
Sage-Honey Compound Butter
5 fresh sage leaves, finely chopped
1 tablespoon honey
Pinch of salt and pepper
1 stick butter room temperature
1 Meyer lemon, sliced thinly
Instructions
Smoked Turkey Quarter Brine
Toast coriander, cloves, fennel, star anise and juniper berries.
In a large pot place 3 quarts of water. Add shallots, bay leaves, sage, rosemary, salt and brown sugar into the pot. Bring to a simmer.
Add toasted spices and mix well.
Once salt and sugar is dissolved turn off heat and let cool.
Add an additional quart of water into the pot to allow the water to cool faster.
Let the brine cool to room temperature.
Add turkey leg quarter into a half hotel pan or a deep roasting pan. Pour over top to completely cover the top of the turkey.
Let sit in refrigerator for 48 hours covered.
Remove from brine after 48 hours. Place on a wire rack, uncovered, to drain in the refrigerator overnight.
Prepare smoker or charcoal grill for indirect heat at 200 degrees. It will be covered.
Prepare a smoking chip box or pan with well-soaked wood chips of a desired flavor like hickory, cherry or apple wood. We used hickory and cherry this time.
Lay the turkey quarter on the grate skin-side-up Cover. Control the temperature to a steady 200 degrees. There should be a pretty good amount of smoke.
Check the internal temperature with an instant read thermometer. They are done at 150 degrees.
Remove and let cool completely on a rack.
Slice and serve as an appetizer. Or, use in a salad.
Roasted Turkey Quarter with Sage-Honey Butter and Meyer Lemon
Place all the ingredients except the turkey leg quarter into a spice grinder. Grind until fine.
Pull the skin of the turkey leg quarter apart from the meat but don't pull completely off.
Rub the spice mixture onto the meat and replace the skin. Rub some of the spice rub on the skin, too.
Place on a small baking sheet, covered, and place into refrigerator overnight.
Bring to room temperature prior to roasting for even cooking.
Preheat oven to 350 degrees.
Place the sage, honey, butter, salt and pepper in a small bowl. Mix well.
Once the turkey is at room temperature pull back the skin once again.
Rub the compound butter in between meat and the skin. Replace the skin and rub it all over the turkey skin and on all sides.
Place in the oven and cook until it reaches 150 degrees in the center. About 1 hour 30 minutes.
Remove from oven. Let cool for 15 to 30 minutes before slicing.
Top with lemon slices and serve for presentation purposes.
Serve by cutting the turkey into small serving pieces and cut lemon slices into small cubes with zest intact.
Enjoy!
It was an amazing treat to get to try all of these turkey recipes.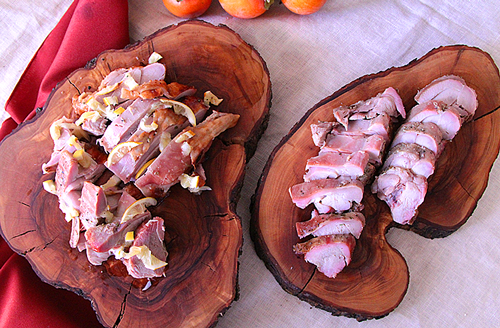 Thanks Luke and Chris for making these great dishes. They were incredible.