C — One of my least favorite dishes … at my family's house.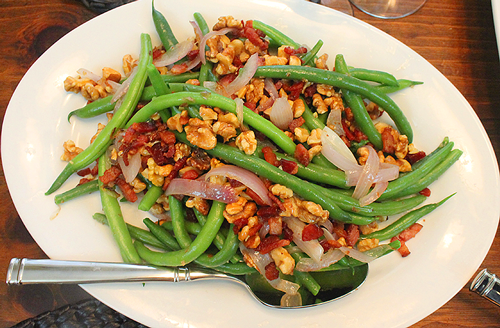 Frozen carrots, peas, green beans and lima bean mix all cooked until almost mushy. For some strange reason this dish always disappears. I must admit, my family isn't great at making vegetable dishes. They always seem to be over cooked and tasteless for me. I always try to avoid the vegetables unless they are slightly cooked or raw.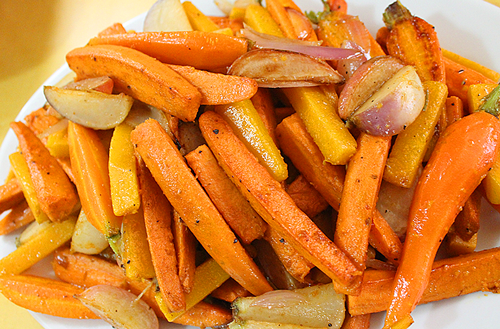 Last year was my year to make Thanksgiving and I made lots of vegetables including the frozen mixed vegetables dish. Everyone loved the variety. The blanched vegetables were a big hit, as well as the salad bar. Of course, to my delight, the frozen mixed vegetables were still there. My mom ended up putting a few tablespoon fulls in everyone's to-go containers at the end of the night, so she wouldn't have any leftovers. Hehehe.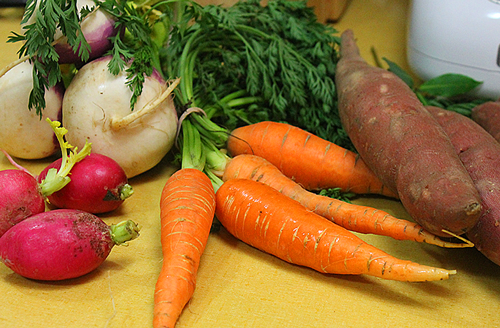 This year Chris showed me how the professionals make vegetable side dishes. Green beans and root vegetables. Of course, he makes them pretty fancy, but elegant, incredibly rich and delicious.

The great thing about these two dishes is that you can start them early and finish them off when everything else is almost ready.
The root vegetables can be blanched early in the day or even the night before. Roast the vegetables for about 25 minutes. Then, once the turkey is almost done, reheat them with butter and season.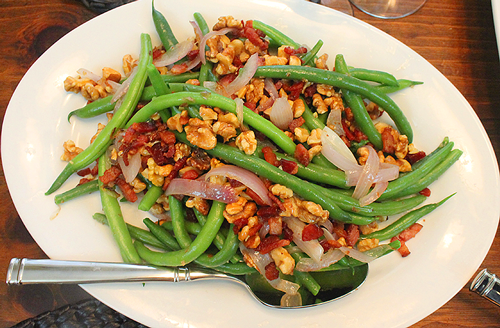 | | | |
| --- | --- | --- |
| Thanksgiving Side Dishes – Green Beans and Root Vegetables | | |
Prep time: 45 mins
Cook time: 60 mins
Total time: 1 hour 45 mins
Ingredients
3 turnip, cut into 8 pieces each
6 baby carrot, cut in half
2 sweet potatos, cut into batonnets (a ½ by ½ by 3 inch cut)
½ butternut squash, cut into batonnets
4 radishes, cut in quarters
½ bunch thyme
½ bunch sage
½ bunch oregano
Unsalted butter
Salt and pepper to taste
Green Beans with Lardons and Toasted Walnuts
1 pound green beans, washed and cut in half
1 cup walnut halves, pan roasted
¼ red onion, sliced thinnly
½ pound slab bacon, without skin and cut into ¼ inch pieces
2 Tbsp. unsalted butter
Salt and pepper to taste
Instructions
Blanch each vegetable separately. Cool in ice bath.
Heat pan and coat with butter.
Brown each vegetable in pan and place in bowl. Add herbs.
Toss and season with salt and pepper.
Roast in oven on a sheet pan or oven safe dish for 20 minutes @ 325 degrees.
Mix in large bowl and serve on platter.
Enjoy!
Green Beans with Lardons and Toasted Walnuts
Blanch green beans for no more than 2 minutes in boiling water and shock in ice water to stop cooking
Saute lardons until done.
In the same pan using the oil from the lardon, add red onions and saute until onions are soft. About 3 minutes.
Combine green beans, lardons and walnuts in pan to reheat.
Add butter.
Add salt and pepper to taste.
Serve on large platter
Enjoy!
The green beans are just as simple. Just blanch and set aside. Cook the lardon when everything is almost done. Combine with toasted walnuts. Add butter, some salt and pepper and you're done.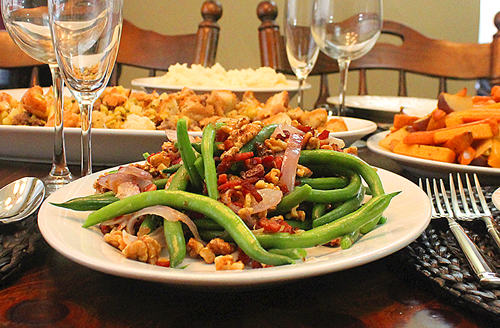 These were great. Nice crunchy vegetables, perfectly seasoned. I loved the addition of a little butter to make them nice and rich.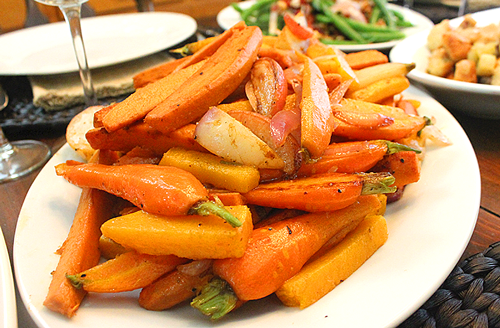 I can't wait to try these on the family. Maybe not this year, since I have no control! I'll do them next year, when it's my turn to cook Thanksgiving again.