J – Stuffing is stuffing, no matter where you put it.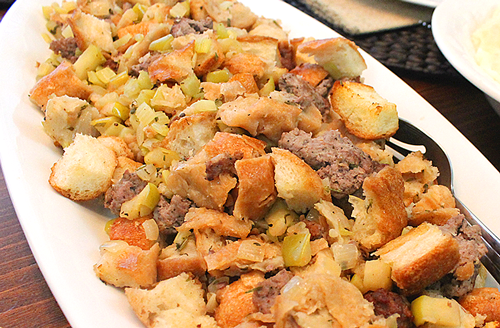 Dressing goes on a salad. Filling goes into a pie or a pastry. Recently, I heard a discussion about the esoteric differences between stuffing, dressing and filling … which was really about what to call it. The arguments went something like this:
Stuffing is cooked inside the bird.
Dressing is cooked in a casserole dish outside the bird.
Filling is the same thing as either one of the above, except your parents came from some specific parts of Europe.

This has little to do with my experiences or, I believe, the reality of what happens in Thanksgiving kitchens these days.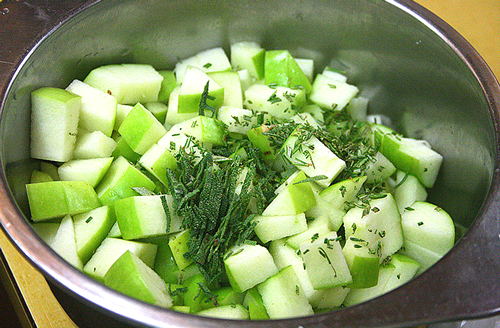 Cooking "stuffing" inside of a turkey seems to have a really long legacy. I've heard many times "That's the way my family always does it…" For awhile, there was even a big scare about too low a cooking temperature within the turkey. So, the common wisdom was to raise the final temperature of the "stuffing" to 165 degrees. This, of course, gave the turkey an external temperature of 190 degrees or more … and you end up with a REALLY dry turkey. Bad idea!
I have always cooked all of my wild and wooly stuffing creations in a casserole dish and have ALWAYS called them stuffing. Your turkey comes out WAY better, too.

This year, Luke suggested an apple-themed stuffing. Partly, we had just come off of Apple Week and, mostly, because it tastes SO good.

So, this is what we did.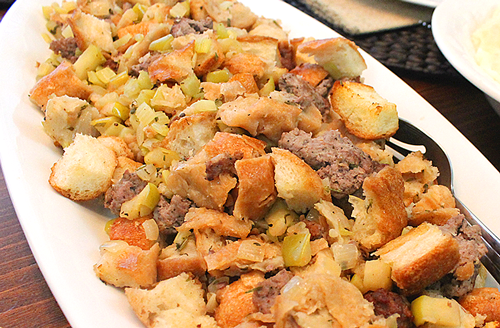 | | | |
| --- | --- | --- |
| Thanksgiving Side Dishes – Chicken Apple Stuffing | | |
Prep time: 40 mins
Cook time: 40 mins
Total time: 1 hour 20 mins
Ingredients
1 yellow onion, small dice
4 ribs of celery, small dice
1 granny smith apple, unpeeled, medium dice
1 pound chicken apple sausage
½ bunch parsley, chopped
½ bunch, each, thyme, sage and rosemary, chopped fine
½ stick unsalted butter, divided
1 qt. stock
1 day-old sour dough baguette, cut into 1" cubes
Salt and pepper to taste
Instructions
Brown sausage until cooked. Remove from pan to a large bowl.
Add all vegetables to same pan and sweat them. Add herbs.
Add tablespoon-sized pieces of butter, stirring to dislodge any "brown bits."
Add balance of butter. Stir until vegetables are softened.
Fold-in ¾ of the bread cubes.
Slowly add stock while stirring and folding into mixture. DO NOT make bread too mushy.
Salt and pepper to taste.
Place remaining bread to mixing bowl with sausage.
Fold-in vegetables and bread from saute pan.
Transfer to oven-safe baking dish and bake at 325 degrees for 15 minutes.
Remove and serve stuffing on platter.
Enjoy!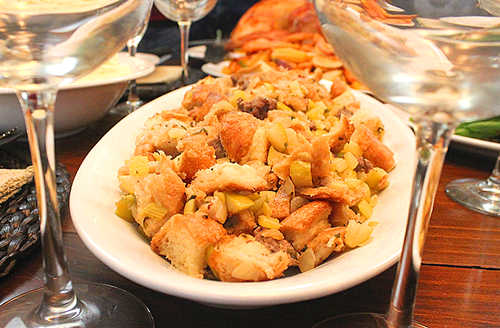 It tasted great! Complex apple flavors combining well with the spices and poultry. Nice. Thanks, Luke!