C — Jim had a bit of surgery and I felt bad. He's a bad sickie.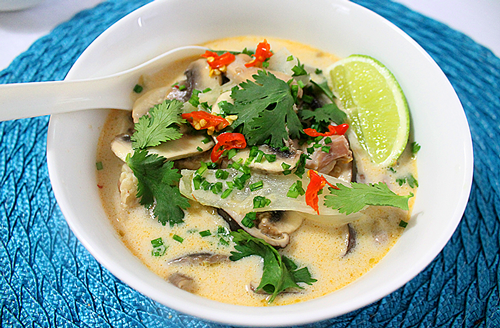 When he told me that cooking would be challenging for him, I wanted to step up to the plate and make a few things. I wasn't sure what he could eat so, I made what I would make when I am sick … SOUP! I mean I made lots of soup. I made him a mushroom soup, pork ginger rice soup, coconut chicken soup, Tilapia rice soup and gazpacho. It was a serious amount of soup. He ate soup for two weeks.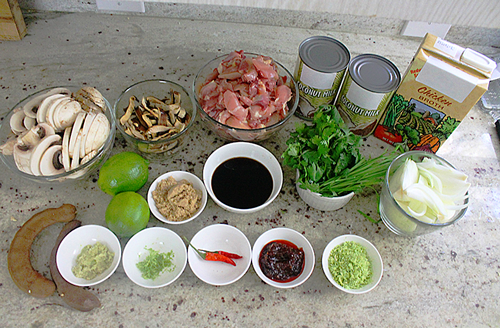 Soups are easy to make. Some are really fast to make, too. Its one of those dishes that will make it easy for a sick person to get better, without having to do a lot of work to eat it.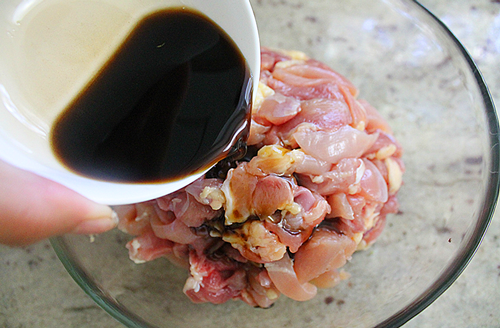 One of my favorite things to make when I am sick is soup. Jim wasn't sick with a cold, so chicken noodle soup didn't seem to fit. It looked like he needed a treat.

The man was in a bit of pain, so a surprisingly good soup with chicken, lemongrass, ginger and a few other ingredients that were well balanced would be just the thing.

This Thai Hot and Sour Coconut Chicken Soup was the right fit. It tasted like home to me, but much easier than the soups I make at home for my family. I wanted to give Jim my home treatment, so this was a good option.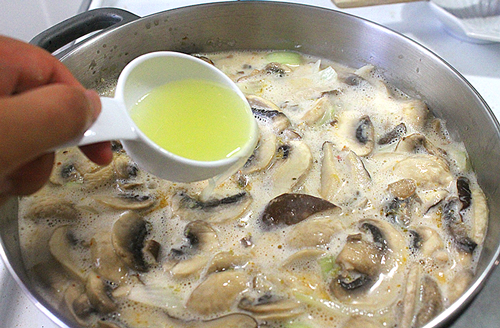 Ground lemongrass, finely grated ginger, lime zest, chile paste and coconut milk all thrown in a soup … easy. The soup is well balanced — salty, sweet, sour, spicy with a refreshing clean lime and cilantro aftertaste. Yum!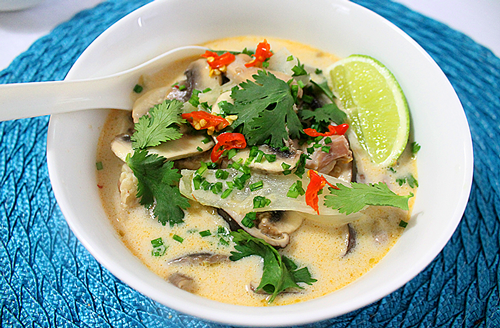 | | | |
| --- | --- | --- |
| Thai Hot and Sour Coconut Chicken Soup | | |
Prep time: 20 mins
Cook time: 45 mins
Total time: 1 hour 5 mins
Ingredients
3 cups chicken stock
¼ cup fish sauce
2½ tablespoons brown sugar
1 Tbsp. ginger, finely grated
1 tsp. lime zest
2 Tbsp. lemongrass, ground
1 Tbsp. plus 2 tsp. Thai red chile paste
2 cans of coconut milk, 14 ounces each
2 fresh tamarind pods, shelled
1 ounce dried shiitake mushrooms, rehydrate, caps removed and thinly sliced
5 ounces button mushrooms, sliced thinly
1 pound skinless, boneless chicken thighs, sliced crosswise in 2 by ¼ inch pieces
1 white onion, sliced
¼ cup fresh lime juice
2 red Thai chiles, very thinly sliced on the bias
⅓ cup, packed, cilantro leaves for garnish
⅛ cup chives, chopped for garnish
Instructions
In a medium bowl, toss chicken with fish sauce.
In a large pot, combine stock with sugar, chile paste, tamarind, ginger, lemongrass and lime zest and bring to a boil over moderately high heat.
Stir in the coconut milk and simmer.
Remove tamarind, place it in a small bowl, add a ladle full of soup into bowl and mash up pulp until fruit pulp is dissolved into soup. Discard tamarind seeds. Add tamarind pulp/soup mixture into soup.
Add the chicken/fish sauce mixture along with mushrooms and simmer, stir occasionally, until the chicken is cooked through and the mushrooms are tender, about 5 minutes.
Add onions, boil for 3 minutes.
Remove from heat.
Stir in lime juice and chiles.
Ladle soups into bowls, sprinkle with cilantro, chives and serve.
Enjoy!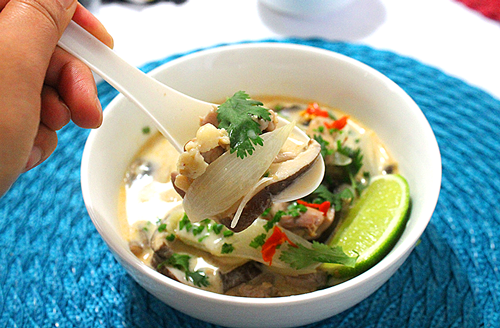 I am glad I made him all these soups. He's better now and enjoying life again. Life is good again at Be Mindful. Be Human.