C – My husband hates hard boiled eggs.
I was shocked when I discovered this. Hard boiled eggs are my favorite. He says they are just too plain and flavorless. They are too hard to season correctly. I can see where he's coming from.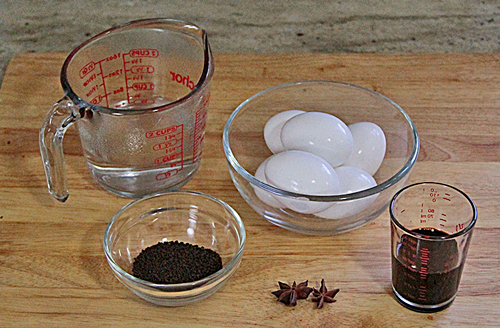 I love how simple hard boiled eggs can be. Just boil them and leave them in the refrigerator until you are ready to eat them. They last up to a week, so they are quick for breakfast and snacks.

Now, I just have to get my husband to like them a little bit more … so I don't have to make two separate breakfasts in the mornings.

I discovered these hard boiled eggs soaked in black tea and soy sauce. I thought I would give it a try. My first test went unsuccessfully. I had too much soy sauce in the mix and resulted in a really salty egg.
My second test was a lot lighter and resulted in needing more salt when eating them. I think I figured out the perfect recipe. Of course, you can adjust the soy to your preference.

I loved that the white soaked up the tea flavor, as well as the star anise and soy sauce. I think you can get pretty creative with flavoring these eggs.
| | | |
| --- | --- | --- |
| Tea Week 2015: Black Tea Soy Sauce Soaked Eggs | | |
Prep time: 24 hours 10 mins
Total time: 24 hours 10 mins
Ingredients
6 hard boiled eggs
1 Tbsp loose leaf black tea
1 empty tea bag
½ cup warm water, plus more for covering the eggs
2 star anise pods
4 Tbsp soy sauce
Instructions
Place loose leaf tea into tea bag. Seal tightly.
Place into warm water and let steep.
Add star anise and soy sauce.
Lightly tap eggs on hard surface and crack all over. Do not peel the eggs.
Place eggs into storage container and pour tea/soy sauce mixture over top.
Cover with more water.
Cover and place container in the refrigerator overnight to let the tea/soy sauce soak in.
Remove eggs and rinse shell if needed.
Carefully peel the shells and a beautiful design should appear.
Serve.
Enjoy!
I also love the cracked egg pattern on them. It really makes the eggs look marbled. They would be great for a twist on deviled eggs.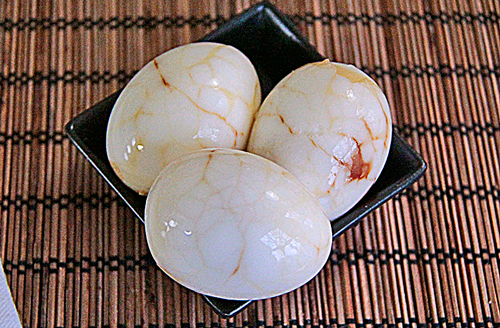 I hope my husband is willing to give these eggs a try. They are much more flavorful than the hard boiled eggs.