C — I can't believe people who don't like mushrooms.
They think its disgusting that its a fungus. It's too slimy when you cook it. Oh well, more for me. I love mushrooms. They're one of those things that has such a variety of flavors.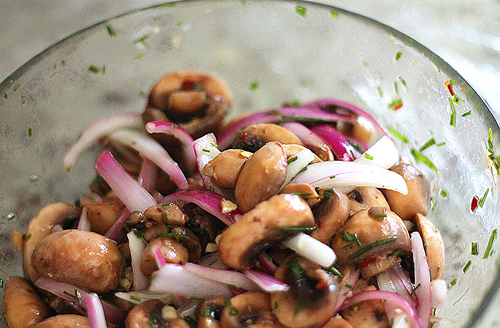 Shiitaki mushrooms have this strong smell and taste. They can really make a soup distinguishing. Button and crimini can absorb any flavors you add to them. They're almost always in the fridge. Portabellos can be made into burger patties. Its such a good filler when you don't have enough ground meat. Oh, and the price can range in so many ways you can't believe it.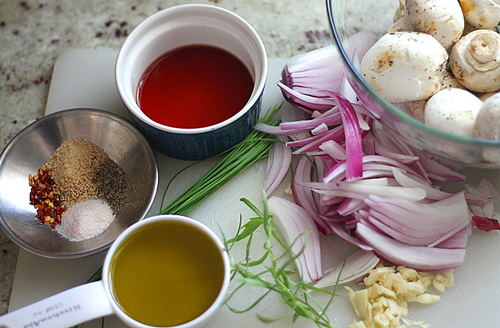 Well this is, hands down, my favorite recipe for mushrooms. I love this stuff. Marinated mushrooms with tarragon. I was mad at Jim last year for planting more tarragon. I didn't know what to do with it. It was growing like a weed.

So I found a recipe and decided to put my own spin on it. It turned out to be really good. I made it weekly. I then got mad at Jim for not planting more tarragon. As you can see, Jim will never win trying to satisfy me.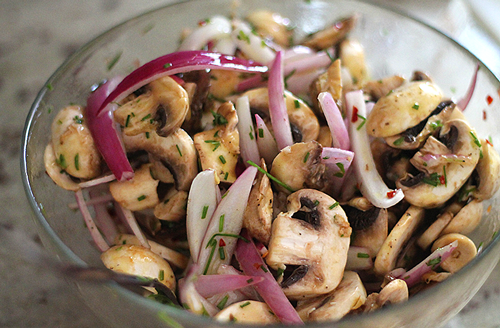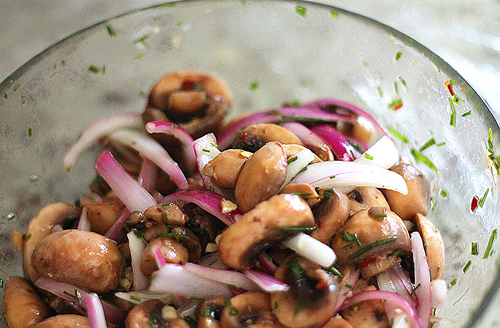 Prep time: 20 mins
Total time: 20 mins
Ingredients
2 cloves of garlic
½ tsp sea salt
6 scallions, thinly sliced
1 tbsp fresh chives, chopped
½ red onion, thinly sliced
3½ tbsp red wine vinegar
2 tbsp fresh tarragon, chopped
⅓ cup olive oil
10 ounces white or crimini mushrooms, sliced
1 pinch of red pepper flakes
Instructions
Finely chop garlic with ½-teaspoon salt or smash it in a mortar until smooth.
Combine garlic, scallions, chives, red onion, vinegar and tarragon in large bowl; whisk in oil.
Season dressing to taste, adding more oil if dressing is tart.
Toss mushrooms with dressing and pepper flakes.
Season to taste with salt and pepper.
Cover and refrigerate two hours.
Taste again to make sure mushrooms absorb dressing.
Serve.
Enjoy!