C – Shrimp tacos are one of my favorites.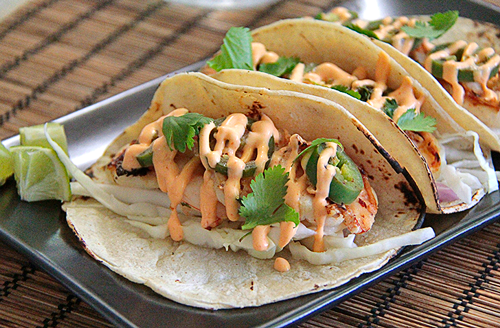 I love the ones that are grilled. Not fried. With big shrimp! (prawns?) I am not a big fan of fish tacos. But, with shrimp, that's my kind of taco.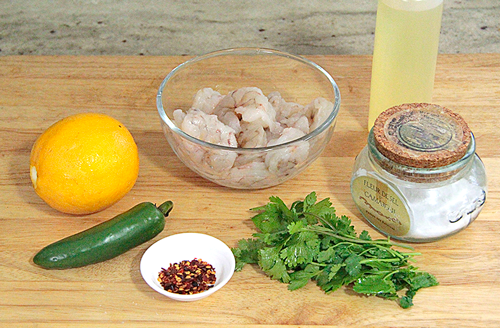 Luke brought over these huge shrimp for us to grill. I was excited. They were huge! I was even more excited about learning how to marinate the shrimp.

I usually just salt and pepper them and grill them up. Luke gave me this recipe.

The marinade had slices of jalapenos, chili powder, cilantro, and lemon juice. Wow. It was amazing. I couldn't wait to grill these up. And, just like in fish tacos, getting really fresh shrimp is best.

Since the prawns were so big, Luke split them in half lengthwise to make sure they weren't too big for the tacos. The results were amazing.

I loved the citrus, spicy shrimp pieces in the taco along with the cabbage and sriracha mayonnaise sauce on top.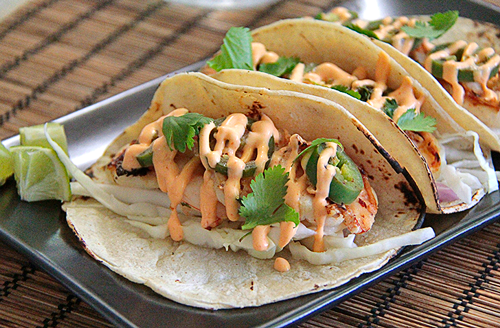 | | | |
| --- | --- | --- |
| Taco Week; Grilled Shrimp Tacos | | |
Prep time: 20 mins
Cook time: 5 mins
Total time: 25 mins
Ingredients
1 pound large shrimp, peeled and deveined
1 jalapeno, sliced
1 tsp red chili powder
Salt to taste
A handful of cilantro, roughly chopped
1 lemon, juiced
Canola oil to drizzle and for grilling
6 tortillas
Shredded cabbage
A few slices of red onions
Grilled shrimp, cut in half lengthwise
Grilled jalapenos
Sriracha mayonnaise
Cilantro
Instructions
Mix all the ingredients except the oil and shrimp. Taste and adjust seasonings to make sure it balances.
Drizzle oil enough oil over the shrimp to cover. Mix well.
Add the shrimp to the marinade and mix well. Let sit for 15 minutes max.
Heat grill on high and add oil to grease grill.
Add shrimp and cook for 2 to 3 minutes until the meat is cooked.
Grill peppers until tender. About 1 minute. Be careful if grilling indoors, peppers will be smoky.
Let rest.
Serve alone or with tortillas or in tacos.
Enjoy!
Heat tortilla over an open flame for a few seconds.
Top the tortilla with a few pieces of cabbage and onion.
Top with shrimp pieces, jalapeno, cilantro and sriracha mayonnaise.
Repeat to make more.
Serve immediately.
Enjoy!
They were so good.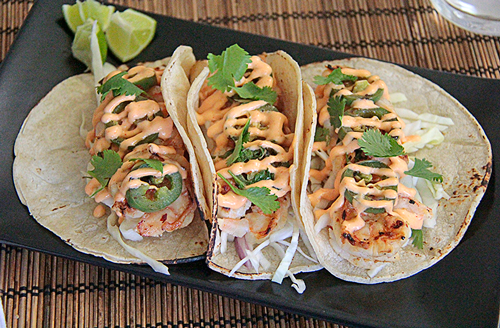 Yup, one of my favorite tacos. I will eat them all.